By Todd Shriber & Tom Lydon
After Federal Reserve Chair Janet Yellen hinted in late March that interest rates could rise sooner than previously expected, some investors are understandably skittish about exactly when rates will rise and the subsequent impact on their portfolios.
There are diverging clues from financial markets. For example, 10-year Treasury yields are higher by 3.8% over the past five days, but the Utilities Select Sector SPDR (NYSEARCA:XLU) is higher by 1.5% over the same time. XLU, the largest ETF devoted to one of the most rate-sensitive sectors, is the best of the nine sector SPDR ETFs this year.
Then again, investors pulled $10.3 billion from Treasury ETFs last month, in what some observers say is a sign market participants are anticipating higher rates.
Should Yellen pleasantly surprise investors by reversing course, the First Trust Morningstar Dividend Leaders Index Fund (NYSEARCA:FDL) is a dividend ETF idea with merit for conservative income investors. Ronald Lang, of Atlas Wealth Management, said in an interview with Trang Ho of Investor's Business Daily:
FDL is also a contrarian play. The higher-yielding stocks, despite being large, have been unloved by the institutions and investing public over the last year. They recently have started to make a nice move upward with increasing volume, which tells us that more money is being moved into those stocks.
Professional investors may once again be compelled to boost holdings of the familiar blue chips that dot FDL's lineup, including Dow components AT&T (NYSE:T), Chevron (NYSE:CVX) and Merck (NYSE:MRK). Still, FVD could be helped or hindered by investors' interest rate expectations.
That is the case because the ETF, which has a 12-month distribution rate of 3.1%, allocates over 48% of its combined weight to the rate-sensitive utilities and telecom sectors. Two utilities and two telecom stocks are found among FVD's top-10 holdings. In fairness to FDL, the ETF is up almost 2% in the past week despite the pop in 10-year yield.
Rising rates do not mean FDL will generate negative returns. The ETF rose nearly 23% last year even as 10-year yields surged. At issue is by how much do utilities-heavy dividend ETFs lag rivals that are not heavily exposed to that sector. The 2013 Treasury yield spike highlighted the vulnerabilities of dividend ETFs with large telecom and utilities allocations.
FDL does allocate a combined 14% of its weight technology and industrial names, two of the better-performing sectors in rising rate environments. The ETF charges 0.45% per year.
First Trust Morningstar Dividend Leaders Index Fund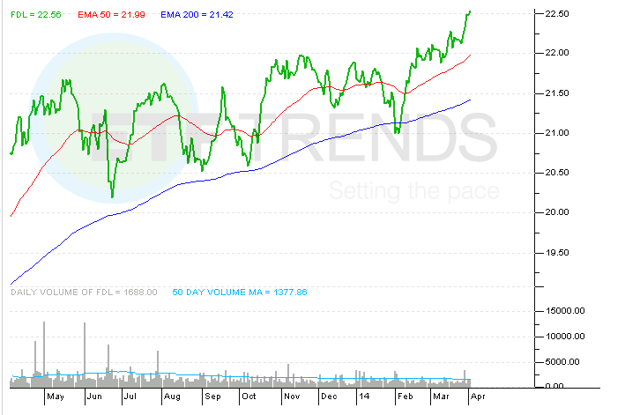 Disclosure: I have no positions in any stocks mentioned, and no plans to initiate any positions within the next 72 hours. I wrote this article myself, and it expresses my own opinions. I am not receiving compensation for it. I have no business relationship with any company whose stock is mentioned in this article.