Earnings season is almost here. If you're looking for some ideas, insider buying might be an interesting signal to track. We've compiled a list of 15 stocks that have the following characteristics:
Earnings release scheduled over the next month
Insiders are net buyers over the last 3 months

Here is an overview of all the stocks and their performance over the last year (click on the image to expand). More thorough analysis follows below the charts. Insider buying data sourced from Finviz.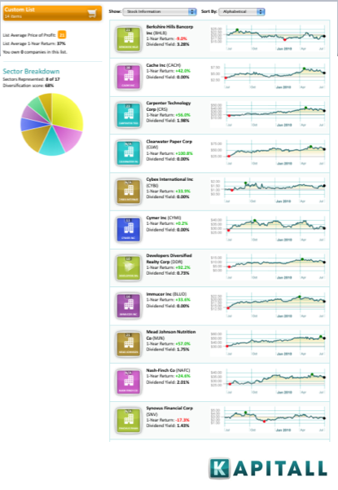 1. Berkshire Hills Bancorp Inc. (NASDAQ:BHLB): Savings & Loans Industry. Analysts expect the company's EPS to grow by 18.39% over the next year. Insiders, who currently own 2.49%, increased holdings by 6.07% over the last 3 months. Earnings scheduled for 7/21.

2. Immucor Inc. (NASDAQ:BLUD): Diagnostic Substances Industry. Analysts expect the company's EPS to grow by 9.48% over the next year. Insiders, who currently own 0.98%, increased holdings by 24.11% over the last 3 months. Earnings scheduled for 7/22.

3. Cache Inc. (NASDAQ:CACH): Apparel Stores Industry. Analysts expect the company's EPS to grow by 253.3% over the next year. Insiders, who currently own 16.21%, increased holdings by 8.38% over the last 3 months. Earnings scheduled for 7/20.

4. Clearwater Paper Corporation (NYSE:CLW): Paper & Paper Products Industry. Analysts expect the company's EPS to grow by 18.7% over the next year. Insiders, who currently own 1.04%, increased holdings by 9.14% over the last 3 months. Earnings scheduled for 7/29.

5. Carpenter Technology Corp. (NYSE:CRS): Steel & Iron Industry. Analysts expect the company's EPS to grow by 482.76% over the next year. Insiders, who currently own 0.87%, increased holdings by 5.83% over the last 3 months. Earnings scheduled for 7/29.

6. Cybex International Inc. (NASDAQ:CYBI): Sporting Goods Industry. Analysts expect the company's EPS to grow by 700% over the next year. Insiders, who currently own 46.68%, increased holdings by 34.05% over the last 3 months. Earnings scheduled for 7/20.

7. Cymer Inc. (NASDAQ:CYMI): Semiconductor Equipment & Materials Industry. Analysts expect the company's EPS to grow by 38.06% over the next year. Insiders, who currently own 0.41%, increased holdings by 32.13% over the last 3 months. Earnings scheduled for 7/22.

8. Developers Diversified Realty Corp. (NYSE:DDR): Retail REIT. Analysts expect the company's EPS to grow by 12% over the next year. Insiders, who currently own 23.41%, increased holdings by 18.31% over the last 3 months. Earnings scheduled for 7/22.

9. Mead Johnson Nutrition Company (NYSE:MJN): Processed & Packaged Goods Industry. Analysts expect the company's EPS to grow by 12.92% over the next year. Insiders, who currently own 0.07%, increased holdings by 7.51% over the last 3 months. Earnings scheduled for 7/22.

10. Nash Finch Co. (NASDAQ:NAFC): Food Wholesale Industry. Analysts expect the company's EPS to grow by 10.7% over the next year. Insiders, who currently own 0.28%, increased holdings by 16.7% over the last 3 months. Earnings scheduled for 7/22.

11. Peregrine Pharmaceuticals Inc. (NASDAQ:PPHM): Biotechnology Industry. Analysts expect the company's EPS to fall by -40.9% over the next year. Insiders, who currently own 1.5%, increased holdings by 14.89% over the last 3 months. Earnings scheduled for 7/14.

12. Synovus Financial Corp. (NYSE:SNV): Regional Bank (Mid-Atlantic). Analysts expect the company's EPS to grow by 99% over the next year. Insiders, who currently own 2.21%, increased holdings by 5.05% over the last 3 months. Earnings scheduled for 7/22.

13. Texas Industries Inc. (NYSE:TXI): Cement Industry. Analysts expect the company's EPS to grow by 74.8% over the next year. Insiders, who currently own 16.89%, increased holdings by 19.03% over the last 3 months. Earnings scheduled for 7/14.

14. Verizon Communications Inc. (NYSE:VZ): Telecom Services. Analysts expect the company's EPS to grow by 7.59% over the next year. Insiders, who currently own 0.01%, increased holdings by 11.87% over the last 3 months. Earnings scheduled for 7/23.

15. Webster Financial Corp. (NYSE:WBS): Regional Bank (Northeast). Analysts expect the company's EPS to grow by 226.67% over the next year. Insiders, who currently own 1.14%, increased holdings by 8.15% over the last 3 months. Earnings scheduled for 7/22.

Disclosure: No positions