ExxonMobil Discloses Fracking Risk
ExxonMobil Corp (NYSE:XOM), the largest publicly-traded energy company in the world, has agreed to disclose environmental risks associated with hydraulic fracturing.
The agreement was made with the New York City Pension Funds, non-profit corporate environmental and social responsibility organization As You Sow, and 12 religious organizations. The New York City Comptroller's office, which controls the city's pension funds, agreed to withdraw a shareholder proposal that would have put the disclosure issue up for a vote at the company's next annual meeting.
What's Fracking?
Hydraulic fracturing, commonly referred to as "fracking," is a method of releasing trapped oil and gas reserves in dense layers of rock using a stream of water, sand, and chemicals. Environmental responsibility and climate change groups have been on a 5-year campaign to alert the public about the dangers of the practice on both the impacted communities and the environment.
As a result of the agreement, ExxonMobil will publish by September information based on a 2013 report entitled, "Disclosing the Facts: Transparency and Risk in Hydraulic Fracturing Operations." The report will disclose information about the creation of toxic waste water, air pollution, depletion of drinking water stores, release of methane, and various impacts on the community.
The report was designed jointly by As You Grow, Green Century Funds, Boston Common Asset Management, and the Investor Environmental Health Network.
Transparency Could Positively Influence XOM Stock
Investors could view this agreement as a positive one with respect to evaluating the long-term prospects of ExxonMobil stock in the new climate-conscious world.
While company executives in the past were more closed and defensive on disclosure about the company's responsibility to the environment, this agreement is evidence of a shift in that stance. An ExxonMobil spokesman proclaimed the agreement marks "a productive evolution of our relationship with some of these shareholder groups."
New York City Comptroller Scott Stringer declared the agreement a win for investors. "ExxonMobil is responding to shareowners on issues that are critical to its long-term sustainability. We have seen the significant risks that come from hydraulic fracturing activities.
Corporate transparency in this arena is truly necessary for assessing risk and ensuring that all stakeholders have the information they need to make informed decisions. Danielle Fugere, President of As You Sow, agreed with Stringer. "Exxon's shift toward disclosure and transparency is important, especially in light of how long investors have been asking for this information from the company."
A Second Step
The agreement comes on the heels of a landmark agreement late last month in which the company promised to disclose a Carbon Asset Risk report describing how it assesses the risk of stranded assets from climate change. That agreement was a response to pressure placed upon it by As You Sow and Arjuna Capital in a similar shareholder resolution that was ultimately withdrawn.
ExxonMobil already discloses information about its fracking practices through on online registry called FracFocus, which lists specific chemicals used for fracking across the United States. Fugere stated that if the September report disappoints, they reserved the right to bring a resolution up for vote next year.
Investors Should Take Confidence in XOM's Forward-Looking Mentality
As we noted in our previous article on ExxonMobil's disclosure of carbon risk, investors should take confidence in the company's consideration of its shareholders by producing these important reports-acknowledging how future climate scenarios could impact operations-and continue to hold, or take, positions in XOM.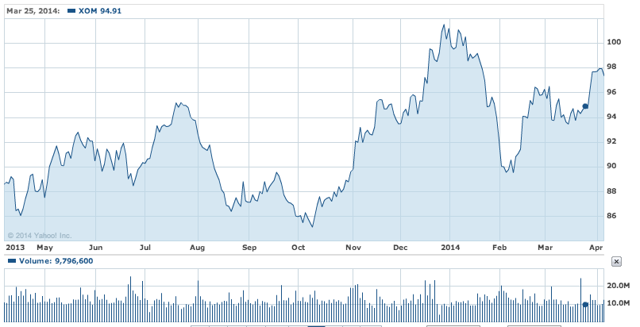 (Yahoo! Finance)
Disclosure: I have no positions in any stocks mentioned, and no plans to initiate any positions within the next 72 hours. I wrote this article myself, and it expresses my own opinions. I am not receiving compensation for it (other than from Seeking Alpha). I have no business relationship with any company whose stock is mentioned in this article.