Tensions appear to be heating up between Russia and Ukraine with Ukraine complaining that Russia is stirring up trouble in order to give it a reason to deploy its troops to Ukraine once again. This all centers around an eastern town on the border, Donetsk, having a provincial building seized by pro-Russian forces and their proclaiming the region to be independent (see article here). This could spark another geopolitical storm and rile markets so readers need to pay careful attention to events in Ukraine and its border with Russia over the next 24-48 hours.
We have been on the sidelines of the gold market for some time now, having long called for readers to sell their holdings in the SPDR Gold Shares (NYSEARCA:GLD) and close their shorts of the gold miners. Since a near perfectly timed call, which did have a bit of luck involved, on gold we have looked elsewhere in the commodity complex for interesting ideas, with some success.
Which is why we found this Bloomberg article (located here) regarding gold traders to be interesting. Investors have been mistiming their moves as of late and it just goes to show that even the smartest guys in the room can sometimes be wrong. If we had been forced to have a position in gold we probably would have been wrong on the big multi-month rebound that has occurred, which is why we believe it is important to close positions and walk away from trades when you no longer have a strong opinion or cannot make sense of a market.
Chart of the Day:
Although we are not involved in this market, it does have an impact upon other areas where we do have interest so we always follow gold. With that said, this $1,300/ounce level is quite important and if traders cannot find support somewhere in this area we might be heading towards the lows of 2014 sooner rather than later.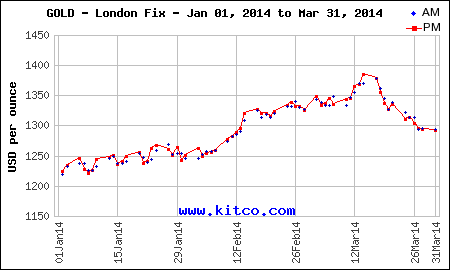 Source: Kitco
Commodity prices this morning are as follows:
Gold: $1,298.00/ounce, down by $5.50/ounce
Silver: $19.86/ounce, down by $0.086/ounce
Oil: $100.44/barrel, down by $0.70/barrel
RBOB Gas: $2.9165/gallon, down by $0.0148/gallon
Natural Gas: $4.496/MMbtu, up by $0.057/MMbtu
Copper: $3.0405/pound, up by $0.018/pound
Platinum: $1,429.70/ounce, down by $21.20/ounce
LNG Deal
Normally we focus on Cheniere Energy (NYSEMKT:LNG) but today it is the partnership Cheniere Energy Partners, LP (NYSEMKT:CQP) which is leading the way higher. Cheniere Energy announced today that one of its subsidiaries signed a sale and purchase agreement deal with Spain's Endesa for an additional 0.75 million tonnes per annum of LNG. The Corpus Christi LNG site, which is the subsidiary which signed this deal, is being permitted for up to 3 trains which should produce up to 13.5 million tonnes per annum of LNG.
Aluminum Hot
We were incorrect when we said that Alcoa's (NYSE:AA) move higher had ended recently and rotating that capital into Freeport-McMoRan (NYSE:FCX) only made the call that much worse. Long-term we do like call to reallocate the funds, but it is now quite clear that the correct time and place was not where we did it.
We thought that the run here was over back in December 2013 around the $10/share level. We were wrong and the stock has continued higher.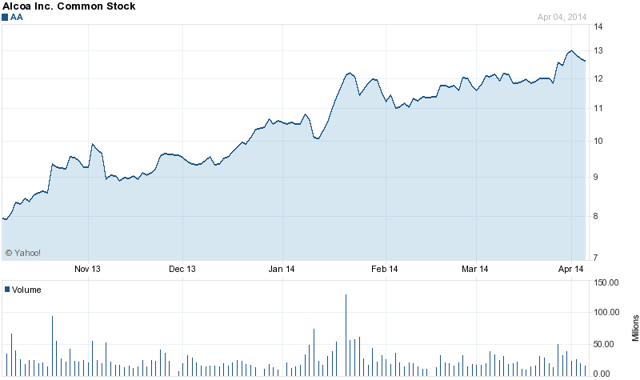 Source: Yahoo Finance
With that said, for those on the outside looking in, it would be hard to imagine missing significant gains by waiting until after Alcoa's earnings release to open a position because the expectations at this point are pretty high. There is not a whole lot that could be said that could drive the shares significantly higher, so if playing the name long-term it might be wise to de-risk the play by waiting until after the earnings release and subsequent conference call with Q&A.
Disclosure: I have no positions in any stocks mentioned, and no plans to initiate any positions within the next 72 hours. I wrote this article myself, and it expresses my own opinions. I am not receiving compensation for it (other than from Seeking Alpha). I have no business relationship with any company whose stock is mentioned in this article. FCX has previously been recommended.