After posting a surprise fourth quarter profit, the first such profit in 11 reports, shares of Dangdang (NYSE:DANG) nearly doubled to hit a high of $19.05. Since that immediate jump which fizzled after the first week of March, shares have steadily fallen and dropped almost 33 percent from that high. Such a dive might seem alarming, but the recent pullback actually goes along with the continued chart pattern of the stock.
From mid-July until mid-August of last year, shares in DANG surged from a low of $6.33 to a high of $12. However, by the end of August, shares fell all the way back to $7.68 for a pullback of 34 percent before steadying.
A similar occurrence took place in October when shares gave back over 36 percent following a resurgence in September.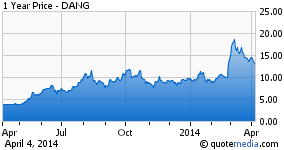 Of course, it's not just the historical trading pattern of the stock that could work to assure investors. Following the company's surprise profit in the fourth quarter, earnings estimates for 2014 have continued to be adjusted upwards. Analysts now expect the company to post a profit in the final three quarters with top line estimates projecting earnings of $0.18 in the fourth quarter.
With the projected earnings loss in the first quarter expected to come in at only a penny, there's also a real chance the company posts profits throughout the year.
Meanwhile, volume has remained high ever since the most recent earnings report indicating general interest from investors. Whereas average daily volume struggled to get past two million throughout much of 2013, the average volume now stands at around 3.5 million.
Investors, however, should also be aware. Although the company is showing strong growth, as with any Chinese stock, extra caution should be taken while opening any position. Investors would be wise to consider or execute a stop loss at or around $12.
Disclosure: I am long DANG. I wrote this article myself, and it expresses my own opinions. I am not receiving compensation for it (other than from Seeking Alpha). I have no business relationship with any company whose stock is mentioned in this article.