Shorts proved me wrong on MannKind (NASDAQ:MNKD) last week.
I contended that after the company's positive 13-1 vote at ADCOM that the shorts could continue to squeeze the stock through its highs in the upper $8 region to end the week. Instead, shorts piled back in and profit takers helped knock the company down almost 20% from its highs after the news. The success of Afrezza is going to eventually tell who is on the right side.
From MannKind's website:
AFREZZA® (pronounced uh-FREZZ-uh) is a first-in-class, ultra rapid-acting mealtime insulin therapy being developed to improve glycemic control in adults with Type 1 and Type 2 diabetes mellitus. It is a drug-device combination product, consisting of AFREZZA Inhalation Powder single use dose cartridges, and the small, discreet and easy-to-use AFREZZA inhaler. Administered at the start of a meal, AFREZZA dissolves immediately upon inhalation and delivers insulin quickly to the blood stream. Peak insulin levels are achieved within 12 to 15 minutes of administration, mimicking the release of mealtime insulin observed in healthy individuals.
In other words, Afrezza offers potentially the easiest and safest way of managing diabetes that we may have ever seen.
The ADCOM vote comes as a predecessor of the company's PDUFA date, which will determine ultimate approval to market the drug from the FDA.
It was announced this morning that this date was being pushed back into July in order to further review documents that MannKind had submitted:
MannKind Corporation today announced that the U.S. Food and Drug Administration (FDA) has extended the Prescription Drug User Fee Act (PDUFA) date for AFREZZA® by three months to July 15, 2014 in order to provide time for a full review of information submitted by MannKind in response to the FDA's requests.
The news changed the story for an otherwise faltering MannKind - now a stock that has posted 12 month gains of 82.7% and YTD gains of 32.1% after pulling back over recent months on uncertainty. The six month chart tells a lot of the tale, even though the stock will likely sell off on the PDUFA date move.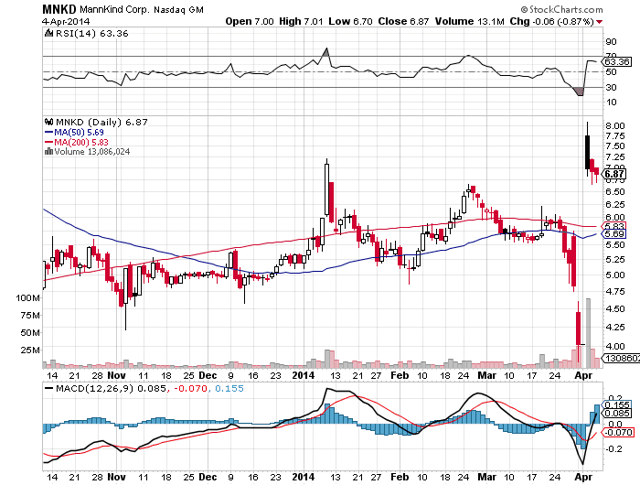 The natural progression in the bullish thesis has occurred - from whether or not approval will take place, to whether or not MannKind is going to be able to monetize the approval effectively.
Again, I've written many articles lately - about Bank of America and Intel, namely - stressing the importance of being on the front of the adoption curve.

Both the bearish and the bullish behind Afrezza - and the corresponding QA predicting how much the drug could potentially make - cite the argument of it being the first of its kind. Bulls cite that it's smaller and easier to use than any other forays into inhaleable insulin. Bears cite past failures from Pfizer and having to be a trend setter as negatives. Bulls cite the same items as positives.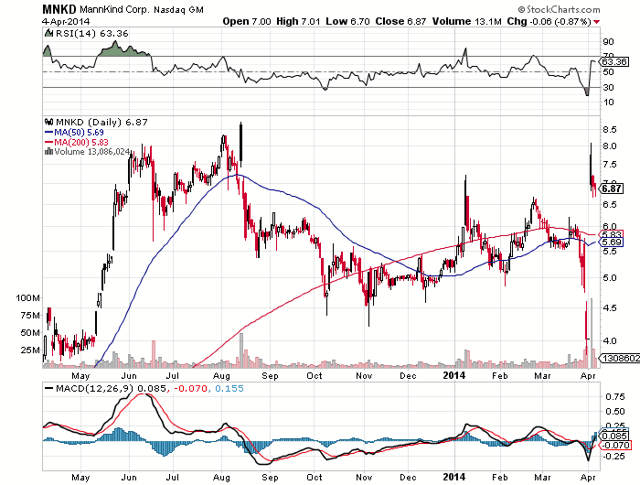 But, an interesting theme occurs - looking at the 1 year chart of MannKind, we can see that the company's stock is trading in the same range it was about 10 months ago. While buyers were ready to pay those prices without a positive nod for Afrezza, buying now should certainly seem like a "no brainer," right?
People were paying up to $8 for the company's stock on the heels the Afrezza Affinity trial results. Then, then took profits and there were a couple of bearish analyst notes that cause the stock to pull back in August. So, investors sold the Phase III news, knowing there was still a bit of a road to go for MannKind.
Again, we're seeing that same action now - investors selling the FDA ADCOM news - but Afrezza is one stop closer to serious monetization, and that's news that investors don't sell on. It's the news investors buy on.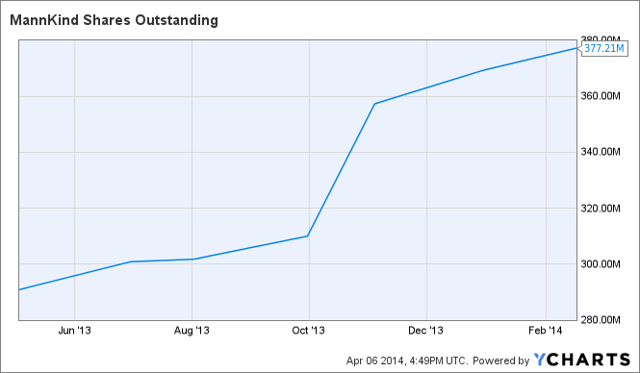 MNKD Shares Outstanding data by YCharts
Today, MannKind will open even cheaper than what it sold off last week due to the PDUFA news.
One small note is that the company has increased its outstanding shares by about 22.5% since its pricing in August. So, there is a bearish point to make, in fact, that MNKD at $6 today is like it trading at $8+ last August.
Again, however, I'm contending that the positive impact from ADCOM and the fundamental success the company has had since then give it a serious potential for growth. With some estimates for Afrezza getting as high as $1 billion/year, a company trading with a $2.59 billion market cap is sure to look significantly undervalued years from now, if MannKind can execute its rollout of Afrezza.
I'm considering MannKind for a small purchase this month at some point, especially if it continues to pare back.
Best of luck to all MNKD investors.
Disclosure: I have no positions in any stocks mentioned, and no plans to initiate any positions within the next 72 hours. I wrote this article myself, and it expresses my own opinions. I am not receiving compensation for it (other than from Seeking Alpha). I have no business relationship with any company whose stock is mentioned in this article.