Rumors indicate that Apple (NASDAQ:AAPL) and Comcast (NASDAQ:CMCSA) will form some sort of partnership. However, a partnership with Apple will have immaterial financial impact as Apple's revenue nears the $200 billion mark. The incremental add needed to sustain revenue growth would require more than just a new product category, it would require an acquisition. The acquisition would have to offer some strategic value to Apple, and it must operate at extreme scale.
At this specific juncture Apple should acquire Comcast. An acquisition of Comcast would make it the highest valued acquisition in corporate history, which may leave some skeptical of whether such a deal is even realistic. But considering the mounting pile of cash, and the slowing growth in Apple's core hardware business, adding a high-margin service business could be its winning ticket to becoming a resurgent growth investment. It's likely that investors will come to reward Apple's management for its ability to create cash generative businesses from scratch, and its savvy acquisitions.
Apple is becoming increasingly dependent on service revenue
The best summary I got on the potential Comcast, and Apple partnership came from USA Today:
Barclays Capital analyst Kannan Venkateshwar does not believe the arrangement will amount to anything more than a Comcast app on an Apple TV menu, alongside Netflix and Hulu, with services that are solely available to existing Comcast customers. "Such an arrangement would imply that any subscriber to such a service would have to be a Comcast subscriber who happens to have Apple hardware, rather than an Apple customer who becomes a Comcast subscriber," he said.
Kannan makes a solid point; basically Comcast subscribers would get a box that has Apple's logo on it, that streams content a little better. This means that Apple customers, who don't have a Comcast subscription, won't get access to the Comcast application. Rather, Comcast subscribers will get an Apple box that has better streaming privileges.
This doesn't put Apple shareholders on top. Instead it makes Comcast another distributor of Apple hardware. This isn't going to get shareholders anywhere, because Apple's future bread and butter will come from services, rather than hardware.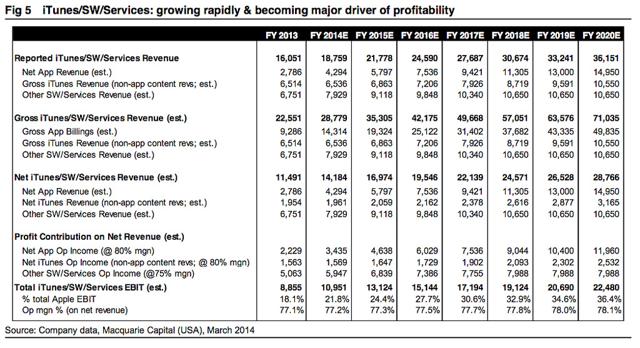 Source: Macquarie Capital
By 2020, Macquarie Capital estimates that iTunes/Software/Services will total to 36.4% of Apple's total EBIT (earnings before interest and taxes). Therefore, Apple needs to build its future around higher margin services rather than hardware if it wants a clear path to net income growth over the next five years.
In an environment of stagnating computer sales, slowing smartphone penetration, and cannibalization of tablets from larger smartphone devices - Apple may need something much more meaningful from Comcast than a simple distribution deal. I think that even if Apple were to secure Comcast as a partner that allows for better broadband speeds to Apple's TV box, the content distribution doesn't transfer over to Apple's other ecosystem of technology products such as iPhone, iMac, and iPad. This kind of partnership limits the upside potential for Apple.
Apple should be interested in buying out Comcast
This sounds absolutely ridiculous considering Comcast's current market capitalization of $105 billion, but I think Apple should be eyeing a take-over of Comcast. For the past 14 years, we've never seen a major technology company make any major headway into the old and well-established television industry. However, Apple may be the first to do this, if it plays its cards a little differently.
Currently, Google (NASDAQ:GOOG) has taken on the challenge of bringing faster broadband through Google Fiber (fiber to the premises). I covered the topic of Google Fiber, a year ago, and estimated that Google could saturate 20% of the communication market and earn $24 billion in annual revenue. This could take many years, and assuming Google is successful it would update the internet infrastructure for a small minority of homes in the United States.
But if Apple were to buy out Comcast it can get an early lead, and establish the overall direction of network television, and broadband internet in the United States. This is because Comcast has 30% market share in the United States.
A Comcast buyout offers strategic value to Apple in multiple ways:
Comcast already operates an established business, allowing Apple to leverage the established cash flow of a cable broadcast company to put it towards digital streaming.
Apple will be able to control 30% of the United States television market, giving Apple significant leverage in negotiations when buying content from movie studios.
If Apple can re-direct the business to online web steaming, it can cannibalize the cable business entirely, and offer an application that all Apple users can simply download and use to watch on-demand television, or live-broadcast events (sports).
Considering the sheer scale of Apple's cash pile, Comcast's subscriber base could get a huge boost in internet bandwidth speeds assuming Apple is willing to invest heavily into fiber-to-the-premises.
Comcast may value its independence, but there's no denying that the combined resources from Comcast and Apple could result in a much stronger competitive moat in an environment of intensifying competition from well capitalized competitors like Verizon (NYSE:VZ), AT&T (NYSE:T), and Google. Some of the largest tech companies in the world are encroaching upon Comcast's core business, and if this continues, it's unlikely that Comcast will escape unscathed.
Quantifying the opportunity
In a previous article, I attempted to explain how Apple could make its entry into the television market, but many in the industry found that it was either unrealistic, or just flat out foolish. Either way, Apple needs to identify a large market, and saturate a large enough of a percentage of it in order to drive revenue growth.
| | | | |
| --- | --- | --- | --- |
| Category | Comcast | Apple | Consolidated |
| 2013 Revenue (millions) | 64657 | 170,910 | 235,567 |
| 2013 Net Income (millions) | 6816 | 37,037 | 43,853 |
Source: Comcast and Apple annual Report
Assuming, Apple can buy out Comcast for $125 billion (25% premium), Apple will be ready to absorb an additional $64 billion in annual revenues, and an additional $7 billion in annual profit. This would bring Apple's revenue to $235.5 billion, and net income to $43.85 billion (excluding the impact of organic growth between fiscal year 2013 and 2014).
Apple has $104 billion in retained earnings, but it can tap into its own shares in order to finance the remainder of the deal, and with it generating $40 billion+ in profit per year over the next 3 years, Apple will end up adding another $120 billion to its retained earnings column anyway. So the deal isn't risky from strictly a balance sheet standpoint. Also, I know many of you will mention the overseas tax hurdle, which is precisely why the deal would have to be financed with Apple stock resulting in some shareholder dilution.
Gartner estimates that Apple's installed base for all Apple devices will reach 400 million by 2015. Assuming Apple can sell a web streaming television service to 25% of the worldwide installed base that would amount to 100 million global subscribers. If Apple charges a monthly rate of $30, Apple could generate $36 billion in additional annual revenue. If we include organic revenue growth of Apple's core business at 6%, consolidated revenue from Comcast, Apple's total revenue could well exceed $300 billion over the next three years. Therefore, I'm definitely in favor of Apple acquiring Comcast.
Regulatory risks & financial risks
The financial risks may be bigger than regulatory challenges. For example, the AOL and Time Warner merger didn't result in the intended consequence as AOL was trading at a ridiculously high earnings multiple at the time without any prospect of growing into the high valuation that it traded at. Eventually, the two companies split and had to record a $99 billion paper loss. The most successful merger deals tend to happen between two companies that operate within the same sector. So this special case scenario between Apple and Comcast is one of the few exceptions where two fundamentally different companies can leverage the other.
The United States basically bans any attempt at manipulating trade with foreign nations, or any attempt at monopoly. In this specific case, an Apple acquisition of Comcast may be able to avoid the scrutiny of anti-trust laws because Apple is primarily a consumer electronics company.
However, regulators have had more scrutiny these days. For example, the Sprint buyout of T-Mobile has been met with challenges by the Department of Justice even though it's likely that a better number three network would result in a more competitive environment amongst United States telecoms. Likewise, if Apple were to buyout Comcast, it may provide enough financial resources for Comcast to dominate weaker competitors reducing the overall competitiveness of the broadband communication segment of the economy. Therefore, Apple would have to communicate very clearly that it wants to leverage Comcast's financial assets for activities outside of communication services, and doesn't intend to create a monopoly, but instead intends to build a better network for Comcast's current base of subscribers (therefore offering societal benefit).
If Apple were to buy out Comcast it would also have to adhere to net-neutrality laws. Therefore, Apple would have to agree in advance with the Federal Communications Commission (FCC) that they will not throttle internet connections for non-Apple devices, and non-Apple services. After all, if consumers find that their Windows PC and Android smartphone have slow speeds at home, it may encourage consumers to buy an Apple product instead. So that type of profit-seeking motive would result in the FCC imposing strict rules on how Apple would manage internet speeds for broadband subscribers.
Overall, I believe that if Apple were to acquire Comcast, there may be some regulatory resistance, but it shouldn't be too severe, or insurmountable. There's a lot that Apple can do to come to a happy resolution with regulators.
Conclusion
Clearly, the rumors indicate that Apple is looking for a partnership with Comcast, but given what's known the deal offers questionable value to shareholders. Instead, I think Apple should buy out Comcast, and attempt to leverage Comcast's content to build a web application that can offer on-demand streaming and live events. It would be the first application of its kind, and assuming 25% of Apple's installed base subscribes, Apple's revenue growth may resume double-digit growth rates.
However, if instead we get the rumored business deal rather than an acquisition, it will have no meaningful impact to Apple shareholders over the short or long term. Apple's set top box business would end up shipping a couple extra million units per year, resulting in low-incremental add to revenues.
Disclosure: I have no positions in any stocks mentioned, and no plans to initiate any positions within the next 72 hours. I wrote this article myself, and it expresses my own opinions. I am not receiving compensation for it (other than from Seeking Alpha). I have no business relationship with any company whose stock is mentioned in this article.