By Carla Fried
Five years into a bull market, it seems timely to consider ways to add some tactical defense within your stock portfolio. The Market Vectors Wide Moat Index ETF (NYSEARCA:MOAT), which owns the likes of Berkshire Hathaway (NYSE:BRK.A) (NYSE:BRK.B), CH Robinson Worldwide (NASDAQ:CHRW), General Electric (NYSE:GE) and BlackRock (NYSE:BLK), has an interesting value proposition.
Though the ETF is just coming up on its two-year anniversary, the index it tracks, the Morningstar Wide Moat Focus Index, has been around for a decade and impressively outperformed the S&P 500. Here's the ETF's performance since its April 2012 launch compared to the SPDR S&P 500 ETF (NYSEARCA:SPY):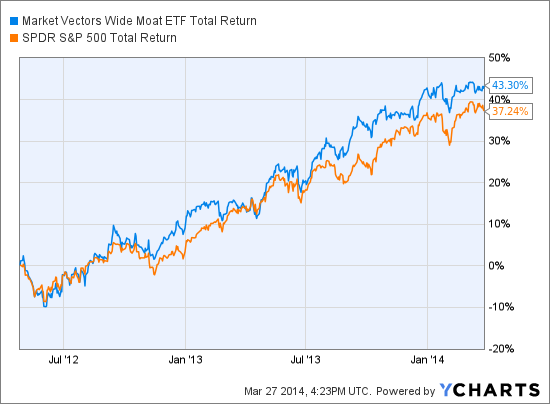 MOAT Total Return Price data by YCharts
The first part of the value proposition is a function of how the index works. Once a quarter, Morningstar ranks the 200 or so companies it deems to have wide competitive moats (from about 1,500 or so stocks Morningstar analyzes) based on their price to Morningstar's estimate of fair value. The 20 wide moats trading at the biggest discount make it into the portfolio. That's a nice piece of ongoing valuation rebalancing. (Full disclosure: Morningstar is an investor in YCharts.)
The other value proposition is how such a portfolio performs in down markets. Given its focus on price-to-fair value it stands to reason it should hold on relatively well. In 2008, the index lost 20% compared to the 37% drop for the S&P 500.
The Market Vectors Wide Moat ETF has yet to experience any real pressure in its first two years given the lack of any measurable extended pullback for stocks over that stretch. That said, Morningstar does calculate that over the past year the Market Vectors ETF captured 100% of the S&P 500's performance on up days and just 80% of its losses on down days. To be clear, that's not exactly a robust data set. And right now the 200 wide moats on average are selling at fair value - about the same as the broad market.
But in the latest reconstitution, for the second quarter, the 20 stocks in the index (and the ETF) range from Western Union (NYSE:WU) selling at a 28% discount to Morningstar's estimate of fair value to eBay (NASDAQ:EBAY) selling at a 10% discount.
As YCharts' Jeff Bailey recently noted, Western Union's fat 3%+ dividend yield offers real time payback while the company works through some operational issues. If you happened to own Western Union back in October 2012 when it first warned of problems, you're none too happy: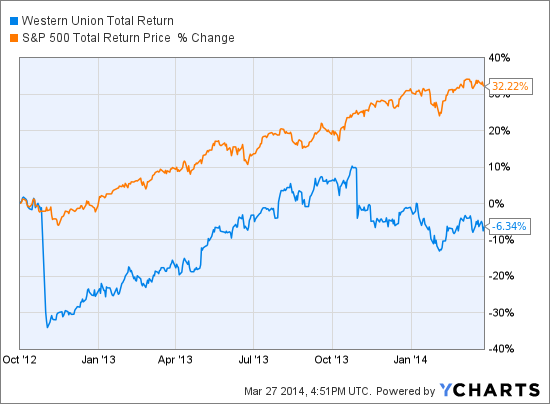 WU Total Return Price data by YCharts
But what's interesting is that since that massive valuation reset, Western Union has in fact managed to outpace the S&P 500's total return, suggesting that the market feels all the bad news was properly discounted in that sharp fall 2012 haircut.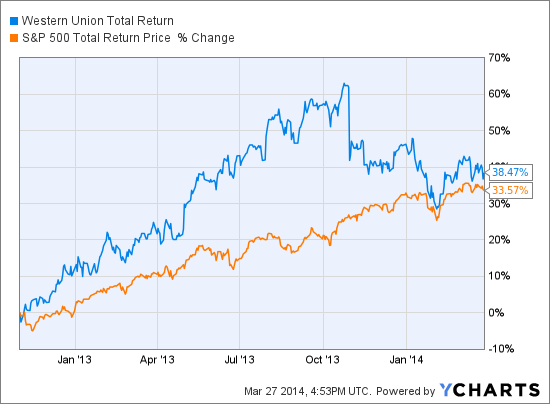 WU Total Return Price data by YCharts
If that's the case, then fresh money has a rare opportunity right now. As noted, Morningstar's proprietary analysis puts the current price at a near 30% discount to fair value. Again, that's in a market that is trading right at fair value according to Morningstar. While Western Union's PE ratio and Price to Cash Flow have moved up since the fall of 2012, we're still at the low end of their long-term norms: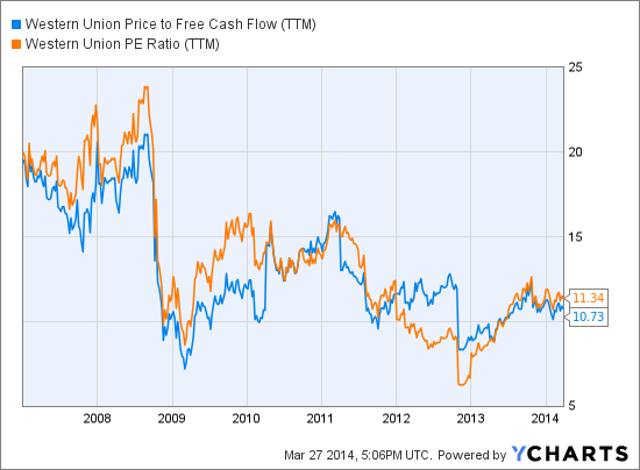 WU Price to Free Cash Flow (TTM) data by YCharts
Eight stocks were booted from the index in the second-quarter reconstitution. Morningstar downgraded Weight Watchers International (NYSE:WTW) from a wide moat to a narrow moat as it has struggled to maintain a dominant edge in a market that is increasingly app-centric. as we've noted at YCharts, Weight Watchers' balance sheet is strained. And the Weight Watchers customer relationship isn't all it could be.
Income seekers who've been feasting on Kinder Morgan's (NYSE:KMI) 4%+ dividend yield should take note that Morningstar reduced its fair value price to $34 from $40 in the first quarter on the expectation of more muted cash flow growth going forward. That new fair value price puts the stock at just a 5% discount, compared to 20% at the prior fair value estimate. Compass Minerals (NYSE:CMP) also got the boot from the index based on a reduction in its fair value from $94 to $84 per share in the first quarter.
The five other exits were because their prices no longer are at steep enough discounts to make it into Morningstar's top 20 wide moat valuation deals. The five are Oracle (NASDAQ:ORCL), Eli Lilly (NYSE:LLY), McDonald's (NYSE:MCD), Intuitive Surgical (NASDAQ:ISRG) and Accenture (NYSE:ACN). As seen in this chart, only Lilly and Intuitive Surgical have seen strong price appreciation.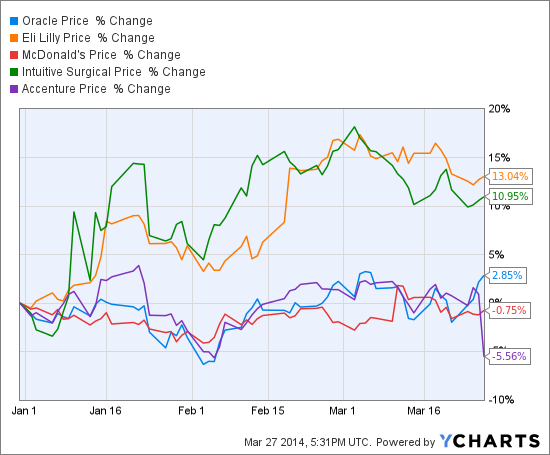 ORCL data by YCharts
The three others were simply edged out of the index this quarter as other wide moats now trade at steeper discounts. Still, all three are indeed trading below fair value. McDonald's was trading at an 8% discount to fair value recently, Oracle was at a 5% discount and Accenture at 4%.
Disclosure: None.