A few years back, the patent investment segment was one of the hottest sectors in the stock market. Now the segment has gone mostly flat with few big patent victories and declining stock prices. The momentum investor looking for the big gains moved into the hot social media and biotech stocks. Typically, once investors lose interest in a sector is the best time to become interested.
With high stake cases, the sector can be a huge hit and miss combined with years of waiting for a case to payoff. In addition, the high profile stocks of VirnetX Holding Corporation (NYSEMKT:VHC) and Vringo, Inc. (VRNG) haven't paid off for investors lately naturally leading the sector down.
In the past, Stone Fox Capital has written about Document Security Systems (NYSEMKT:DSS) and MGT Capital Investments (NYSEMKT:MGT) trying to the find the next VirnetX that made astronomical gains for early investors on trial victories or large settlements. As with the sector, those stocks struggled in 2013 making a contrarian player more interested in the sector now that the hot money has moved on. From the chart below, the sector stocks began 2012 with some solid gains to eventually give up all of the gains by early 2014. In fact, most of the patent stocks have large losses over the last two years while the Russell 200 Index soared nearly 45%.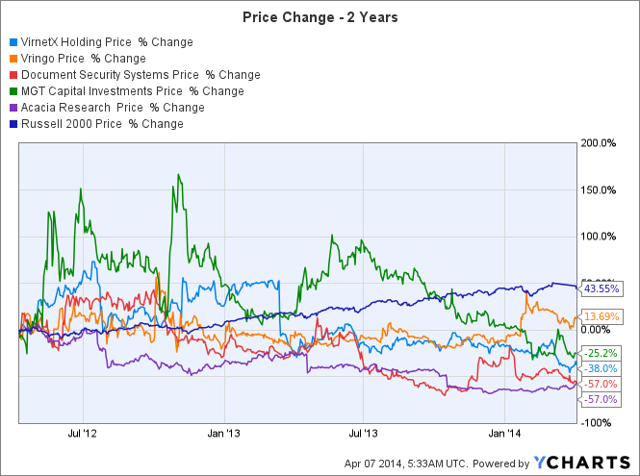 Click to enlarge
VHC data by YCharts
Markman Advisors
With the complexity of patent cases and the volatile outcomes, it always helps to have some patent experts on your side and Seeking Alpha followers have that in the case of Markman Advisors. The firm of attorneys that specializes in the strategic analysis of investment opportunities presented by intellectual property with a focus on patent litigation activities has a solid list of articles reviewing patent stocks including this one that led to a little known patent stock in Marathon Patent Group (NASDAQ:MARA). Investors can read this Seeking Alpha interview with the Markman Advisors for a good overview of patent investing.
Marathon Patent Group is a patent acquisition and monetization company that pursues a diversified patent portfolio to reduce the risk of any individual patent. The company has acquired nine patent portfolios with a total of 119 patents having claims that cover a diversified group of technologies. Marathon launched its first patent licensing campaign in March 2013 and currently has eight different licensing campaigns that encompass an incredible 87 different defendants.
Diversified Patent Portfolio
As mentioned above, the company has a diversified group of nine patent portfolios with the original acquisition of the Sampo IP LLC only back in November 2012. In a short period of time, Marathon has accumulated a large group of patents.
The goal is to run numerous licensing campaigns to where small victories eventually add up to substantial revenue streams. In theory, this makes Marathon Patent Group more of an investment than a gamble like the typical patent case or stock. The slide from a recent investor presentation highlights how the goal is to achieve a constantly growing amount of licensing campaigns and hence revenue stream that grows with each victory.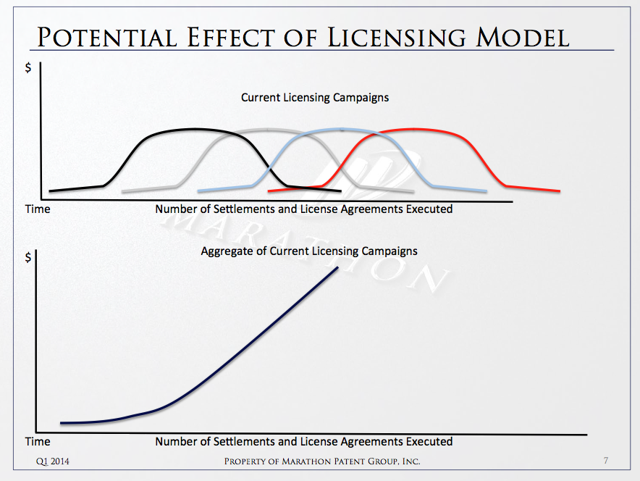 Click to enlarge
Back when Markman Advisors wrote about Marathon Patent Group, Markman stated that the company had obtained five patent portfolios (at the time of the article) with over 130 licensing agreements for about $55 million in generated revenue.
Patent Portfolio Activities
For 2013, the company made progress by generating $3.4 million in revenue and reduced the loss from operations to $3.7 million. In total, only $1.5 million in net cash was used for the year to fund the expanded patent license campaigns. By working with IP Nav, Marathon has a scalable monetization platform without substantial overhead additions. Below is a summary of the patent portfolios owned by the company and the enforcement activities:
CyberFone Systems, LLC's portfolio includes patents that cover specific transactional data processing, telecommunications, network and database inventions, including financial transactions. During 2013, 9 settlements were completed. CyberFone currently has lawsuits outstanding against 11 defendants.
Relay IP, Inc.'s portfolio includes patents that enable multicasting on Internet protocol networks. During 2013, Relay filed 28 lawsuits. Three settlements were completed in 2013. IP Relay currently has lawsuits outstanding against 24 defendants.
Sampo IP, LLC's portfolio includes patents describing collaborative systems that entail centralized communication methods for storing information and pushing notifications to group participants. During 2013, Sampo filed 5 lawsuits. Three settlements were completed in 2013. Sampo currently has lawsuits outstanding against 7 defendants.
Vantage Point Technology, Inc.'s portfolio includes patents relating to a wide range of technologies including processor architecture in the mobile device marketplace. During 2013, Vantage Point filed 27 lawsuits. Vantage Point currently has lawsuits outstanding against 24 defendants.
Bismarck IP's portfolio includes patents relating to performance enhancement features and enabling technology within switching communication terminal equipment and in Private Branch Exchanges (PBX's) in a communication network.
CRFD Research, Inc.'s portfolio includes patents that cover key enabling wireless technologies including the transfer of active session among devices and web content transformation into formats compatible with destination devices. During 2014, CRFD has filed against 17 defendants.
Loopback Technologies, Inc.'s portfolio includes patents cover the automotive and related industries in the areas of occupant restraint and safety systems as well as automotive centric communications methodologies including sensing and detection technologies.
E2E Processing, Inc.'s portfolio includes patents relating to process automation in the production and enterprise resource planning space (ERP). During 2014, E2E has filed against 4 defendants.
Hybrid Sequence, Inc.'s portfolio includes patents related to frame relay technologies, a standardized wide area network technology that specifies the physical and logical link layers of digital telecommunications channels using a packet switching methodology.
As can be seen from the list, the company has a substantial amount of lawsuits, patent portfolios, and defendants. It claims the plan to turn this list plus other patent acquisitions into $100 million of revenue over the next three to five years. The goal is to achieve gross margins in a range between 40% to 50% of revenue with operating expenses estimated at 10% to 20% of revenues. If those totals were achieved, it would be a solid business model. So far though, the public firms are early in the game and haven't reached the level of profitability outside any one-time patent victories.
Recent Developments
To highlight the vast diversity of the patent portfolio and the progress being made, the company has filed several lawsuits against some of the biggest companies in the world spanning several different patents. The diversification is very clear in only reviewing the filed cases in barely more than the last month.
On April 2, the Signal IP subsidiary filed a patent infringement lawsuit against American Honda Motor Corp. (NYSE:HMC), KIA Motors America (OTC:KIMTF), Mazda Motor of America (OTCPK:MZDAF), and Mitsubishi Motors North America.
On March 10, CRFD Research subsidiary filed five patent infringement lawsuits covering two technology patents against Hulu, Netflix (NASDAQ:NFLX), Spotify, Amazon (NASDAQ:AMZN) and Verizon (NYSE:VZ).
On February 27, the CyberFone subsidiary filed four patent infringement lawsuits against Lexmark (NYSE:LXK), Konica Minolta (OTCPK:KNCAF), Ricoh (OTC:RICOF) and Xerox (NYSE:XRX).
Investors will want to see that these patent cases turn into positive cash flow for the company before getting too excited. For 2013, Marathon was able to generate $3.4 million in revenue without seeing a material increase in expenses absent the $1 million charge for amortization of patents. Without that charge, operating expenses only increased from $5.5 million in the same period of 2012 to $6 million last year.
Watching the operating expenses will be very crucial for the success of the Marathon stock. Outside of legal experts such as the Markman Advisors, the typical small investor would find it impossible to analyze these cases alone much less the full slate of patents and previously filed cases. The ability to achieve stated goals of growing licensing revenues while continuing to keep costs in check will be paramount for the success of this stock as the company progressed through 2014 and beyond.
Steady Chart
Considering the quick success in turning acquired patent portfolios into revenue generating settlements, the stock has seen a steady increase over the last year. Noticeably for more value investor types, the stock hasn't seen the wild price swings in the recent months typical of patent stocks.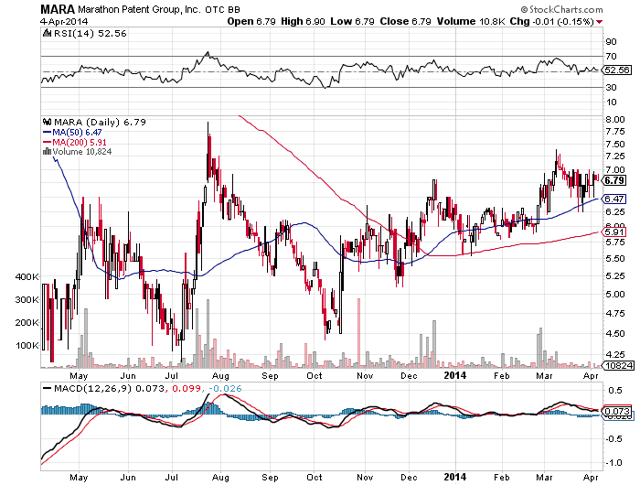 Click to enlarge
Conclusion
For investors looking for the big score in patents, Marathon Patent Group clearly isn't the ideal stock. Investors will want to focus on operational efficiency and the lack of corporate history makes that difficult. The ability for Marathon to buy portfolios at attractive prices and quickly turn them into positive cash flow will be the key to success over any one-time large payout. The recent weakness in the patent segment provides a level of assurance that investors aren't paying premium prices for the related stocks now.
Even despite the recent weakness in the sector and the more stable licensing plans, the stock remains very small and highly risky at a value of around $37 million with a limited history of proving out the business plan. Worth noting is that the stock of Acacia Technologies Group (NASDAQ:ACTG) pointed out by Markman Advisors in the Marathon article plunged nearly 50% in the months afterwards.
Marathon provides investors with numerous catalysts and a sector unloved by the market making for an interesting combination, but the risks are clearly very high until the concept is proven out by this company.
Disclosure: I have no positions in any stocks mentioned, and no plans to initiate any positions within the next 72 hours. I wrote this article myself, and it expresses my own opinions. I am not receiving compensation for it (other than from Seeking Alpha). I have no business relationship with any company whose stock is mentioned in this article. The information contained herein is for informational purposes only. Nothing in this article should be taken as a solicitation to purchase or sell securities. Before buying or selling any stock you should do your own research and reach your own conclusion or consult a financial advisor. Investing includes risks, including loss of principal.
Editor's Note: This article covers one or more stocks trading at less than $1 per share and/or with less than a $100 million market cap. Please be aware of the risks associated with these stocks.