Among the newest additions to the list of investment products providing leveraged exposure to specialized asset classes is ETRACS Monthly Pay 2xLeveraged Closed-End Fund ETN (NYSEARCA:CEFL). This ETN invests in a diversified portfolio of closed-end funds which are, according to the sponsor, "ranked the highest overall … in three criteria: fund yield, discount … and liquidity." As we shall see, the sponsor seems to have a loose interpretation of highest overall ranking.
The ETN is attracting considerable investor interest in recent days. The chart below (from Morningstar) shows an upsurge in volume for the week of March 31 - April 4 to about 4 times its average volume. This was accompanied by a move to a premium to the ETN's NAV (shown as the green line) of 0.40% at Friday's close.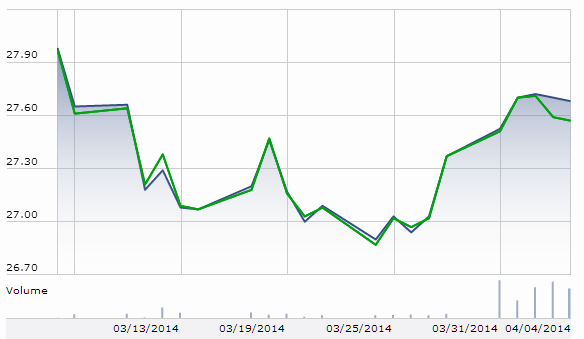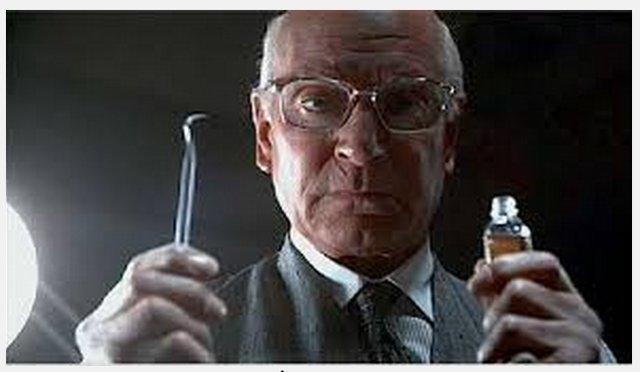 This interest is not surprising in today's yield-hungry environment. Closed-end funds are strong income-producing investment vehicles and with its 2x leverage CEFL is currently yielding about 17-18%. Clearly, for any leveraged investment paying out this level of income one must ask, "Is it safe?"
The ETN went live in December 2013, so there is a minimal record for evaluating the fund. The sponsor does, however, have considerable experience with comparable, leveraged income investments including ETNs covering BCDs, mREITs and MLPs.
The Portfolio
The funds that made up CEFL's complete portfolio per the sponsor's most recent report are:
AllianzGI NFJ Dividend, Interest & Premium Strategy Fund (NYSE:NFJ)
Alpine Total Dynamic Dividend (NYSE:AOD)
BlackRock Credit Allocation Income Trust (NYSE:BTZ)
BlackRock Enhanced Capital and Income Fund, Inc. (NYSE:CII)
BlackRock Enhanced Equity Dividend Trust (NYSE:BDJ)
BlackRock Global Opportunities Equity Trust (NYSE:BOE)
BlackRock International Growth and Income Trust (NYSE:BGY)
Blackrock Multi-Sector Income (NYSE:BIT)
BlackRock Real Asset Equity Trust (NYSE:BCF)
BlackRock Resources & Commodities Strategy Trust (NYSE:BCX)
Cohen & Steers Limited Duration (NYSE:LDP)
Eaton Vance Limited Duration Income Fund (NYSEMKT:EVV)
Eaton Vance Risk-Managed Diversified Equity Income Fund (NYSE:ETJ)
Eaton Vance Tax-Managed Buy-Write Opportunities Fund (NYSE:ETV)
Eaton Vance Tax-Managed Diversified Equity Income Fund (NYSE:ETY)
Eaton Vance Tax-Managed Global Buy-Write Opportunities Fund (NYSE:ETW)
Eaton Vance Tax-Managed Global Diversified Equity Income Fund (NYSE:EXG)
Flaherty & Crumrine Preferred Securities Income (NYSE:FFC)
Gabelli Equity Trust (NYSE:GAB)
GAMCO Global Gold Natural Resources & Income Trust (NYSEMKT:GGN)
ING Global Equity Dividend & Premium Opportunity Fund (NYSE:IGD)
MFS Intermediate Income (NYSE:MIN)
Nuveen Diversified Currency Opportunities Fund (JGT)
Nuveen Equity Premium Opportunity Fund (JSN)
PIMCO Corporate & Income Opportunity Fund (NYSE:PTY)
PIMCO High Income Fund (NYSE:PHK)
PIMCO Income Strategy Fund II (NYSE:PFN)
Wells Fargo Advantage Income Opportunities Fund (NYSEMKT:EAD)
Western Asset Emerging Markets Debt Fund (NYSE:ESD)
The table below draws data on the individual holdings from UBS E-TRACS' website for the ETN, cefconnect.com and Yahoo Finance. It lists % weight in the ETN's portfolio, current (April 4 Close) Market Price and NAV, Premium/Discount, Distribution Yield (%) and Leverage reported for each of the component funds.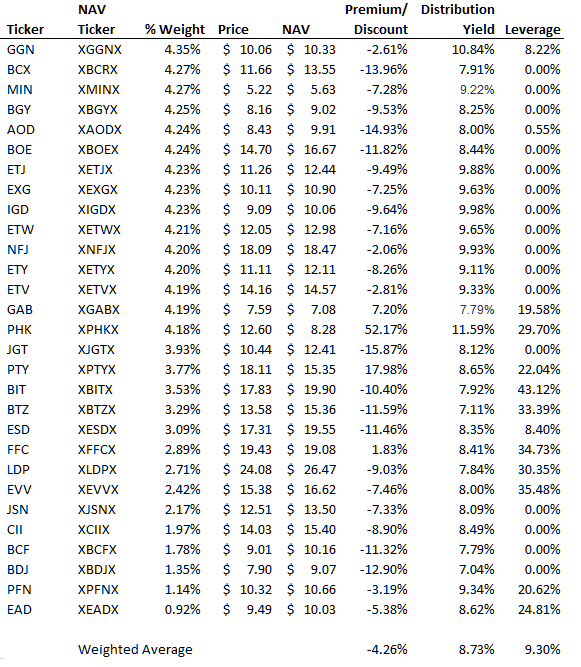 This is a diversified and diverse group of funds. I've tried to illustrate the range of investments using two different classification schemes for the funds. The one on top is my own "best fit" for categorizing the funds. The lower chart is based on cefconnect's categories. These categories are not particularly satisfying because they tend to lump global equity funds under US-Equities. Thus that large piece of the lower pie labeled US Equity-Covered Call includes a significant fraction of international holdings. Taken together I think the charts provide a picture of what's in the ETN.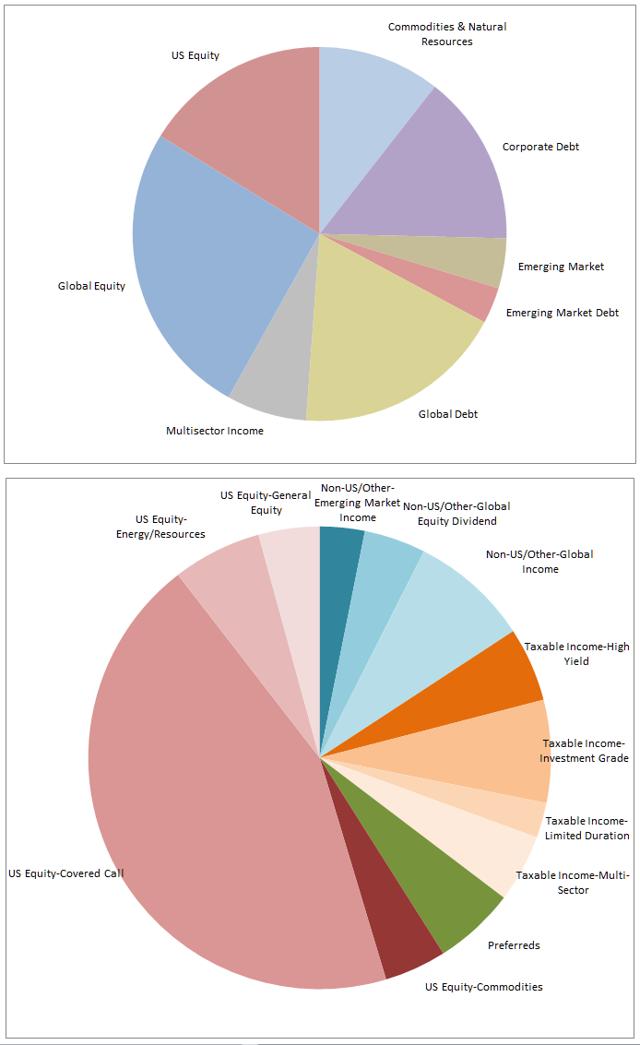 The first thing that struck me was that the ETN does not comprise funds with a frighteningly high level of leverage. With one exception, none of the equity funds is leveraged. Where leverage is a component of the constituent funds, it occurs in funds that invest in various debt instruments. The overall weighted average for leverage of the constituents is 9.30%. Of course this raises the leverage of the total package to about 55%, but this is well below what some commentators have suggested based, I can only assume, on the supposition that the ETN is heavily invested in leveraged equity funds. In fact, all but one of the equity funds is unleveraged.
Distributions and Performance
Weighted-average distribution yield for the unleveraged portfolio is 8.73%. The ETN is yielding about 18% including the pending April distribution, essentially what one would expect from the 2x leverage.
One of the things I look for in CEF investments is tax-advantaged income. It's not clear to me how CEFL is going to shape up in this regard. Several of its component funds employ tax-advantaged strategies, but my (superficial and certainly not definitive) assumption is that CEFL's distributions will all go into the books as ordinary income. The USP-ETRACS web page does not break down the distributions, but Morningstar does. This table is from Morningstar's site:

Note that the ETN is a monthly pay, which many investors appreciate, and the next ex- date is April 9, 2014.
Overview and Analysis
When I first learned about CEFL, I was skeptical, and I think that has been a widespread response among many observers of closed-end funds. With this closer look, I will admit to being considerably less skeptical and more than a bit intrigued. There is, of course, substantially increased risk in a 2x leveraged fund, but not to the extent some would have us believe. One sees the "leverage on leverage" charge levied with regularity. And, while it is true that there is leverage on leverage here, some of the more extreme estimates are not borne out.
The cohort of equity funds in the portfolio tend toward more the defensive. The fixed income component is somewhat more aggressive, and it is in this segment of the portfolio that the levered funds are found. As a portfolio of closed-end funds it is fairly reasonable in my view. There are funds I would not own. PHK for example has, in my view, an outrageously high and unsustainable premium, but it is paying over 11% and a lot of investors have made good money over the years by buying into this overpriced fund. Regardless, I fail to understand how a fund with a premium to NAV over 50% can be considered among the highest ranked overall when one includes discount to NAV in that ranking.
I tried to get a sense for how this portfolio will perform by looking at the constituent funds and weighting their 1, 3 and 5 year total return. Of course, this assumes a static portfolio that would have been unchanged over those time periods. Clearly, a ludicrous assumption, so I abandoned that effort. With that caveat, I will say here, however, that if one had purchased the present portfolio at the present weights one year ago, the total return would have been 8.35%. If one assumes that was approximately doubled by the 2X leverage factor, total return falls between 16 and 17%.
One could, of course, put together a portfolio of closed-end funds that reflects one's own individual situation (and not forgo the tax advantages to be had if one chooses that as a priority). However, an individual investor cannot practically construct a portfolio that is leveraged 2x. If for no other reason, it is simply too expensive. UBS on the other hand, can take advantage of its ready access to ultra-cheap money to effect this leverage in a cost-effective manner.
All the usual caveats about chasing yield certainly apply. Obviously this is not an investment for a risk-averse, conservative portfolio, but it may have a place as a small fraction of an aggressive income portfolio. It's too soon to tell how the ETN will fare over time, but UBS-ETRACS has a reasonably solid record with its other high-income leveraged instruments such as ETRACS 2xLeveraged Long Wells Fargo Business Development Company Index ETN (NYSEARCA:BDCL) which invests in Business Development Companies and ETRACS 2xMonthly Leveraged Long Alerian MLP Infrastructure Index ETN (NYSEARCA:MLPL) for Master Limited Partnerships.
For less aggressive investors interested in investing in CEFs via a diversified fund there is YieldShares High Income (NYSEARCA:YYY), an unleveraged fund of CEFs. I have no detailed understanding of that fund, but I will note that the investor who looks to CEFs for tax-advantaged income will, I believe, be giving up that advantage.
In closing, I will repeat that I am not an expert in finance or tax matters. I am an individual investor conducting research for my own purposes and publishing the results here for others who might find it helpful. These results are not definitive and certainly cannot substitute for one's own careful due diligence.
Disclosure: I am long ETY, PFN. I wrote this article myself, and it expresses my own opinions. I am not receiving compensation for it (other than from Seeking Alpha). I have no business relationship with any company whose stock is mentioned in this article.