This is part 16 in a continuing series of articles discussing building a portfolio of dividend income equities. The strategy seeks to use value investing principles and apply them to stable companies offering reliable dividends. Further safety is sought by diversifying through a wide range of industry segments and often using multiple tickers in each of those segments.
Series parts 1, 2, and 3 lay out the philosophy, strategy, and methods of the Tortoise Strategy and Use of Covered Option Writing to boost performance. I recommend readers review each of these first 3 initial parts. Beginning with part 4, each subsequent installment reviews and analyzes one of the 16 tickers identified in the preliminary screen (listed in part 4). A full index of links to the complete series, including future installments as they occur, is available here.
Canadian Imperial Bank of Commerce
| | | | |
| --- | --- | --- | --- |
| Canadian Imperial Bank of Commerce (NYSE:CM) | $ 86.43 | $ 3.52 | 4.07% |

Canadian Imperial Bank of Commerce, with roots back to 1867, is headquartered in Toronto, Canada. It provides a full range of individual and commercial banking products and services to Canadian and international customers. The company is ranked the strongest bank in North America and third in the world by Bloomberg Markets magazine.
Shares of CIBC have exhibited moderate growth over the years before they started plunging in November 2007, they shed over 74% of their value from a high of $108.79 down to $28.03 by March 2009. This plunge presaged the global financial crisis by a full year. It was triggered by CIBC's large exposure to CDOs created from the US housing market boom begun in the 1990s.
(click to enlarge) (source: yahoo.com)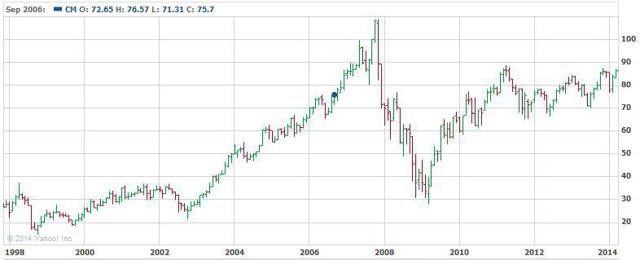 The company is yet to fully recover from its peak share price of November 2007, having recovered about 80% when measured in $USD. This picture is somewhat distorted by currency exchange rate decay for the Canadian dollar since that time. In Canadian dollar performance, the recovery has been 95%.
(source: CIBC Investor Relations)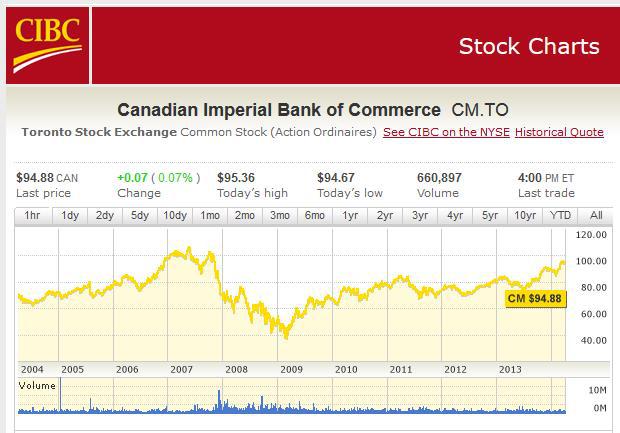 As with many banks, investors are attracted to Canadian Imperial for its long history of reliable and increasing dividends. The YDP chart confirms it to be a good fit for a dividend income equity investment pattern of valuation. Investors bid price up and down in reciprocal response to dividend distribution growth, so as to yield a result of relatively stable trends of effective yield rate. The correlation of these 3 variables is defined by the mathematical Y = D/P (Y is yield, D is dividend distribution, and P is share price). This is characteristic of dividend income equities and indicative that yield rate can be a measure of value. For those not familiar yet with YDP charts, I refer you to my introductory article on YDP chart analysis and its precursor article with several YDP chart interpretation examples.
(click to enlarge)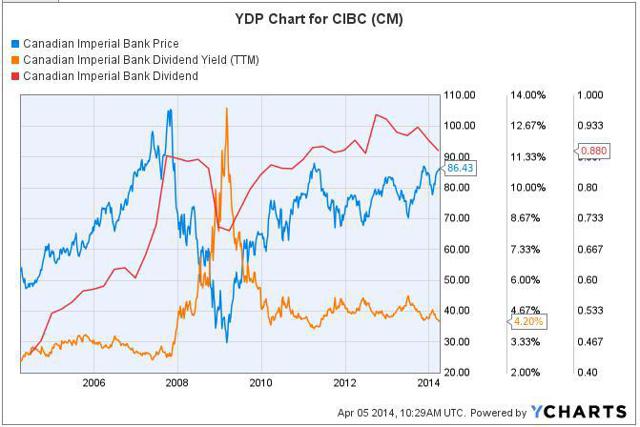 Since 2009, investors have valued CIBC's dividend stream to provide about a 4.7% yield rate. That rate has drifted down as share prices are bid up for the past 2 years, reflecting greater safety with the emergence of the bank as the strongest in North America and 3rd in the world. Dividends remain extremely safe with a 42% payout ratio.
(click to enlarge)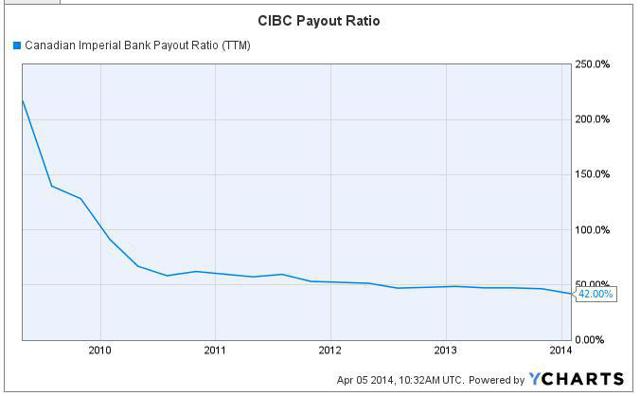 Traditional value metrics show CIBC to be well positioned in comparison to competitors. With a P/E almost 1/3 less than JPMorgan Chase (NYSE:JPM), Canadian Imperial is a true bargain.
(click to enlarge)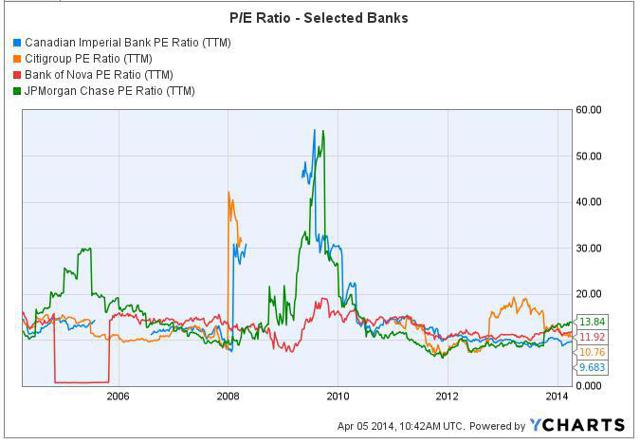 Management effectiveness shows CIBC to be strong among its competitors. Operating margins of 34.41% beat both Citigroup (NYSE:C) and JPMorgan Chase and are very close to Bank of Nova Scotia's (NYSE:BNS) 37.29%. Earnings yield is second only to JPM, beating BNS and Citigroup.
(click to enlarge)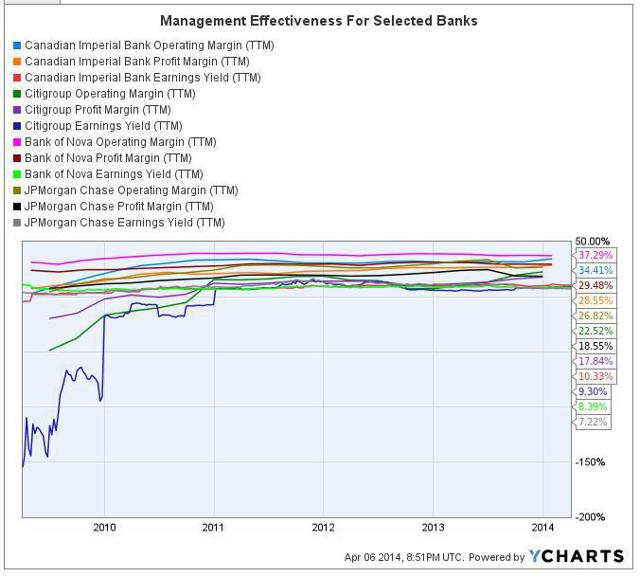 Overall, this is a company for investors seeking steady and reliable income with lots of room for dividend growth. When you couple this with its position among the 3 strongest banks in the world and a strong yield rate that can be boosted to outstanding using covered options, tortoise investors should consider a deposit of these shares in their portfolio today.
A look at the technical chart patterns reveals a few interesting points. An inverted head and shoulders pattern began to form at the start of the year and completed with breakout at the end of February. This marks a trend reversal to the upside. Previous resistance around $85.30 has now become support (red line vs. green).
(click to enlarge) (source: yahoo.com modified by the author)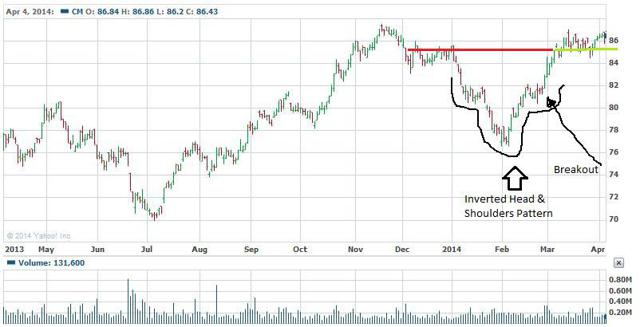 In summary;
Canadian Imperial is valued as a dividend income equity and moderate growth stock.
Shares are trading in a consolidation just above their support level of $85.30.
The strongest North American Bank and third strongest in the world, the dividend is rock solid safe at a 42% payout ratio.
Premium return rates should be examined and considered along with the balance between the investor's income and growth focus to determine which, if any, covered option strategy is best right now.
Covered Options to boost performance:
Covered Calls (left side of chart)
Close in calls out of the money do not offer attractive yields. The first one of interest is the 9/20/2014 $90.00 Strike with $1.40 premium on the 167-day contract. For existing shareholders, this premium boosts the $3.52 dividend by 39.77% and annualizing the premium results in a $3.06 premium boost, raising total annual cash income to $6.58/share (a 86.9% boost to a yield rate of 7.61%) on the current $86.43 market price.
Investors establishing a new entry are rewarded in the same way and are protected on the downside by the $1.40 premium offering a basis cost discounted to $85.03 after buying at market price.
(click to enlarge) (source: schwab.com)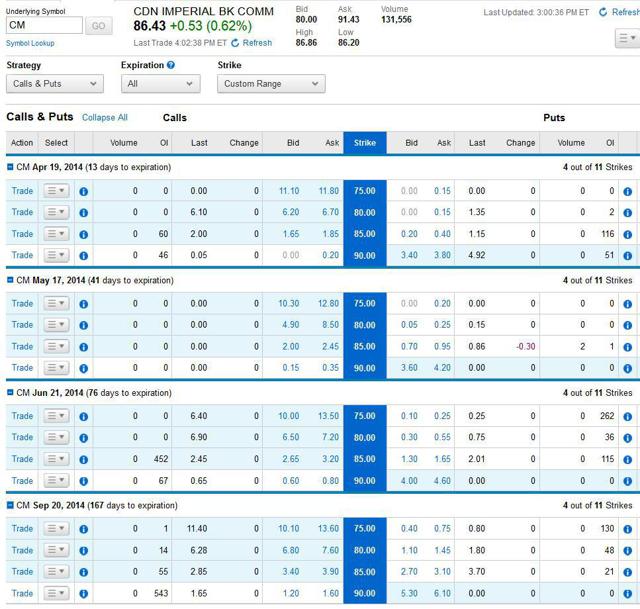 Cash Covered Puts (right side of chart)
Those looking to bypass a position in the shares for now and simply earn a return on their idle cash will find the following yields available from the $85.00 Puts on contracts of various lengths:
4/19/2014 13-day Put w/ premium of $0.30: 9.95% annualized yield
5/17/2014 41-day Put w/ premium of $0.80: 8.46% annualized yield
6/21/2014 76-day Put w/ premium of $1.50: 8.63% annualized yield
9/20/2014 167-day Put w/ premium of $3.00: 8.0% annualized yield
Conclusions & Recommendations:
Shares of CIBC should be of interest to conservative dividend income investors seeking a solid dividend with modest growth.
Covered calls generate significant cash, increasing annualized yield on the shares from $3.52 (4.07%) dividend by $3.06/share to a total $6.58/share, a boost of 86.9% to 7.61% annual yield.
New entrants should buy the shares at $86.43 market and sell the 167-day contract for 9/20/2014 $90.00 Strike with $1.40 premium. Existing holders should sell the same contract.
Income investors seeking to stay in cash and harvest income now at excellent annual yields can consider any of the available Puts at $85.00 Strike to obtain yields of 8.0% to 9.95% as detailed in this article body above.
In part 17, I will discuss Icahn Enterprise (NYSE:IEP). Each subsequent part of the series will discuss and evaluate one more of the original 16 tickers identified in the preliminary screen for building your Tortoise on Steroids portfolio.
I hope you will join me as I detail the use of covered option writing on quality dividend income equities to develop a model portfolio for the Super Tortoise. Simply click on the bold link labeled FOLLOW above the title at the top of this article to get an email notice of my new articles when they are published.
Disclaimer: I am not a licensed securities dealer or advisor. The views here are solely my own and should not be considered or used for investment advice. As always, individuals should determine the suitability for their own situation and perform their own due diligence before making any investment.
Disclosure: I have no positions in any stocks mentioned, and no plans to initiate any positions within the next 72 hours. I wrote this article myself, and it expresses my own opinions. I am not receiving compensation for it (other than from Seeking Alpha). I have no business relationship with any company whose stock is mentioned in this article.