dELiA*s, Inc. (NASDAQ:DLIA), a multi-channel retail company primarily marketing to teenage girls, has had a turbulent record since early 2007, when its stock was trading for over $10 a share. To make matters worse, the company recently reported its fourth-quarter and fiscal year 2013 results, which were not quite as positive as investors were hoping for. While on the surface, DLIA may seem to be just another struggling company, as we dig deeper, we find that the DLIA's turnaround has begun.
The Bad Side of the Story
On the surface, DLIA may seem to have all the signs of a dying company. After all, the company has seen its stock fall roughly 90% in the last eight years. For the fiscal year 2013, total revenues decreased 24.6% to $136.7 million from $181.2 million for the prior-year period. Total gross margin was 16.3%, compared to 31.3% for the prior-year period. SG&A expenses were $72.5 million, or 53.1% of revenues for fiscal 2013, compared to $77.5 million, or 42.8% of revenues for the prior-year period. It is important to note, however, that these factors only tell part of the story.
Risks
In this highly competitive fashion retail industry, there are risks associated with investing in DLIA, such as the fact that the company is in the early stages of a turnaround, not to mention the poor financial performance the company has seen in the past several years. If the company's efforts to turn itself around fail, its stock price may significantly decline. Another risk involves competition. DLIA competes in a highly competitive industry; characterized by aggressive price cutting, which usually results in reduced margins. DLIA faces substantial competition from companies that are more established and in a better financial position, such as Abercrombie & Fitch (NYSE:ANF) and American Eagle Outfitters (NYSE:AEO), to name a couple. Another risk involves the volatility of the stock. DLIA's stock continues to experience substantial price volatility. Additionally, the stock market as a whole has recently experienced extreme stock price fluctuations, which have affected and may continue to affect DLIA. DLIA has a beta of 1.86 (as reported by Yahoo Finance). This high beta implies that the stock can fluctuate 86% more than the market. In other words, if the market is up, the stock should outperform by 86%. If the market is down, the stock should fall by 86% (in theory). For some investors, this high volatility may be too much to handle.
The Good Side of the Story
Most turnarounds have at least one thing in common, and that would be an exceptional leader at the helm. Fortunately for DLIA, in mid-2013, it appointed Tracy Gardner as chief executive officer. A fact worth of noting is that Ms. Gardner brings over 25 years of leadership experience in developing and growing multi-channel brands. She was with J.Crew from 2004 to 2010, where she was instrumental in revitalizing the brand, driving significant growth in sales and profitability. Following her appointment, Ms. Gardner hired Daphne Smith as executive vice president of operations. This is what Ms. Gardner had to say regarding the new addition to their team:
We are thrilled to welcome Daphne to the dELiA*s team. Daphne is a strong leader, with a proven track record of driving long term profitable growth across omni-channel brands. Her passion and focus on the customer will no doubt be a critical force in driving the dELiA*s brand forward.
There's no doubt that Ms. Gardner has made the right moves by assembling a world-class management team with proven experience in the fashion retail industry, but what has this team done so far in terms of turning the company around? Well, the team has been working hard, and we are starting to see signs of their hard work: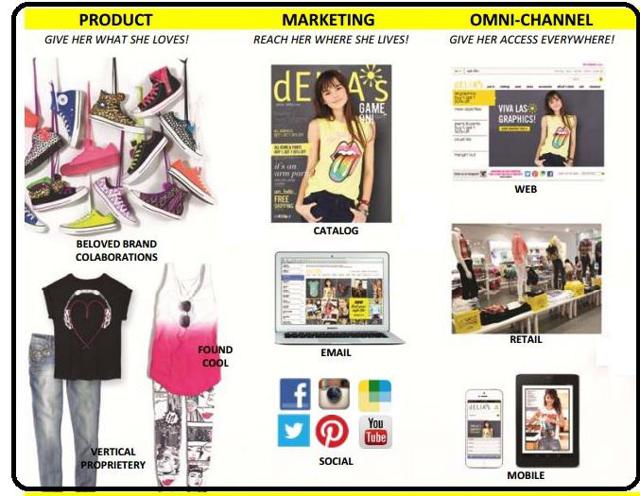 Source: Deliasinc.com
Heading into Q4, the team was able to improve their full price inventory position, with nearly 60% of their inventory representing newly developed product. During the last earnings conference call, Ms. Gardner commented:
We saw encouraging response for our new spring merchandise that delivered toward the end of the fourth quarter. In the product categories, our new team was able to impact resonated with our customer in a much more meaningful way. While small wins thus far, we strongly believe that the steps we are taking to rejuvenate and differentiate our brands are putting dELiA*s on a new and stronger path to growth.
Furthermore, the team has been working to reduce non-productive inventory. Even though this resulted in a significant gross margin decline, the good news is that these actions effectively reduced inventory levels by 25% as compared to last year.
The team identified a problem with their SG&A and overhead costs, and they managed to reduce their overhead costs by 15% in Q4 2013 as compared to Q4 2012. The team expects this to represent approximately 5 million in annualized cost savings.
As an increasing number of consumers use social media to help make purchase decisions, Ms. Gardner's team implemented a new social media strategy during Q4 2013, and as Ms. Gardner said, "the results were extremely encouraging."
The team recently raised $44 million, which significantly improves DLIA's balance sheet and allows them to execute on their turnaround strategy.
Investors should keep in mind that investing in DLIA means investing in a company's turnaround, which has the potential to be a very lucrative investment. As we can see above, Ms. Gardner and her team are already well on their way to making DLIA's turnaround a reality; and as more investors take note of this progress, the price of the stock should increase accordingly.
Wrapping Up
Despite the disappointing performance DLIA has had over the past several years, recent changes in the company suggest that the turnaround has begun. As Ms. Gardner and her talented team unfold this turnaround story, the price of the stock will eventually reflect the company's true potential. With a strong management team and strong signs of a potential turnaround, I certainly believe DLIA offers patient investors a high reward-to-risk ratio investment.
Disclosure: I am long DLIA. I wrote this article myself, and it expresses my own opinions. I am not receiving compensation for it (other than from Seeking Alpha). I have no business relationship with any company whose stock is mentioned in this article.
Editor's Note: This article covers one or more stocks trading at less than $1 per share and/or with less than a $100 million market cap. Please be aware of the risks associated with these stocks.