The monthly unemployment numbers weren't as bad as expected, but they still signal a pervasive weakness in the recovery. In kind, stocks and exchange traded funds traded in a narrow, but mostly negative, range.
A wave of census layoffs cut the payrolls in June for the first time this year, although private employers added a small number of jobs. The good news is that unemployment declined to 9.5%, the lowest level in a year. But don't get excited: the drop is the result of discouraged job seekers giving up on their searches. As unemployment continues to limp along, ETFs aimed at the real estate and retail sectors could be among the most affected as consumers stay cautious and scale back. On the upside, consumer staples ETFs might stay stable as shoppers buy at the very least the essentials they need. (Click charts to enlarge)
Rydex S&P Equal Weight Consumer Staples (NYSEARCA:RHS) is up 0.5% this morning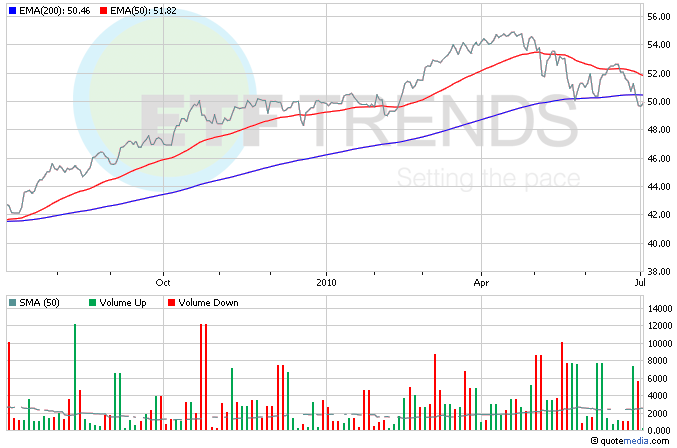 Further evidence of a tepid recovery: U.S. factory orders fell 1.4% in May, the largest drop since March 2009. Excluding transportation, orders were off by 0.6%. The weakest performers were electronics and commercial aircraft. Transportation ETFs are feeling the pinch, declining more than 2% in early trading.
iShares Dow Jones Transportation (NYSEARCA:IYT)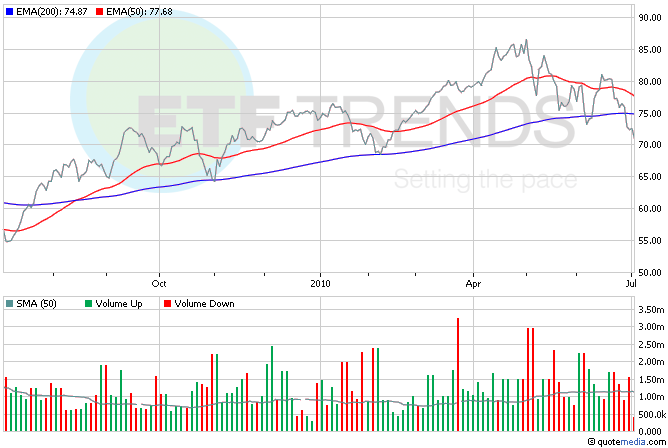 As a result of the jobs report, the dollar sank to its lowest level since May against the euro, which rose to $1.26. Euro-focused ETFs are rising in kind, getting a break from downward pressure over the last several months.
CurrencyShares Euro Trust (NYSEARCA:FXE) is up 0.5% so far this morning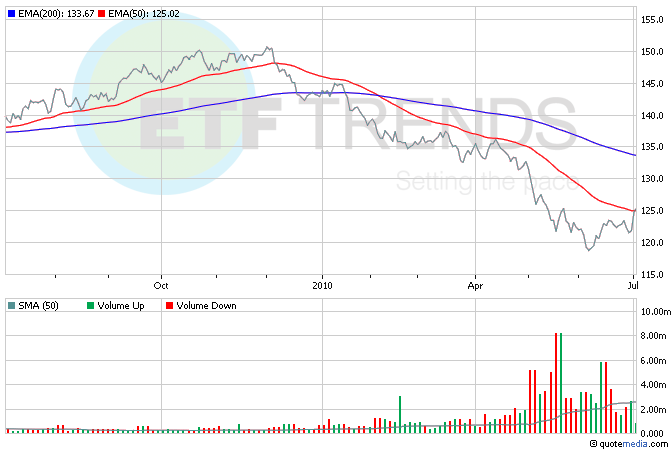 Disclaimer; Tom Lydon is a board member of Rydex|SGI.