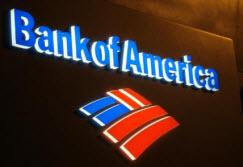 I am bullish on Bank of America's (NYSE:BAC) prospects going forward. The bank passed the stress tests with flying colors. Even so, the bank continues to sell off relentlessly since the results were published. I posit the sell-off has nothing to do with Bank of America specifically. The market is selling off in a wholesale manner. When this occurs, fundamentally sound stocks are sold off indiscriminately with the rest of the market. This is a buying opportunity in the stock.
Recently, the stock broke below major support at the 50-Day SMA, officially entering no man's land, so to speak. The next significant support level is at the 200-Day SMA, or $15.00 mark. I posit the sell-off is unwarranted. In the following sections, I will detail the reasons why I believe this will eventually be a buying opportunity in the stock.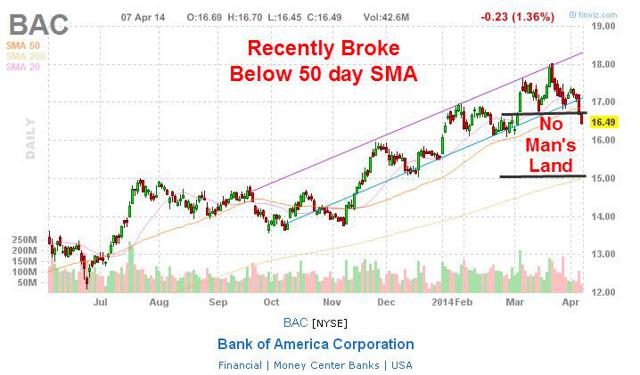 (Chart provided by Finviz.com)
A major market correction creates buying opportunities in solid stocks
Times of market turmoil often present the best buying opportunities for savvy investors. Contrarians find their best investment opportunities during times of panic. The bear market of 1974 gave Warren Buffett the opportunity to purchase a stake in the Washington Post Company (WPO). This one investment subsequently provided Buffett with more than a hundred fold return. One of Buffett's famous quotes is,
"Look at market fluctuations as your friend rather than your enemy; profit from folly rather than participate in it."
Our innate instincts encourage us to depart a sinking ship. This survival tactic impacts the way we invest. When market panic creates opportunities to buy stock in solid companies with sound prospects, hopefully you've kept your powder dry and taken advantage. The market is clearly at an inflection point. A market correction provides opportunity to buy great names at a discount price.
Stocks have recently hit unprecedented all-time highs. Regrettably, this has occurred just as macroeconomic and geopolitical trepidations have arisen. This may just be the straw that breaks the proverbial camel's back, inducing the long awaited correction market participants have been anticipating.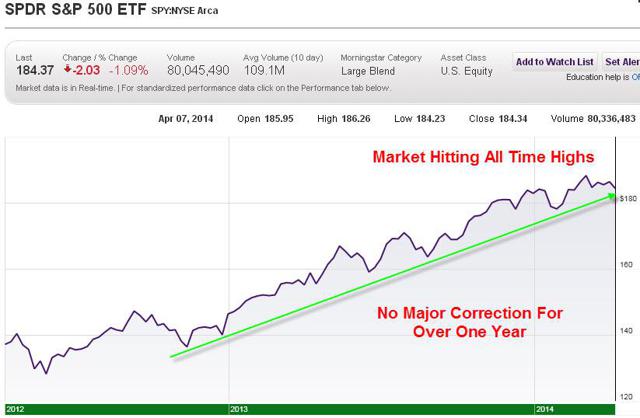 (Chart provided by Scottrade.com)
The market typically has at least one major correction per year. In 2013, there was no correction. Some suggest we are in the midst of a major correction now as the markets are down approximately 2% in the last couple of weeks. I believe we are as well. The good news is, I feel this correction will be healthy for the markets creating the foundation for the next leg higher. Market bull runs, like all good things, can't go on forever. At least not without taking some time to pause, refresh and come back stronger.
If a major correction finally does come to fruition, this will create a tremendous buying opportunity in Bank of America and other solid stocks. I posit the bank is at an inflection point. The issue is when to pull the trigger and start a position. I don't think we are there just yet.
Bank of America's fundamentals and valuation are improving
Catalyst for Fundamental Improvements
Bank of America's fundamental future looks bright for several reasons. The bank is poised to improve earnings for the fourth year in a row. Clarity regarding the definitive cost of the housing financial crisis for the bank appears near and manageable. Due to the settlement with Fannie Mae provisions for mortgage repurchase requests should drop significantly this year as well.
Peer Fundamental and Valuation Comparison
The bank looks fundamentally solid when compared to peers and the industry. The stock is trading for a significantly lower price to tangible book value of 1.2 versus the industry and peer average of 1.6.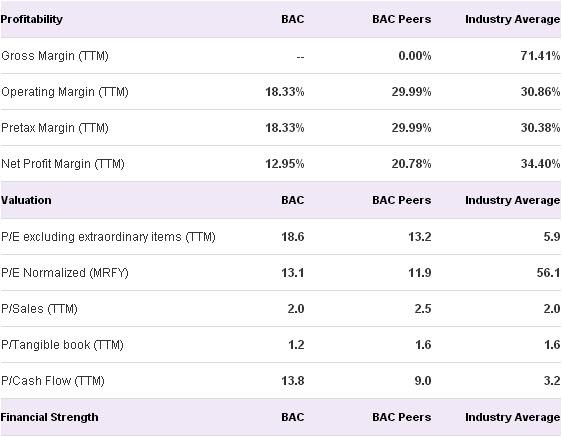 Currently, Bank of America is trading for a PEG ratio of .09, which is the lowest of all five major banks.

The PEG ratio is a broadly-used indicator of a stock's prospective worth. It is preferred by numerous analysts over the price/earnings ratio because it also accounts for growth. Similar to the P/E ratio, a lower PEG means that the stock is undervalued. Many financiers use 1 as the cut-off point for PEG ratios. A PEG of 1 or less is believed to be favorable. As Warren Buffett would say, "Price is what you pay, value is what you get." I submit Bank of America is the best buy out of all the banks currently.
What could go wrong?
Further Legal Challenges
More legal challenges from investors in mortgages and mortgage-backed securities could cause additional issues for the bank going forward.
US Economy Slows
If the US economy begins to wane, the bank may encounter reduced loan, revenue and capital growth. This could mar the stock's potential to rise.
Geopolitical Volatility Rises
Nomura Securities bank analyst Steven Chubak recently lowered estimates on a host of banks ahead of the next earnings season.
"Mixed economic data, geopolitical volatility and uncertainty surrounding Fed policy actions have weighed on Capital Markets revenues, with declines exceeding levels indicated by public proxies."
Conclusion
Who knows what is coming next? No one does. Nevertheless, if a major correction comes to fruition based on the current macroeconomic and geopolitical situation, Bank of America will survive. It is hard to think beyond the current state of affairs, yet the sell-off will inevitably end, the storm clouds will clear. Hopefully, you can take advantage of any buying opportunities that are created.
I'm not saying for you to buy in to a full position today, but this may be a good opportunity to start picking up some shares, maybe a tenth or a quarter of a position. There may be more volatility in front of us. Nevertheless, this may be a good point to start a position in Bank of America. How many times has the stock market roared back after a major correction? The fact is, every time, and Bank of America will rebound along with it.
Disclosure: I have no positions in any stocks mentioned, but may initiate a long position in BAC over the next 72 hours. I wrote this article myself, and it expresses my own opinions. I am not receiving compensation for it (other than from Seeking Alpha). I have no business relationship with any company whose stock is mentioned in this article.