This is part 17 in a continuing series of articles discussing building a portfolio of dividend income equities. The strategy seeks to use value investing principles and apply them to stable companies offering reliable dividends. Further safety is sought by diversifying through a wide range of industry segments and often using multiple tickers in each of those segments. This lowers our entry cost.
Series parts 1, 2, and 3 lay out the philosophy, strategy, and methods of the Tortoise Strategy and Use of Covered Option Writing to boost performance. I recommend readers review each of these first 3 initial parts. Beginning with part 4, each subsequent installment reviews and analyzes one of the 16 tickers identified in the preliminary screen (listed in part 4). A full index of links to the complete series, including future installments as they occur, is available here.
Icahn Enterprises L.P.
| | | | |
| --- | --- | --- | --- |
| Icahn Enterprises (NYSE:IEP) | $ 99.80 | $ 6.00 | 6.00% |

(Source: IEP website)
Icahn Enterprises is a Limited Partnership holding assets in a wide range of companies targeted by billionaire activist investor Carl Icahn. Founded in 1987 and headquartered in New York, the company has evolved from green-mailer, to corporate raider, to activist investor/owner, with a history of spectacular successes and some very profitable "failures". Its holdings make it a classic conglomerate, with operating units so diverse as to make it comparable to a mutual fund, diversified through a wide range of industry sectors. The March 2014 Investor Presentation provides an excellent snapshot of the company, its philosophy, performance history, and current holdings. All this information is laid out in a clear and easy-to-understand set of graphics, tables, and narrative. There are no hidden "black boxes" in this investment. Simply put, Icahn searches out deeply undervalued companies, and identifies a clear path to unlock investor value in them. It then acquires a significant interest, and takes an activist role in advocating for that investor value realization. This advocacy may take on the role of vocal investor, board member(s), or targeting increased ownership (up to 100% in many cases) of the entire targeted enterprise.
Company shares demonstrate an orderly growth, punctuated by a few periods of unbridled enthusiasm. This investment favors the thrill-seeker, not the weak at heart.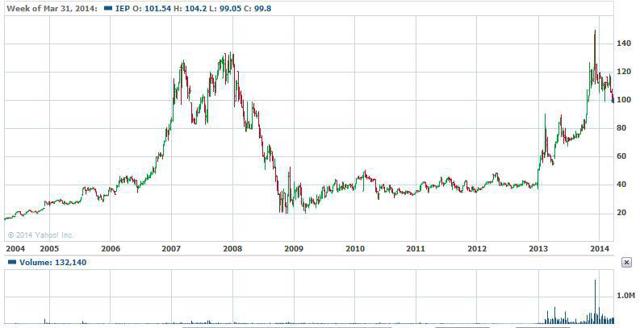 A brief look at the technical chart patterns shows that since topping last December, the shares have been in a flat channel range, bounded by resistance at $120.00 (tracing back to the November breakout) and with support at $100.00 (tracing back to October before the breakout). The prices are currently testing the support level and showing weakness, likely to drop through. The next significant support level is not found until $80.00.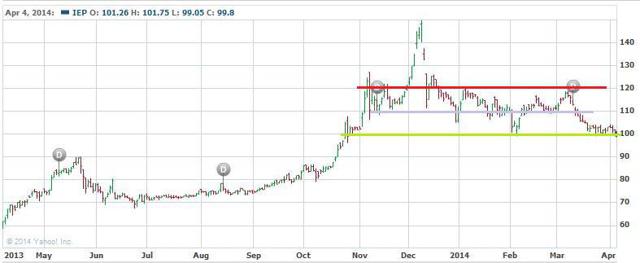 (Source: Yahoo.com, modified by the author)
Long-term investors have been well-rewarded. The company is rightfully proud of those results. These gains come with a price, however, a great range of volatility most often in range-bound sideways drift, interrupted by large deviations to the up- and down-side.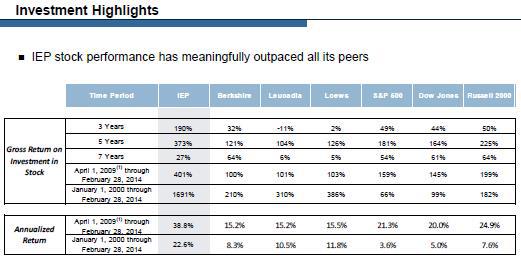 (Source: IEP March Investor Presentation)
A brief look at the YDP chart for Icahn shows distributions and yields to range all over the place. Current yield at 6% is over double the 2.5% to 2.8% seen in a brief period of stability from 2010 through 2012. This is not an investment valued for its dividend income stream.
For entities valued as dividend income equity investments, patterns show that investors bid price up and down in reciprocal response to dividend distribution growth, so as to yield a result of relatively stable trends of effective yield rate. The correlation of these 3 variables is defined by the mathematical Y = D/P (Y is yield, D is dividend distribution, and P is share price). This is characteristic of dividend income equities, and indicative that yield rate can be a measure of value. For those not familiar yet with YDP charts, I refer you to my introductory article on YDP chart analysis and its precursor article with several YDP chart interpretation examples.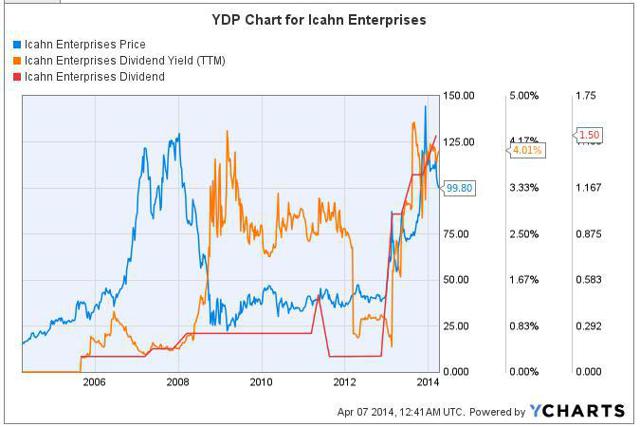 The net asset value for all Icahn holdings as of December 31, 2013 stood at $9.13 billion dollars, according to IEP's own calculations, while the current market cap is $11.67 billion dollars, a premium of $2.54 billion dollars (27.82%) over NAV. Fair price trading at 2% over NAV would value the shares at $79.64. This is a level in line with the next significant support level beneath the current share price of $99.80.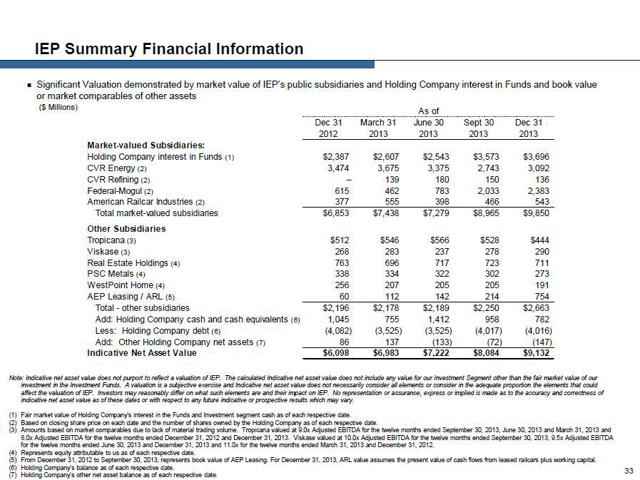 (Source: IEP website)
Performance metrics indicate the shares have far outpaced the fundamental value metrics in their spectacular 2013 rise, and remain far overpriced currently. The share prices have more than doubled, while EPS, FCF, and ROE have languished, or even declined. Only the Book Value per share has steadily advanced, but only 20%, compared to the 200%+ price bubble.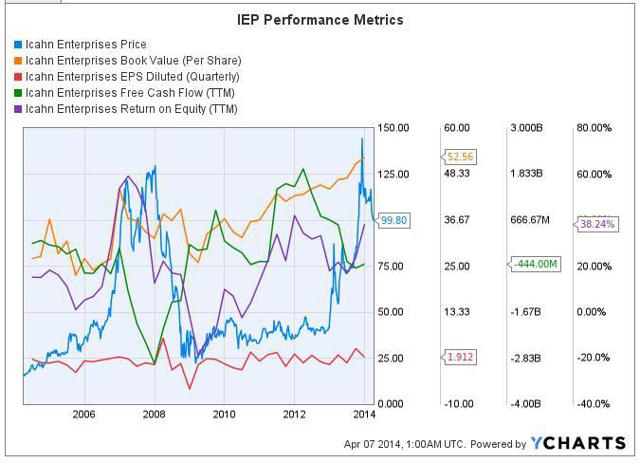 True peers are difficult to find for an activist conglomerate investor and operating company. Berkshire Hathaway (NYSE:BRK.A) is perhaps the best match. Many analysts argue that Icahn's smaller size makes it more flexible and able to find and benefit from new opportunities better than either the original Berkshire units or the newer Berkshire B units (NYSE:BRK.B). Nonetheless, Berkshire turns in better value metrics and shows faster rising trends than the Icahn units.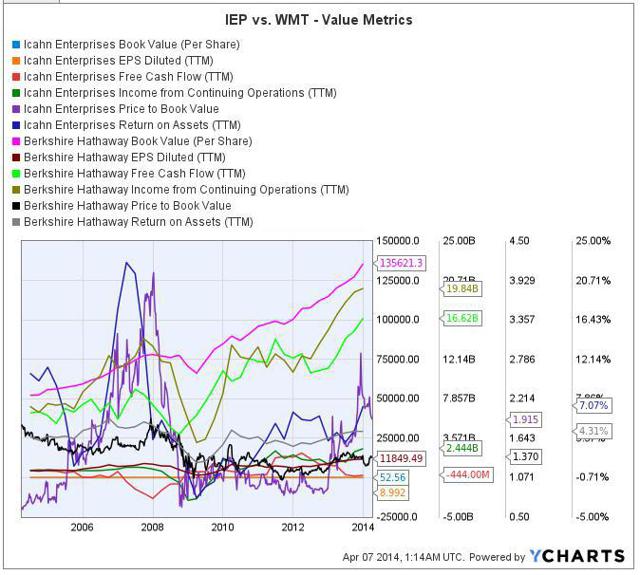 In summary;
Icahn Enterprises is not a dividend income equity, and should be given a pass by such portfolios.
The shares are currently overpriced, exceeding 12/31/2013 NAV by 27.82%.
Fair Value is estimated to be around $80.00.
IEP represents the potential for excellent long-term rewards for aggressive growth investors, but is not appropriate for income or blended portfolios.
Only consider Cash Covered Puts with Strikes below $80.00 at this time.
Covered Options to boost performance:
Covered Calls (left side of chart)
Existing shareholders should sell the 9/20/2014 $115.00 Covered Call with $3.60 premium on the 167-day contract. This boosts the $6.00 annual dividend an absolute 60% to $9.60; annualized, it is a $7.87 boost to $13.87, raising the annual total yield to 13.87%, a boost of 131%. Be aware of potential tax consequences if holdings are outside of a tax preference (retirement, etc.) account.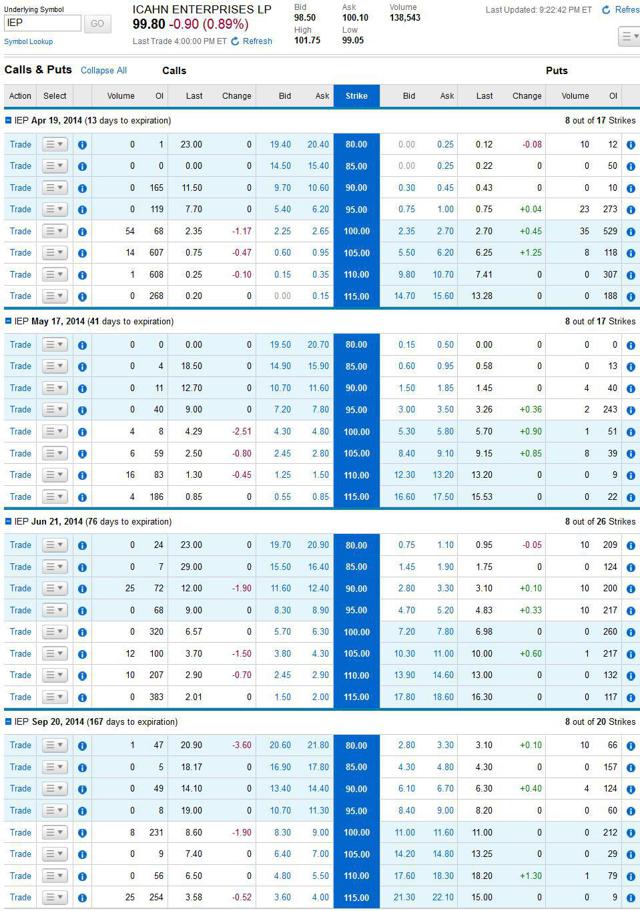 (Source: schwab.com)
Cash Covered Puts (right side of chart)
Simply said, there are no attractive Puts at this time, with strikes below $80 and suitable yields.
Conclusions & Recommendations:
Shares of IEP are overpriced. Fair value at 2% over NAV places price at about $80.00, far below the current $99.80.
The units are not suitable for dividend income investors.
Long-term aggressive growth investors may be interested in the shares when prices conform closer to NAV.
Current holders should sell the 9/20/2014 $115.00 Covered Call with $3.60 premium on the 167-day contract for an annualized yield boost of 131% and $360.00 per contract cash in pocket today.
There are no suitable Put premiums on Strikes below the $80.00 fair value at this time.
Always be aware of ex-dividend dates and the potential for call, dividend capture, and Strike price adjustments by the option clearing house when writing contracts across dividend months.
In part 18, I will discuss The Blackstone Group LP (NYSE:BX). Each subsequent part of the series will discuss and evaluate one more of the original 16 tickers identified in the preliminary screen for building your Tortoise on Steroids portfolio.
I hope you will join me as I detail the use of covered option writing on quality dividend income equities to develop a model portfolio for the Super Tortoise. Simply click on the bold link labeled FOLLOW above the title at the top of this article to get an email notice of my new articles when they are published.
Disclaimer: I am not a licensed securities dealer or advisor. The views here are solely my own and should not be considered or used for investment advice. As always, individuals should determine the suitability for their own situation and perform their own due diligence before making any investment.
Disclosure: I have no positions in any stocks mentioned, and no plans to initiate any positions within the next 72 hours. I wrote this article myself, and it expresses my own opinions. I am not receiving compensation for it (other than from Seeking Alpha). I have no business relationship with any company whose stock is mentioned in this article.