As I was preparing the information needed for my tax reporting, I noticed that in 2012, I made about 250 trades, while in 2013, I made about 100 trades. At one point, I realized I was trading too much for my liking, and as I transitioned to using dividend growth and value investing as my primarily strategy, I've traded less. From 2012 to 2013, I've traded 150% less. But there's still a trader in me. How I've learned to separate my thinking in trading some stocks and holding others for long term is to categorize my holdings into core, non-core, and finally ones for speculative trading.
Previous Portfolio Allocation
My first article on my Whistler Portfolio identified that
54.5% of the portfolio capital is allocated to the top 3 sectors of Financials, Energy, and Consumer Discretionary... Low percentages are allocated in Consumer Staples and Healthcare. The poor Utilities sector has no capital allocated to it.
Previous Dividend Allocation
The Financial sector generated ⅓ of my annual dividends. Energy generated 16%, while Telecoms made 15%.
After that first article, I wrote an article to identify my core holdings and non-core holdings. Since then, I've added a third category for speculative trading, which shouldn't make up more than 5% of my entire portfolio.
Current Allocation for the Whistler Income and Growth Portfolio
| Sector | by Current Price | by Dividend |
| --- | --- | --- |
| Consumer Discretionary | 26% | 18% |
| Consumer Staples | 10% | 10% |
| Energy | 19% | 24% |
| Financials | 15% | 22% |
| Healthcare | 1% | 1% |
| Industrials | 5% | 2% |
| Information Technology | 14% | 11% |
| Materials | 1% | 1% |
| Telecommunication Services | 9% | 11% |
| Utilities | 0% | 0% |
Reflection on my Sector Allocation
The Consumer Discretionary, Energy, and Financials sectors are the biggest in my portfolio, making up 60% of my portfolio. I've said before that I do not like sectors making up more than 25% of my portfolio, and the Consumer Discretionary portion is crossing the border. However, looking closely, my holdings in that sector are diversified across various industries:
Because my Consumer Discretionary holdings are spread across multiple industries, I feel comfortable in their capital allocations. In addition, I started buying General Motors before it started paying a dividend again, so now I feel even better about holding it for the industry recovery. Check out Morningstar's video on General Motors about its leaner cost structure and higher margins.
Right now, I only hold Baxter International (NYSE:BAX), and I would like to add more to the Healthcare sector. Unfortunately, I feel the Healthcare stocks I track aren't at a value currently. Please share if you have some ideas for this sector.
I also want to initiate some position in the Utilities sector, but they're so slow growth, and I'd be better off getting a slightly lower yield elsewhere with moderate growth.
Reflection on my Dividend Allocation
I feel right at home about my dividend allocation, having the Energy, Financials, and Consumer Discretionary sectors being my biggest dividend payers.
Core Holding Changes
My core holdings have changed a bit since I identified them. They make up about 71% of my portfolio. In Q1 2014, I sold some shares in Rogers Communications (NYSE:RCI), and moved it from core to non-core. Furthermore, using proceeds from selling H&R Real Estate Investment Trust (OTCPK:OTCPK:HRUFF) as part of the funds, I built a full position in Kinder Morgan (NYSE:KMI). My reasoning is that H&R doesn't look like it will raise its distributions much if at all, while KMI has better dividend growth history. Furthermore, I initiated positions in Pepsi (NYSE:PEP), and Procter & Gamble (NYSE:PG), Starbucks, and Visa (NYSE:V). Currently, Visa looks like it's heading for the 200-day MA support in the $201.5 area.
Core Holdings in the Whistler Income and Growth Portfolio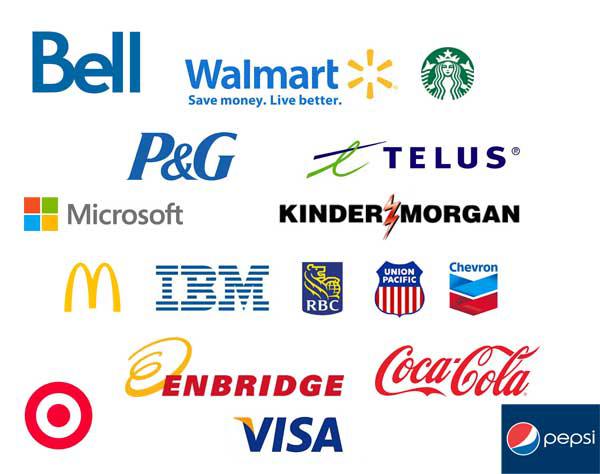 Non-core Holding Changes
In Q1 2014, I added to General Motors. As mentioned above, I sold my small position in H&R Real Estate Investment Trust.
2 Speculative Stocks
I identify LKQ Corporation and Baidu as my speculative stocks because they have higher P/E, and are estimated to have higher annual earnings growth (20%+), which may or may not materialize. In addition, they do not pay a dividend. They make up 3% of my portfolio.
Going Forward
I will continue to take opportunities coming my way as I pick up shares of companies which the market penalizes, expecting those drops to be temporary. Realizing that for the last 2 years, I paid my brokerage close to $3500 in commission fees, I aim to trade less by focusing on adding to core holdings and buying companies which are significantly undervalued (GM and F come to my mind) meant for longer-term (approximately 2 years) trading.
Disclosure: I am long BAX, BIDU, F, GM, KMI, LKQ, MCD, PEP, PG, RCI, ROST, SBUX, TGT, V, WMT. I wrote this article myself, and it expresses my own opinions. I am not receiving compensation for it (other than from Seeking Alpha). I have no business relationship with any company whose stock is mentioned in this article.
Additional disclosure: I'm long RCI.B on the Toronto Stock Exchange.