Introduction: Perhaps the quintessential Internet stock of bubble era 1.0, Yahoo (NASDAQ:YHOO). has, for the past year, traded not on its own operating merits, but increasingly as a proxy for the Hong Kong/China-based Alibaba Group ("Alibaba"), in which Yahoo holds a 24% equity stake. As Alibaba is privately held, many investors have elected to own YHOO as an indirect way to bet on Alibaba's success. Alibaba has been described as a combination of such familiar companies as Amazon.com (NASDAQ:AMZN), Facebook (NASDAQ:FB) and others. Apparently, the traders/algos feel the same way. Look at the correlations.
YHOO/AMZN: For the past month, a corrective period, the two stocks have been almost identical: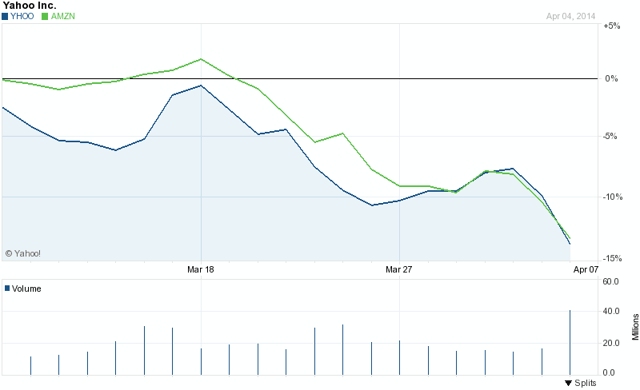 For the past year, they have trended together: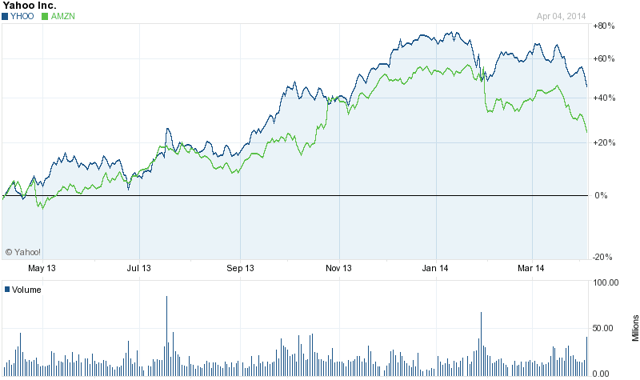 Over the long term, they traded almost identically even without the Alibaba consideration, until the Great Recession, when AMZN went wild, even though it wasn't making much if any profit: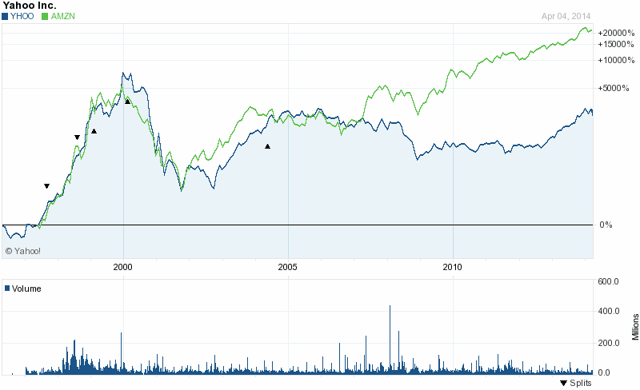 YHOO/FB: Of course, FB has been public less than two years. Here are the YHOO/FB one-month and one-year correlations: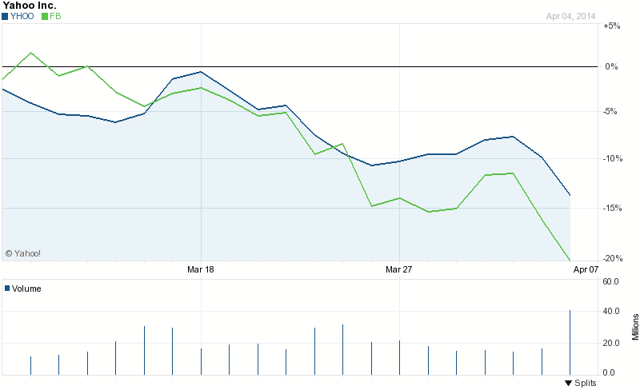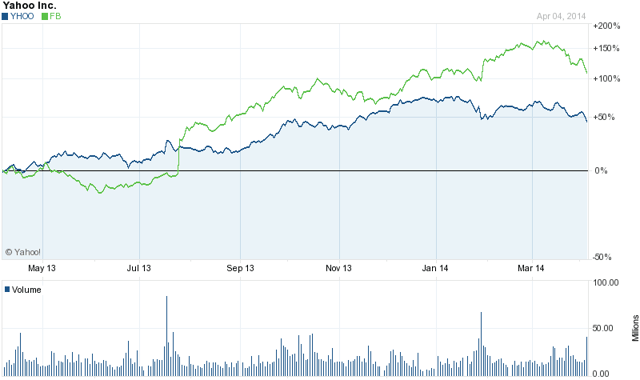 So we can see that fundamentals matter less than one might think, but that's in the short run. I think that these correlations have now provided patient investors with a fundamentally attractive entry point into YHOO, though I see nothing attractive in the shares of AMZN or FB at current valuations. Here is the reasoning.
AMZN: No or minimal profits, the profitless sales growth story is wearing thin. When will the allegedly limitless future arrive, Mr. Bezos?
So there's no valuation "there" in AMZN, and there is no natural buyer of the company at a higher price.
FB: As with AMZN, FB is also too big to buy. The stock remains at over 40X current-year non-GAAP estimates. Some of us wonder if the recent Oculus purchase smells a bit like a top situation, a la the 1999-2000 period (not to mention the $19 B WhatsApp deal).
YHOO: In contrast to AMZN and FB, the Alibaba fundamental story is relatively obscure, as the company is non-public. So I'm free to guess - and it is just a guess - that its earnings from 4/1/14 to 4/1/15 will be $5 B. And I am free to suggest that a 30X forward multiple on those earnings is fair and reasonable, not bubbly. That would give it a $150 B valuation, should it float an IPO this spring. Subtracting an arbitrary 33% for taxes from Yahoo's 24% stake gives it 16% of $150. This equals $24 B, or a $24 equity value in Alibaba per YHOO share. YHOO also embodies at least $6 after-tax value in its minority-owned subsidiary, Yahoo Japan, so this reasoning gives YHOO shares a $30 value solely from its Asian equity holdings. As of 12/31/13, Yahoo's tangible assets were $8 B. Conveniently, there are almost exactly 1 B shares of YHOO common stock outstanding, so a first estimate of YHOO's intrinsic value is $38/share. Meanwhile, the stock closed Friday at $34.26.
What's important to remember is that before the Great Recession, Microsoft (NASDAQ:MSFT) tried to take Yahoo over at right around the current price. There was only minor value from Yahoo Japan and Alibaba then, though. Meanwhile, Yahoo has finally improved in some metrics. Many of us believe that the current regime is Yahoo's last chance to stay independent. Thus, unless future operating results truly are horrible and the Yahoo brand name and eyeballs deteriorate greatly, patient investors in YHOO can look forward to two ways to win. If the company succeeds operationally, it can monetize Alibaba and even perhaps Yahoo Japan, buy back YHOO shares, and thus deliver outsized returns for shareholders. If the turnaround just does not happen, then it is reasonable to expect the board to sell the company to the highest bidder. Given that Yahoo is both a media and an Internet/tech company, there are a large number of possible interested acquirers.
Technicals: Short-term, the YHOO chart stinks. But so far as we know, YHOO is not like Sun Microsystems of Y2K, fated to drop 98%-99%. There simply appears to be too much asset value in the company. Where is there support? I don't know. What I do care about is the long-term chart, which suggests to my eye that the higher low made post-Great Recession versus 2001-2002 may point to an eventual higher high well above the $40 range that has represented overhead resistance both last decade and recently: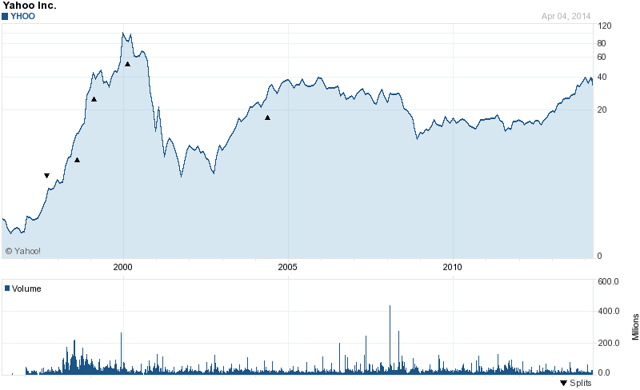 Now, of course there are no guarantees, and risk is substantial all through this story, including in the Alibaba valuation aspect of YHOO stock. Yahoo admits that it is behind schedule in monetizing its Tumblr acquisition and it is struggling to turn results around in its display advertising business. But it touts its turnaround efforts in mobile, and pledges vigilance in keeping SG&A under control, and overall, gives the impression that at least it is treading water.
Conclusion: My view is that the sell-off in Internet/momentum stocks in the U.S. this past month and since year-end, in association with scare headlines about China imploding that would imply dangers for Alibaba has affected Alibaba's intrinsic valuation very little, but it has made a major dent in YHOO's trading price. Thus, based on what is publicly known about Alibaba, as well as Yahoo's own business results and prospects, my view is that the decline in YHOO's share price has put the stock mildly on the bargain counter. The shares may, in my opinion, now be suitable for a wider range of investors than previously. They cannot be considered "safe," but I continue to think that so long as Yahoo's core operations are doing decently, Alibaba is such an impressive company that I want to own a share of it by owning YHOO.
Anyone who purchases YHOO around the current price and ends up happy with the purchase may thank the algorithms that, I think, have moved YHOO in lockstep with the so-called Alibaba proxies of AMZN and FB.
Disclosure: I am long YHOO. I wrote this article myself, and it expresses my own opinions. I am not receiving compensation for it (other than from Seeking Alpha). I have no business relationship with any company whose stock is mentioned in this article.