By Chris McKhann
Amerigroup (AGP) has been beaten down with most other names in the health care industry, so it comes as little surprise that the puts are lighting up our systems today.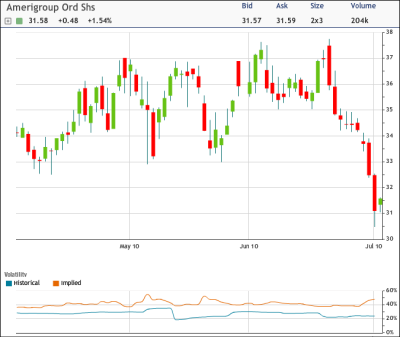 The managed health care company is finally rebounding after two weeks of losses, up 1.4% on the day to $31.53. It had been trading at a two-year high of $37.74 on June 18 but then quickly sold off to lows near $30. Earnings come at the end of the month and may throw more fuel on the fire.
AGP doesn't usually see much in the way of option volume, but one trader is picking up puts today. The average daily turnover in the name is only 120 contracts, but August 25 puts show good volume so far this morning. One block of 2,164 of those puts was bought for $0.50 against open interest of just 50 contracts.
This may be an outright bet that shares will continue to fall back to February's levels, though it could also be a hedge against long stock. Just a couple of minutes after options traded, a single block of 43,100 shares of AGP were bought. That is a reasonably big block for this name.
If the options and shares were traded in tandem by one trader, the position would be a neutral position that can make money if shares move higher or lower. The risk is that the real or implied volatility drops and the shares don't move in the next six weeks until expiration.
(Chart courtesy of tradeMONSTER)