By David Russell
Health care stocks have been on the sickbed for months, and one trader is positioning for a trip to the emergency room.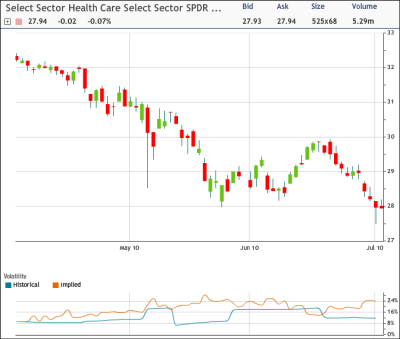 optionMONSTER's Depth Charge tracking system detected a highly bearish transaction on the Health Care SPDR (NYSEARCA:XLV) exchange-traded fund, which yesterday fell to its lowest price since last August. The ETF holds positions in companies including Johnson & Johnson (NYSE:JNJ), Pfizer (NYSE:PFE), and Merck (NYSE:MRK).
The investor purchased 6,000 August 28 puts for $0.89 and $0.90 and sold an equal number of August 28 calls for about $1. The transaction resulted in a credit of about $0.10 and will deliver leveraged profits if XLV falls below $27.90. It will lose money on a move above $28.10.
XLV slipped 0.07% to $27.94 in afternoon trading and is down 13% in the last three months. The fund started falling before the rest of the market in March but has started outperforming the S&P 500 since early June.
Today's option trade may have been implemented by an investor who owns XLV and is looking to establish an exit price while hedging against further downside. Using the strategy will prevent him or her from benefiting if the ETF rebounds before expiration.
Overall options volume in XLV is more than twice the average level so far today.
(Chart courtesy of tradeMONSTER)