At the present time, the currency movements are personality driven events. The three key market participants are Draghi (ECB), Yellen (FED), and Putin (Russia).
It would appear that most traders are basing their decisions on the publicly stated comments of these characters who use the reporting of meetings and speeches to advance monetary and political policy without actually doing anything. Words, not actions are the catalyst for market positioning and inferences, conjecture and subtle hints are steering market sentiment. However traders should ask if this is logical or sustainable. Should not they rationalize that the price action is a more valuable signal on which to base a trading decision?
There is an old saying on Wall Street that a bull market climbs a "wall of worry" - a notion that is most definitely the case with the euro when it comes to economy and geopolitics. If you look at the chart below, MACD and Momentum, an indicator that measures the rate of change in closing prices, demonstrate that the trending euro has continued to rise while the actual upwards price momentum is waning.
We consider these declining momentum indicators with concern that a long-term directional change is forthcoming but we must wait until we see confirmation from the price action to make a decision as a trader.
The first indication to be short on the EUR/USD was when the price went above the previous resistance then reversed. Looking at a longer term directional change, we will offer this trading idea with more conviction when the upward trend line is broken and support levels are breached. It is also worth noting that the momentum indicator offered us a sell signal when the price indicator moved below the zero line on March 19th as did the MACD on the same day.
Eric Harbor, the director of CaesarTrade, says the market will soon start acting more coherently once it realises the main market actors are "all hat, no cattle." The law of diminishing returns comes into play with the reaction of the market to hyped-up public statements. We will see fundamental changes to economic policy when words alone don't move the market.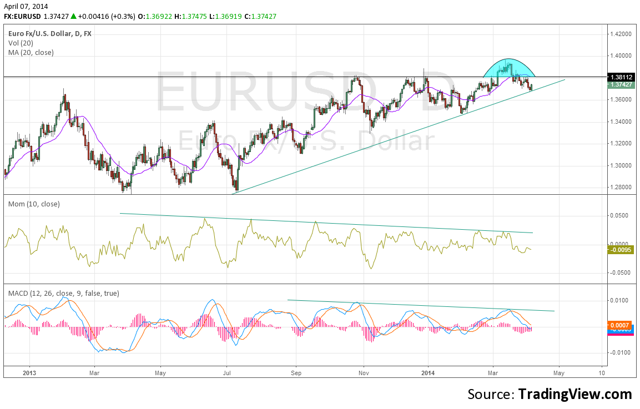 Disclosure: I have no positions in any stocks mentioned, and no plans to initiate any positions within the next 72 hours. I wrote this article myself, and it expresses my own opinions. I am not receiving compensation for it (other than from Seeking Alpha). I have no business relationship with any company whose stock is mentioned in this article.