It's not easy to spot, because when something has been working for a long time, investors get complacent and think it will never end. For several years now growth stocks has been in style. So much so that investors have been paying through the nose for them, and many of these growth stocks today are way overextended.
Anything that trades beyond a Price/Sales ratio of 4-5 better have a good reason for doing so in my book. In addition, my book also says that there are no stocks that deserve a Price/Sales ratio of 10, 20, 30 and 40, like many stocks have today.
If you have looked at the price action of many stocks and sectors these days, you will have come across many stocks that have a waterfall pattern. Meaning, their charts look like Niagara Falls. And the reason they are selling off is because they trade at stratospheric multiples.
I know what you are going to tell me. I have made good money in these stocks, why should I give up on them now? I am not telling you to give up on anything, I am simply telling you that many of these stocks trade beyond and above where they should, based on their fundamentals. And when the greater fool theory falls apart, they also fall apart, because the market is not that dumb, as many people think.
So what are these sectors and stocks?
The 3D space as mostly identified by stocks such as 3D Systems (NYSE:DDD) and ExOne (NASDAQ:XONE) has been blown apart, and in a very short time, these stocks have lost 50%. The fuel cell space, with speculation favorites such as Plug Power (NASDAQ:PLUG) and Ballard (BLDP), have also lost 50% in the wink of an eye. And if I am right, both of these sectors have a way to go (to the downside).
The cloud space is also falling apart. On a percentage basis, it has not lost as much as the other two mentioned sectors, but only because it started correcting later than the others. And if you want to see what a waterfall chart looks like, NetSuite (NYSE:N) and Workday (NYSE:WDAY) are two good examples.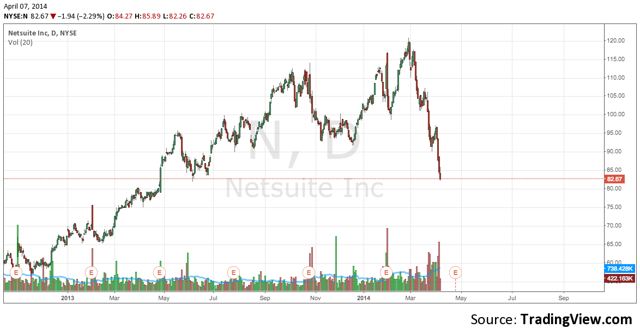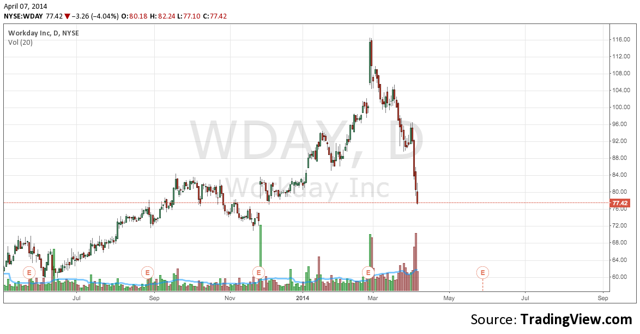 And then we have some other high-flying stocks like SolarCity (NASDAQ:SCTY) and Pandora (NYSE:P) that are also taking a waterfall dive for the same reason as the previous mentioned stocks. They are trading at stratospheric multiples, especially on a Price/Sales basis.
Now I can excuse a stock for not having profits, or even having a high P/B ratio. You can be excused if you had a bad year or if you took a hit somewhere from a big writedown. But when a stock is trading at multiple times its yearly revenue, then investors who have a buy and hold approach are looking for trouble.
| | | | |
| --- | --- | --- | --- |
| | P/E | Forward P/E | Price/Sales |
| 3D Systems | 117 | 43 | 11 |
| ExOne | - | 117 | 12 |
| Plug Power | - | 135 | 27 |
| Ballard | - | - | 3 |
| NetSuite | - | 173 | 15 |
| Workday | - | - | 31 |
| SolarCity | - | - | 33 |
| Pandora | - | 58 | 8.5 |
Please note the above figures are after a 50% decline in many cases.
My definition of a value stock is one that is not expensive, that pays a dividend and is cash rich or debt free. It does not take much work to find these stocks. Looking exclusively at the technology space, some of these names are Apple (NASDAQ:AAPL), Intel (NASDAQ:INTC), Microsoft (NASDAQ:MSFT) and Cisco (NASDAQ:CSCO), to name a very few. If you have noticed, not only have these names not corrected at all, but have been moving up steadily over the past several weeks, even when the market corrects.
| | | | |
| --- | --- | --- | --- |
| | P/E | Forward P/E | Price/Sales |
| Apple | 13 | 11 | 2.7 |
| Intel | 14 | 13.5 | 2.5 |
| Microsoft | 15 | 13.7 | 4 |
| Cisco | 15 | 11 | 2.44 |
So are we in the middle of some kind of rotation, where investors are selling high growth momentum stocks and taking comfort in value? It's hard to tell and we will have a conclusion in several weeks or months. But from the looks of it, something along these lines is happening at the moment.
Bottom line
The market seems to be rotating from growth to value over the past several weeks. It's hard to tell if the trend will continue, and if we will all be talking about this rotation over the next several weeks (and months), or if investors are simply finding comfort in value stocks to avoid the pain of the current market correction.
Either way, buy and hold investors should avoid stratospheric valuation stocks unless they trade them on a daily basis or are well aware of the greater fool theory and can judge with great precision if there will be a greater fool to unload on when they decide to sell.
Disclosure: I have no positions in any stocks mentioned, and no plans to initiate any positions within the next 72 hours. I wrote this article myself, and it expresses my own opinions. I am not receiving compensation for it (other than from Seeking Alpha). I have no business relationship with any company whose stock is mentioned in this article.