Introduction
I've always been a fan of a good value investment, and when I came across Ennis Inc. (NYSE:EBF) on a recent stock screen, I thought it was going to be another quick buy. When I saw that the company had "Strong Buy" ratings from both analysts covering it, I was already signed into my brokerage account, ready to get in the action. As I dug through some of its financial results, though, I was quickly thrown from one extreme to the next, and my head has been bouncing around as to whether or not the company would be a good value play, or whether it's a value trap. I decided to take a deeper dive into both sides of the play here to see if this company is worth the risk.
Relative Valuation
There is no doubt that a big reason for such a strong rating from both analysts has to do with the fundamentals of Ennis. The company appears to be significantly undervalued, and any person who uses purely fundamentals and a quick stock screen would already have this in their portfolio.

Source: Fidelity Investments
I'd have to say that one of the most impressive metrics shown above is the PEG ratio, on both an absolute and relative scale. Usually, a PEG of less than 1 tends to be a solid buy opportunity, but when you look at the industry average (5.14), it makes it an even more appetizing piece. Scanning through the list, from P/E to P/CF to P/B, it's quite clear that the company is a great value buy. All of those metrics indicate that the company is selling at a steep discount compared to the industry, and is definitely an undervalued play.
Volatility of Returns
I've found through my recent experiences that, especially when dealing with undervalued fundamentals-based investments that tend to be out of favor with investors, volatility is of monumental importance. It's difficult to hold out on a stock you truly believe is undervalued and has all the right metrics you look for, when it has 3%-5% drops some days and makes you start to question your analysis. I've found that looking at a stock's volatility helps to understand what to expect out of the stock and better gauge if it's a worthwhile investment or too much of a headache.
Through a comparison of recent performance with some of its competitors, including Cenveo Inc. (NYSE:CVO) in blue, InnerWorkings, Inc. (NASDAQ:INWK) in yellow and Multi-Color Corporation (NASDAQ:LABL) in purple, Ennis (green and red candlestick) tends to have a more smooth chart and trends in the middle of the pack.

In my opinion, this type of chart is great support to show a more consistent and steady earner, as opposed to some of its competitors that have shown more volatility in their returns. If you dig into each chart individually, especially more recently, you will see that Ennis has one of the more steady charts with less intraday swings, while having solid up days coupled with less intense days in the red.
Earnings
Where my analysis started going the other direction was looking into earnings, and especially the prospects for the industry that Ennis competes in. First and foremost, the company's EPS has shrunk from 1.73 to 0.95 over the past three years (Source: TD Waterhouse). This type of trendline is a huge red flag, and I question whether the company will be able to turn that trend around both in the near and long term.
I decided to pull a chart on the company's quarterly EPS to see if there was any trending to indicate some correction in a longer-term uptrend.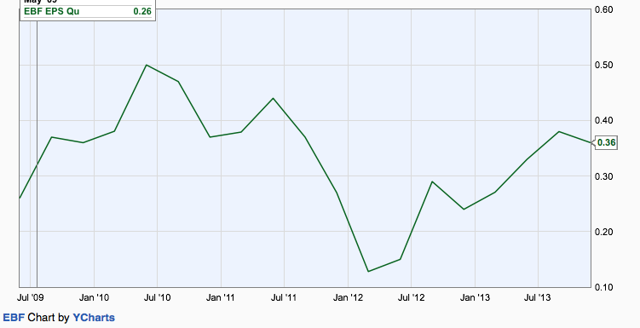 Although the company seems to be in a small uptrend as of late, the big drop in late 2011 and into 2012, as well as the longer downtrend has me skeptical of a rally. In addition, the EPS hasn't hit that high it saw of ~0.50 since 2010, and it seems unlikely that it will get up to that level in the future.
I believe a big part of this has to do with the industry that Ennis competes in. Digital technology will continue to negatively impact the demand of such a business model based on printed professional documents. This trend is also affected by many companies and their green initiatives that are pushing electronic versions of documents. Both of these impacts on demand may drive revenues down further and hinder Ennis as it tries to grow its core business. I also believe that they had an impact on some of the struggles the company has encountered with growing in the past, and that is a trend I don't see reversing, unfortunately.
Price Momentum
Although not everyone believes or even cares about technical analysis, I believe it's a good way at looking for the price momentum of a stock and seeing how it could move in the future to judge some of the upside or downside potential.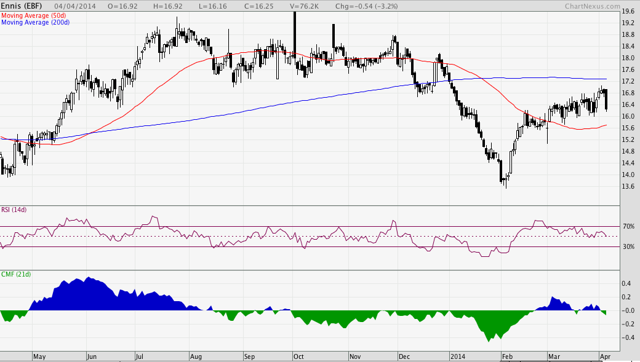 As you can see, the stock recently formed a death cross, although it has recovered in the past few months. Taking a look at the 200-day MA shows that the long-term trend has evened out, and there doesn't seem to be a significant swing on the horizon from a look at the 50-day. In addition, the Relative Strength Index is trading right around 50, and the Chaikin Money Flow is quite narrow recently, showing there is no significant money flow in either direction that would warrant a big momentum swing. Overall, I see this chart and have a big yawn. With the exception of the death cross, which tends to be a lagging indicator anyways, and the stock has since corrected back to a seemingly steady level, this chart doesn't indicate that the stock will move significantly in either direction.
If you were to stretch out the chart a few more years, you would see that the chart tends to be trading in a range of ~ $13 to $20, and generally, it's hard to make a significant return when there's more of a sideways momentum to the long-term chart as well.
Conclusion
When I first stumbled across Ennis, I honestly thought I had struck gold. The fundamentals seem amazing, and I thought it was going to be an instant add to my portfolio. In addition, I saw the Strong Buy ratings from the analysts and felt even more comfortable with my decision. It was only after doing some digging that I got some mixed feelings. Although I don't see there being a significant amount of downside risk, I question the industry that Ennis' core business is in. Although businesses will always need professional documents, to what extent will they use print in the future, and how will Ennis compete for that business and grow? I'm very happy that I looked deeper into this company, but by no means has it made my decision to click "buy" any easier.
For the time being, I'm going to keep a close eye on EBF and see if it surprises investors next quarter with some solid earnings, or if it continues its declining EPS trend from 2011.
Disclosure: I have no positions in any stocks mentioned, and no plans to initiate any positions within the next 72 hours. I wrote this article myself, and it expresses my own opinions. I am not receiving compensation for it (other than from Seeking Alpha). I have no business relationship with any company whose stock is mentioned in this article.