Clean Tech is Not Dead After All…
It's always disappointing when the clean tech sector gets vilified because of a couple of high-profile hiccups. When Solyndra went bankrupt, the media and politicians pounced on the solar industry, creating a negative ripple for all of the companies in the sector. When 60-Minutes interviewed venture capitalist Vinod Khosla and newly-public KiOR (NASDAQ:KIOR), Leslie Stahl declared that clean technology was dead. That was the latest in a series of stinging slaps to a sector known for high risk, high dollars, and, so far, little real return. So, the team at investorMetrix decided to uncover some good news in the clean technology sector.
For the past 20 years, Deloitte has published the Technology Fast 500, a list of the 500 fastest growing technology companies in the United States. There are 10 technology sectors represented; the top three being software, biotechnology and internet, in that order. In the clean technology sector, 23 companies made the 2013 list, 15 of them publicly traded. And although clean technology companies account for only 5% of the 500 companies profiled, growth in the sector was higher than every other sector in 2011 and 2012. In 2013, growth fell dramatically, recovering ground in 2014, mostly in Asian markets.
Growth is a tricky term, however, and can be misleading. Only 4 of the 15 clean tech companies on the Fast 500 list were profitable in 2012, even though nearly all of the companies reported increased revenue. Combined 2012 revenues for all of the clean tech companies on the Fast 500 list totaled $5.8B, a 27% increase over 2011. The 15 companies we analyzed are stable, have good cash flow and are doing what any reasonable company would do to ensure its longevity; leveraging debt and growing sales. The lingering question for investors is whether it makes sense to invest in a clean technology company. We think the answer is "yes" as long as investors keep an eye on stock price movements in response to revenues and earnings reports.
The Highest Ranking FiRM© Clean Tech Companies
The fifteen companies were ranked using investorMetrix's FiRM© analysis, which includes financial performance, resource efficiency and market traction. The four highest overall performers were:

Solid financial performance did not always translate into stellar market performance for the clean tech companies on the Fast 500 list. One of our top four companies actually saw their stock price fall, in spite of impressive financial performance. And the promise of future earning potential buoyed the prices of several companies on the list that are still in negative earnings territory. Two of those companies, SolarCity (NASDAQ:SCTY) and Tesla (NASDAQ:TSLA), enjoyed dramatic increases in stock prices over the past 12 months, in spite of high net losses, large debt burdens and overweight stock prices.
We were disappointed, but not surprised to learn that none of the 15 companies we analyzed publish sustainability reports. We contacted several of the companies to enquire about their resource efficiency only to find they don't have publicly-available data for energy, water, waste or greenhouse gas. The only data we could find was from First Solar, who reports resource use totals on their website. What all of the 15 companies do have is technology that enables efficiency within other industries. The two sectors benefiting most from these clean technologies are energy and industrials.
First Solar Rises From the Ashes
First Solar was the top FiRM© performer, in spite of reporting negative net income in both 2011 and 2012. First Solar was one of many solar companies that suffered in 2012 when the price of silicon dropped and solar offerings from China created a glut in the marketplace. The smart folks at First Solar, no stranger to volatility, restructured their business model, replaced the CEO and moved from rooftop solar to utility scale and commercial installations. They now offer fully integrated solutions in the development, financing, engineering, construction and operation of utility and commercial scale solar installations. In two years they have risen from just over 2GW of grid connected solar to 8GW globally. In addition to enabling efficiency in the delivery of electricity, First Solar is increasing resource efficiency within their company by lowering their overall energy and water use and decreasing GHG intensity.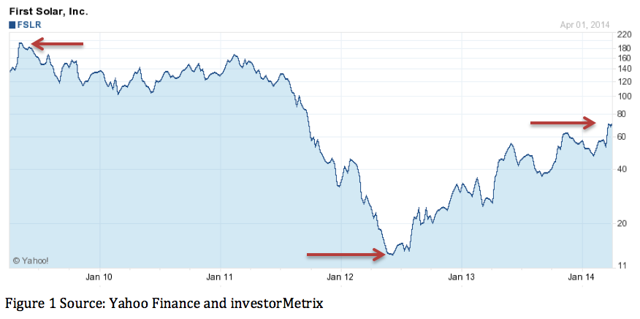 First Solar is the only company on the Fast 500 clean tech list with over $1B in revenues, earning $3.37B in 2012. The company is well capitalized with nearly a billion in cash and can withstand the dips into negative net territory. In fact, after a two-year dip, First Solar reported a net gain of $353M in 2013. First Solar investors have ridden a roller coaster as stock price reached a high of $311 in May 2008, then fell into the $140 range until June 2012, at which point it plummeted to a low of $11 a share. Many factors played into this dramatic drop in value and investors fled from First Solar in 2012, proclaiming the company and the solar industry dead. The stock price has nearly doubled from its $39 price one year ago and now hovers in the $70 range. Even though the solar market as a whole is dynamic and evolving, First Solar has been able to shift where needed to ensure it remains viable and financially stable.
Profire Energy Poised to Grow
Another top performer was Profire Energy, which develops and sells Burner Management Systems (BMS) for equipment used in the upstream production and transportation of oil and natural gas. Profire Energy's value proposition is that their automated burner technology enables remote monitoring and relighting of flames on equipment that requires a heat source. Compliance with safety regulations is enabled because flames and heat controls are more easily managed, automatically turning off and on when heat is needed. Profire Energy currently has over 20,000 BMS systems deployed; a mere 1% of the available 2,000,000 oil and gas installations in the market.
Revenue has been growing steadily for Profire Energy, up 186% since 2009, from just under $6M to nearly $17M in 2012. Net income has been relatively flat, with the exception of an increase in 2011, which has been followed by a drop in 2013. The company has good margins and cash flow and high Return on Assets. The stock price for Profire Energy languished under $2.00 for years until September of last year. Since then, it has broken the $3.00 mark and is still rising. Profire Energy moved from the over-the-counter markets to NASDAQ on March 27, 2014, increasing their visibility to institutional investors and analysts and enhancing their trading liquidity.
Universal Display Corporation Expanding LED Capabilities
Universal Display Corporation is in the business of organic light emitting diode (OLED) technologies and materials. Besides trademark OLED lighting solutions, their offerings include flexible LED technology, transparent LEDs, and commercial-sized white light LED panels. The flexible display market is expected to grow to $3.9B by 2020, which is good news for Universal Display, who holds licensing rights to over 3,000 patents worldwide. Universal Display is a global leader in research, development and commercialization of these technologies, which are used as lighting products and in full-color displays. Universal Display currently has a licensing agreement with Samsung valued at upwards of $40 million per year, a dollar amount that grows annually. Their flexible lighting technology has many new and interesting applications and has been purchased by several electronics companies, including LG Display (NYSE:LPL), Sony (NYSE:SNE) and Philips (NYSE:PHG).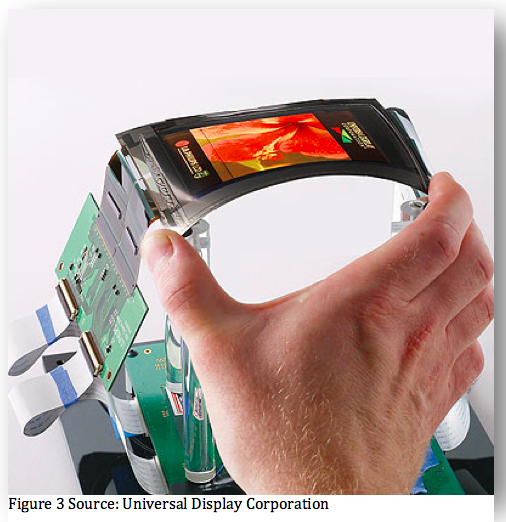 Universal Display realized solid revenue growth and stellar net income growth, rising from a $19M net loss in 2010 to a $74M net gain in 2013. They run a lean company with a 20% cost of revenue, mainly due to their licensing model. They did, however, spend about 23% of their revenues for R&D in 2013, which has been steadily decreasing from a high of 71% in 2010. Universal Display is well capitalized with $70M in free cash flow and no long-term debt. Investors familiar with Universal Display will know that the stock price has bounced around a lot over the past four years, reaching a high of $57.26 in April 2011. It currently trades for just under $32 per share.
Advanced Emissions Solutions Making Coal Cleaner
Advanced Emissions Solutions is a holding company for three smaller companies that specialize in clean coal technology and associated specialty chemicals serving coal power plants, cement manufacturers, and municipal waste incinerators. Their technology enables improved operating efficiency, maximization of capacity, and minimization of emissions in preparation for pending environmental regulations. The companies also treat and convert wastes from food and beverage, and water industries. Currently, with the help of a DOE grant and industry funding, they are developing technology for carbon capture from coal fired boiler flues. Testing is slated to begin this year.

Advanced Emissions Solutions experienced a revenue slump in 2011, but roared back with $212M in revenue in 2012. And although they are still experiencing annual net losses, those losses are shrinking every year, settling in at a $13M loss in 2012. A recent announcement by the company that they are reviewing their accounting practices may cause net income losses to increase for 2013, which caused a brief drop in stock price. The company, which was listed on NASDAQ in July 2013, has enjoyed a 50% increase in stock price over the past six months and now hovers in the $25 range.
Where Does Clean Tech Go From Here?
The four highlighted FiRM© top performing companies represent only a fraction of the good news in the clean technology sector. The 15 public companies that made the Deloitte Fast 500 list are all compelling and capable. Many of them are good candidates for a long-term growth portfolio. And as more of the companies move from net losses to gains, they will become more stable and more desirable. In fact, in spite of the fact that 11 of the 15 companies are still experiencing net losses, 9 of the companies saw their stock price increase over the past 12 months. Those companies that did lose value were predominantly the poorest performers across all categories. The fact that investors are willing to grow with these clean tech companies is encouraging for company and investor alike.
Clean technology obviously encompasses much more than just solar panels and wind turbines, in spite of declarations made in the headlines. From an investment perspective, it is useful to broaden the definition of clean tech to include processes and products that enable efficiency. In fact, many of the most interesting companies in clean tech are just off the radar because they are NOT solar and wind companies. These include component manufacturers for complex technology and companies that occupy a subsector in an industry, like waste-to-energy processing. Given the global growth of energy and water demands, burgeoning population, and growth of the middle class in emerging economies, companies that enable efficiency are poised to be in great demand. We think this is good news, indeed.
Disclosure: I have no positions in any stocks mentioned, and no plans to initiate any positions within the next 72 hours. I wrote this article myself, and it expresses my own opinions. I am not receiving compensation for it. I have no business relationship with any company whose stock is mentioned in this article.