After an April 3 scintillating presentation of 2Q earnings by Micron Technology (NASDAQ:MU) management, followed by sharp and penetrating questions by analysts, a wave of updates has been published. This article summarizes 4 updates from Wells Fargo, Credit Suisse, Morgan Stanley, and Goldman Sachs. These aren't usually available in their totality online.
Notable quotes from the text of reports. The textual portion of each of these reports is brief but each firm has their own slant and some text worth reading. Here is an excerpt from Wells Fargo:
we think there is risk associated with the high fixed cost and commodity-like nature of the semiconductor memory business, which makes us cautious on the stock when its price rises above what we consider to be an appropriate valuation multiple.
...in sum our STRUCTURAL POSITIVE CALL was more than supported by MU's results. Memory continues to be in the early stages of a structural re-rating driven by slowing supply growth and improving demand mix. Specifically our analysis suggests a 20%/40% reduction in DRAM/NAND supply growth and Enterprise demand more than doubling on the heels of Data Analytic Applications - Server DRAM grew 70% y/y on flat y/y server units. If correct, we see SUSTAINED EPS of at least $5 per share.
And one from Morgan Stanley:
We remain cynical about sustainability but have been wrong, and disproving the bull case becomes harder each strong quarter. But we see this period of modest NAND weakness as an acid test for industry behavior during periods of disruption.
And one from Goldman Sachs:
A key focus for us going forward will be on margin sustainability. While we appreciate that the DRAM industry has consolidated, we note that Micron's DRAM operating margins are now in the high 20% range which is above even some consolidated parts of the industry.
What about the numbers? Alas, any hope of consensus comes off the rails right at the top line, and gross margin line, as this chart illustrates:
| | Revenue | GM% | Revenue | GM% | Target | Report | |
| --- | --- | --- | --- | --- | --- | --- | --- |
| | 2014est | 2014est | 2015est | 2015est | Price | Date | |
| WF | 15.949B | 32.5 | 16.400 | 28.4 | $14-17 | 4/3 | |
| CS | 15.780B | 36.8 | 15.952 | 39.8 | $30 | 4/4 | |
| MS | 15.534B | 31.3 | 14.171 | 30.7 | $9/20/36 | 4/4 | |
| GS | 15.945B | 34.5 | 14.870 | 30.7 | $18 | 4/4 | |
notes:
MS price target is Bear/Base/Bull
GS price target specified as 6 months
Kipp Bedard, Micron VP of IR, and Ivan Donaldson, Micron IR, should be giving themselves low marks on this kind of dispersion right at the top several lines of the Income Statement. Also, why are none of these guys above $16 billion in 2014 estimated revenues now that we have just done two back-to-back quarters of over $4 billion? And how did we ever get to almost 11 percentage points of margin disparity in 2015? In order to try to answer these questions, I intend to go back over the outliers in all of the categories in this article and hopefully the upgrade/updates from Piper Jaffrey, Jeffries and Needham when I can get my hands on them. If I can learn anything from this homework, perhaps there will be a follow-up article.
If the topline shows divergence, the bottom line is a positive scatter chart. In the table below I've tried to be consistent in selecting GAAP numbers, but they are not always clearly called out:
Earnings per share estimates
| | 3QE | 3QE | 2014E | 2014E | 2015E | 2015E |
| --- | --- | --- | --- | --- | --- | --- |
| | Current | Prior | Current | Prior | Current | Prior |
| WF | .48 | .65 | 1.81 | 1.87 | 1.5 | 1.5 |
| CS | .68 | .75 | 2.61 | 2.75 | 3.18 | 2.98 |
| MS | .63 | .72 | 2.41 | | 1.84 | |
| GS | .71 | | 3.00 | 3.05 | 1.98 | 1.79 |
note: blank cells for data not in current update report
And what about the all important EBITDA? The table below attempts to summarize EBITDA assumptions. Some analysts called it out, others did not, as evident from the notes:
| | | 2014e | 2014e | Stated | CALC'D |
| --- | --- | --- | --- | --- | --- |
| | Note | op profit | Deprec & amort | EBITDA | EBITDA |
| WF | 1 | 2.856B | | | 5.089B |
| CS | 2 | 3.965B | 2.347B | 5.883B | 6.312B |
| MS | | 2.545B | 2.119B | | 4.664B |
| GS | 3 | | 2.233B | 5.642B | |
| avg | | | 2.233B | | |
Notes:
WF update didn't state DDA. Average of the other three analysts is used and added to op profit to get EBITDA.
CS stated EBITDA doesn't seem to jibe with calculated EBITDA.
GS didn't call out operating profit.
Immediately after the earnings call, I wrote an article entitled "Micron: It's the Cash Flow, Stupid!" since the cheapness of the company on that basis was my takeaway from the call. Since that time Yahoo tells me the company got $1.5 billion cheaper, making the net enterprise value $23.26 billion. Based on the chart above, that still puts the EV/EBITDA multiple at an astounding 3.7x to 4.66x. This has to have tongues wagging in LBO shops and board rooms of large memory consumers. I know of a few hedge funds and institutional investors positively salivating over the number.
And what about the all-knowing Yahoo Finance and its Average Analyst Estimates? Alas, Yahoo and all such services I've seen are very opaque on how they come up with their averages. What are they averaging? How often do they update? How can some analysts apparently only update some of the numbers? If anyone knows of a better FREE service I am all ears. I'd like to see all the info called out by Yahoo along with an analyst name and date. But here's the guts of the Yahoo estimate page as of 4-5-2014: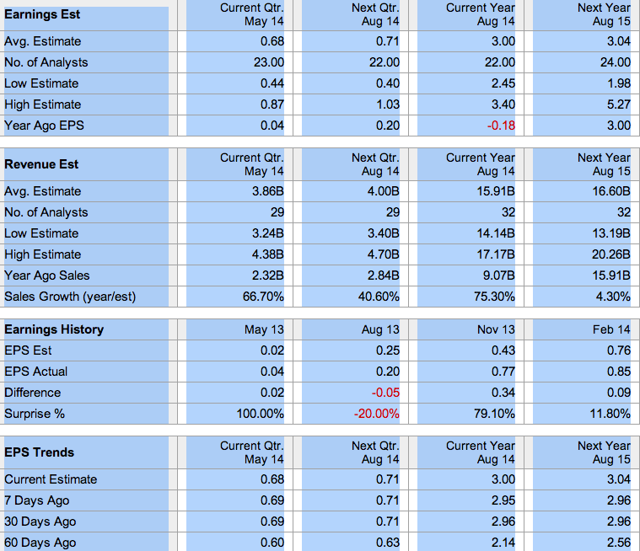 Immediately we can see some problems:
23 analysts are estimating the next quarter eps and only 22 are estimating the following quarter.
29 analysts are estimating the next two quarters revenue estimates but 32 are included for the next two years estimates.
The low EPS estimate for 2014 is shown as $2.45, but per my chart on EPS estimates above we already have Wells Fargo at $1.81 and Morgan Stanley at $2.41 both BELOW that number.
I doubt whether Yahoo is going to become more transparent; the analysts may require anonymity when they submit their numbers, in an effort to get us all to call our brokers and pay for the reports. In order to at least track what Yahoo is doing over time, I have set them up on a nifty little free service called "followthatpage.com" that tracks changes to a given page on a daily basis. I have stumped up and paid for a more robust version which allows me to track the Micron investor relations events page every 10 minutes, the Micron IR SEC listings every 10 minutes and the SEC EDGAR server for Micron every 10 minutes. And yes, Joel Poppen (Micron General Counsel), Kipp Bedard (Micron VP IR) and Ron Foster (Micron CFO), I do look at the time stamps of when you post changes to your SEC listings on your web page and when they arrive at the SEC. I suspect tracking daily changes to the Yahoo Analyst Earnings estimates is going to result in a blizzard of emails from this service that I may never analyze and parse. Maybe Micron will send me an Automata Processor to do the work? And, please, who knows how to program the Automata Processor?
Conclusions: I guess I no longer put a whole lot of faith in any one report. Like a lot of quick and dirty data analysis one can probably safely throw out the high and the low. This would have me not worry about Wells Fargo's David Wong, CFA, PhD, who has the lowest estimates I've seen, with no compelling arguments for why they are so much lower than consensus. As an historical note, I pulled up my copy of Wong's report from March 15, 2013, which was among the first sell side reports I read on Micron. The stock was at $9.69 and he had just raised his price target to $10-12. Somewhere Dr. Wong went off the rails and I am still trying to determine when, why, where and how.
Past articles of mine, and comments by many on different articles, have focused on the unfortunate word "consensus" when used in the same sentence as "earnings per share." I don't think there will be any such thing for Micron in 2014. Still, studying the trends, the dispersion and trying to understand why some of these guys estimate what they do may help us Micron longs.
I don't know of too many $16 billion revenue companies trading at this tiny Enterprise Value/EBITDA ratio. This stock is very cheap on that basis and I intend to play it hard, hopefully avoiding these giant craters that are an all too regular companion to earnings calls and their aftermath.
Disclosure: I am long MU. I wrote this article myself, and it expresses my own opinions. I am not receiving compensation for it (other than from Seeking Alpha). I have no business relationship with any company whose stock is mentioned in this article.