Oil prices are steadily hovering around $100/barrel, and natural gas supplies were depleted after a very harsh winter as per EIA data:

Despite growing efficiencies in the rig space, I still think investing in this sector is a smart play over the long term. Ever hear of a man named Sam Brannan, who became the first millionaire of California's Gold Rush? Surprisingly, Sam didn't own gold mine. Instead, he supplied much of the equipment the miners needed to relentlessly dig for profits, like shovels and pans for example. Thus derived a classic quotation:
Don't Dig For Gold, Sell the Shovel
I feel this same logic could be easily applied to this sector as it relates to oil and gas drilling and the need for the equipment and services required. Now that we've covered the basic demand for this sector, how can we invest?
Simply picking a couple companies out of the bunch seems very difficult, and often risky. In my opinion, a non-professional investor doesn't have the time to fully evaluate each and every company out there in search of a winner, so a sector focused ETF is probably the best choice.
The most popular play is the Market Vectors Oil Services ETF (NYSEARCA:OIH). OIH has a $0.35 fee, has a 1% dividend, and has $1 B in assets. More notably, capital allocation is extremely top heavy into the largest service names in the industry, as 50% of the fund is devoted to just 5 names: Schlumberger Limited (NYSE:SLB), Halliburton Company (NYSE:HAL), National Oilwell Varco, Inc. (NYSE:NOV), Baker Hughes Inc. (NYSE:BHI), and Seadrill Limited (NYSE:SDRL).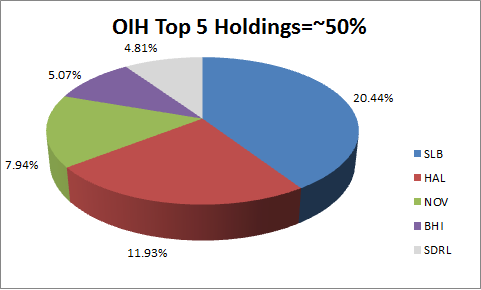 In my opinion, diversity is what we're looking for, not over exposure to the industry behemoths.
A better alternative is the SPDR S&P Oil & Gas Equipment & Services ETF (NYSEARCA:XES). XES has a smaller dividend of .66%, and total assets of $300 M- roughly 1/3rd the size of the OIH. However, the management fees are the same and this instrument is fairly well traded. The last I checked the spread between the bid and ask was $0.02.
This is all just fine, but the real advantage is superb diversification. XES has exposure to some 49 different companies as per Dan Dicker, from Thestreet.com, with exposure ranging from 2.5% and down to near 2%. As Dan explains in the video below, This type of approach allows for a "shotgun" approach to investing in the sector.
Obviously, the XES is more diversified than the OIH, which relies heavily on the performance on the industry's largest stalwarts. Also, liquidity of shares and size of the fund seems to be sufficiently safe. XES also passed my test with a low management fee of .35%, which is the same as the OIH. Because of these reasonable metrics but way more advanced diversification, the XES is the preferred "Sam Brannan" investment for the oil and gas services sector on my opinion. XES is now on my watch list and staying there, as I may consider adding on the next pullback.
Disclosure: I have no positions in any stocks mentioned, but may initiate a long position in XES over the next 72 hours. I wrote this article myself, and it expresses my own opinions. I am not receiving compensation for it (other than from Seeking Alpha). I have no business relationship with any company whose stock is mentioned in this article.
Additional disclosure: XES is now on my watch list and will look to add on weakness.