The recent sell-off in Hong Kong equities peaked my interest, and more particularly, China Mobile Limited (NYSE:CHL) and CNOOC Limited (NYSE:CEO). My friend already covered CHL quite extensively, basically declaring that it's cheap (looking to add below $43) and downside should be limited. I think the same applies to CNOOC, although there certainly exists additional underlying risk here in my opinion.
CNOOC Limited, an investment holding company, explores for, develops, produces, and sells oil and natural gas. It produces offshore crude oil and natural gas. Its core operation areas are Bohai, Western South China Sea, Eastern South China Sea, and East China Sea in offshore China. The company also has oil and gas assets in Asia, Africa, North America, South America, Oceania, and Europe. CNOOC Limited is a subsidiary of China National Offshore Oil Corporation.
Provided CNOOC is within the oil & gas exploration industry, price to earnings tend to lie within a lower end range (sub 15) because of natural volatility associated with commodity prices. For example, over the last 5 years, the company has seen revenue growth ranging between 3% to 75%. Directly after the financial crisis, CEO among other companies saw explosive growth for about two years before consolidating in 2011 and 2012. Price levels seen above $200 per share were overly optimistic assuming crude oil and natural gas would continue to rise; essentially an anticipated market feature that didn't materialize. During this time, there has been a continuous scandal and political-related risk associated with CEO. Management is currently being investigated, however I do not believe that this poses a serious threat to the business when considering the government's backing of the corporation.
Valuation
CEO is a bit difficult to determine considering the steep earnings volatility. I decided to pick out two methods that arrive me at the same earnings per share. A smoothed five year average and median number give about $18.5, considerably lower than Wall Street's forward expectations (the 2009 outlier seems to throw off the model). So even though this is an overly pessimistic scenario, after running a simple DCF model with 1% annualized growth (conservative), fair value runs somewhere around $175.
If we reference Standard & Poor's' sell side report, they give a more optimistic situation which may or may not be realistic. While street analysts are expecting a $2 decline, S&P believes EPS will actually do the opposite and increase from $23 to $25. In that case, discounted cash flow issues a price target of $235. Contracts going forward will significantly impact the bottom line, and subsequently influence price targets.
If earnings do in fact rise for 2014, shares are undoubtedly heavily discounted. For both models, there is a bare minimum margin of safety equating to ~11%. I think the elevated commodity prices recently seen in crude oil and natural gas especially, will give CEO the boost it needs in both the top and bottom line. If we just take a look at the intensive demand for natural gas, it has generated a price increase larger than 25% in the last 6 months. Moreover, speculative price action has generated massive volatility not seen since 2010 (i.e. $4.50 to $6.50 in February) - has anyone taken a look at their utility bill recently? Conversely, a decline in earnings via voided contracts or economic weakness could generate a stagnation in share price. Perhaps an additional drop from the $150 level could occur if the market overreacts, similarly to the irrationality exhibited in early 2011.
Technicals
There are mixed interpretations between traders at this price level. When the price stays depressed for a prolonged period of time, while sitting under daily moving averages it tends to be viewed as bearish. However some think it's selling exhaustion and apparent "consolidation". I am a huge proponent of momentum and believe it plays a serious role for chart sentiment. In any event, here is this chart: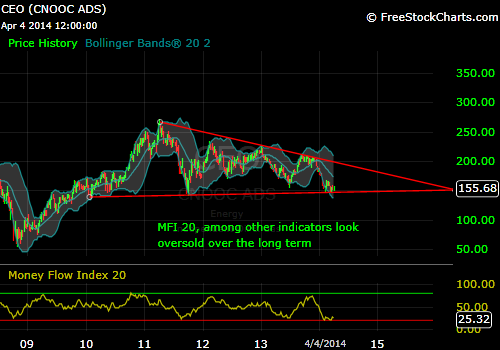 Those two red lines show a defined descending triangle or "death triangle" which presumes lower price levels when it moves closer to the apex. However a short term bounce may be warranted near the resistance level, a phenomena known as "fill the gap" would lead it to either $170 or $180.
Bottom Line
I think the short term sell-off is somewhat overdone, but I cannot agree with the S&P price target. Obviously the further it falls, the safer it is. One thing that did look promising was the last earnings report that saw a 5% bounce, which has wavered up and down slightly since then. Long term investors can also hold a position for a dividend yield close to 4%, much better than the standard 2-3% seen in established corporations. If shares fell closer to $140 it would be a much better price position, but starting here with a small amount looks like a reasonable idea.
Disclosure: I have no positions in any stocks mentioned, but may initiate a long position in CEO, CHL over the next 72 hours. I wrote this article myself, and it expresses my own opinions. I am not receiving compensation for it (other than from Seeking Alpha). I have no business relationship with any company whose stock is mentioned in this article.
Additional disclosure: I am currently waiting on broader market price action before creating a position.