Samsung (OTC:SSNLF) isn't helping Intel (NASDAQ:INTC) as much as I would like it to. Samsung and Intel are the major conspirators behind the upcoming Tizen OS. However, business comes first before friendship. Instead of again using an Intel SoC for its consumer Galaxy Tab tablets, Samsung decided to use Qualcomm's SnapDragon 400 for its new Galaxy Tab 4 line-up.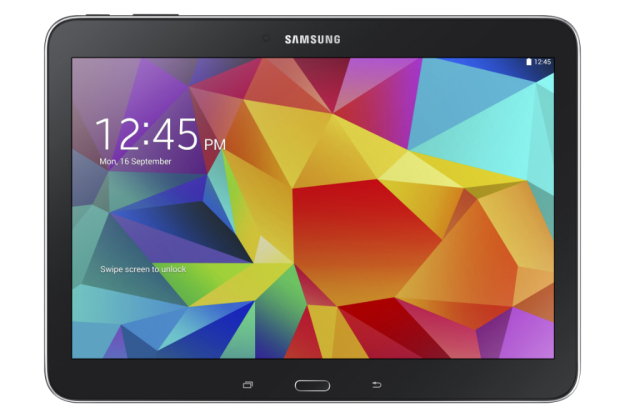 Source: Samsung
This development hurts Intel's ability to meet the 40-million-chip target this year. Samsung is the biggest Android tablet seller in the world today. With the release of the native Office for iPad, Intel will find it harder to sell high-ASP tablets to enterprise customers. Without the deal for Galaxy Tab 4, Intel will also find it more difficult to sell chips for low and mid-priced tablets.
Intel Could Really Use Samsung's Help
Intel would have an easier time selling many Android tablets if Samsung used Atom SoCs on its Galaxy Tab 4 tablets. HP (NYSE:HPQ), Dell, Acer, Lenovo, or Asus cannot match the success of Samsung when it comes to selling tablets.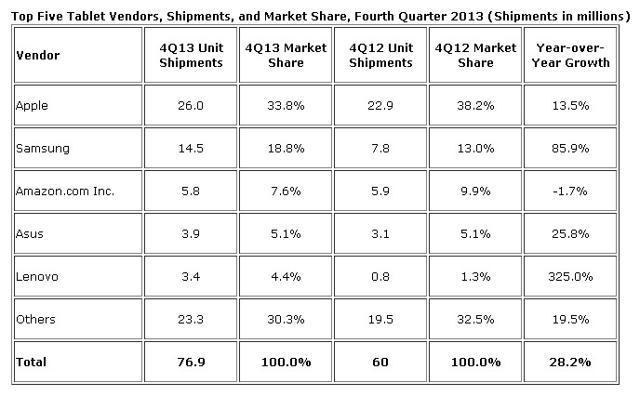 Source: IDC
The Galaxy Tab 4 could have helped Intel sell at least 5 million Bay Trail chips this year. The Samsung tablets' low price tags make them very popular even here in the Philippines. Samsung used Intel's Atom Z2560 last year for its Galaxy Tab 3. Some of those 40 million tablets that Samsung sold last year contained Intel chips. I expected Samsung to again use Intel chips.
Unfortunately for investors, Samsung dropped Atoms for the Qualcomm snapdragon this year. The 7-inch, 8-inch, 10.1-inches version of the Galaxy Tab 4 comes with the same quad-core 1.2 GHz Snapdragon 400 Arm7 SoC. TMFEassa's article confirmed Lilliputing's rumor last month.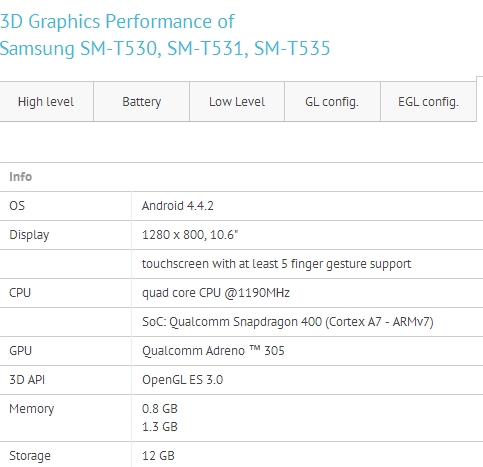 Source: GFXBench
Management is Still Bullish
Despite not winning the Galaxy Tab 4 deal, Intel's management is not discouraged. The management recently modified the company's financial reporting to reflect a more accurate picture of its different business divisions. Intel used to report its earnings under 3 categories - PC Client Group, Data Center Group, and Other Intel Architecture.
The new financial reporting method will now report revenue and costs under the new categories:
PC Client Group
Data Center Group
Internet of Things Group
Mobile and Communications Group
Software and Services Group
All Other
The Mobile and Communications Group is comprised of the tablet, smartphone, baseband, and other mobile-centric products. This report helped INTC shoot up a little bit yesterday. Investors liked this idea of more transparent accounting of how Intel's different divisions will do quarterly.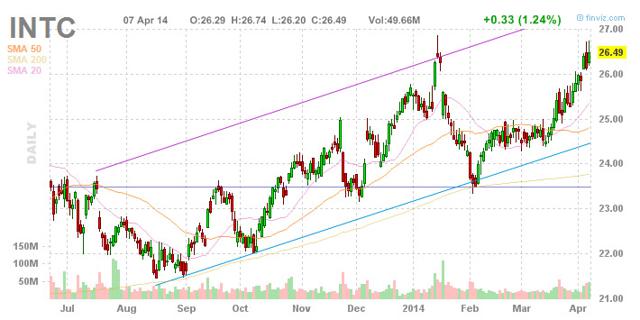 A successful execution of the company's 40-million-tablet-chips campaign will have a major impact on how INTC will do by December 2014. Investors now can easily gauge how Intel's mobile products are doing with the new separate reporting category.
The management did not let Samsung's defection to Qualcomm (NASDAQ:QCOM) deter its announcement of new financial reporting. With the new separate division for mobile, Intel showed it is not afraid to lay it all out to see if the company can make headways in the mobile arena.
The contra revenue tactic of Intel failed to convince Samsung to stick to using Atom SoCs for the Galaxy Tab 4 Android tablets. I hope Lenovo, Asus, and ZTE don't follow suit. Keeping the OEM device makers loyal is what Intel needs to execute its tablet mission.
I am also hoping that Samsung will really deliver low and mid-priced Windows 8.1 tablets now that Windows 8.1 is free for tablets 9-inches or smaller. Intel's new integrated RealSense 3D camera for tablets and 2-in-1 hybrids is another good selling point for Windows 8.1 tablets.
Conclusion
Intel needs the support of Samsung to make Windows 8.1 tablets viable this year. According to Gartner, there were 4.03 million Windows tablets that got sold, or 2.1% of the total tablet sales for 2013. Android tablets, where Samsung rules, did 120.96 million. Losing the Galaxy Tab 4 is therefore a big letdown for me.

I hope Samsung doesn't abandon Windows 8.1 tablets this second half of 2014. The excellent Samsung Ativ 3 deserves a follow-up. It will also be nice to see a Windows version of the affordable Galaxy Tab 4 family. Windows 8 tablet sales can double this year if Samsung makes sub $300 Windows tablets.
INTC is a very strong HOLD. I like how Krzanich made these new individual divisions to truly reflect Intel's value. It is a strong motivation for the management to not screw up the 40-million-tablet-chips campaign.
I like INTC because it has less than 15 TTM and Trailing P/E, low P/S and P/B ratios, and negligible debt load.

Source: Finviz
Disclosure: I am long INTC. I wrote this article myself, and it expresses my own opinions. I am not receiving compensation for it (other than from Seeking Alpha). I have no business relationship with any company whose stock is mentioned in this article.