Another quarter, another strong beat, and once again shares of semiconductor manufacturing company Micron Technology (NASDAQ:MU) traded down ~15% from their most recent highs. Micron shares have behaved this way, falling down 12% to 17% just in advance and in anticipation of earnings or immediately following earnings for the last few quarters in a row (see Figure). Almost every-time, the rationale has been the same, that the latest quarter is the end of growth, and that the industry is cyclical and will return back soon to lower prices and lower profits. And every time, so far, when investors have listened to this advice and sold on weakness, they have left money on the table, with Micron shares going back to new 52-week highs and higher.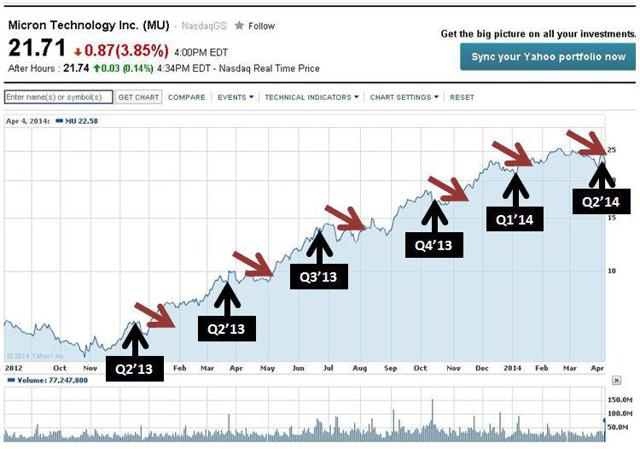 Click to enlarge
On Thursday, after the market-close, Micron once again gave an encore, delivering yet another good report for the latest February 2014 quarter (Q2'14). Earnings came in at 85 cents, beating the 76 cent analyst estimate, and up vs. a 28c loss year-over-year, and also up vs. the blockbuster 77 cent earnings reported in the prior Q1'14. Sequentially, now, earnings are up from a 28 cent loss from in Q2'13 to a 4 cent profit in Q3'13, then to a 29 cent profit in Q4'13, a 77 cent profit in Q1'14 and finally an 85 cent profit in the current quarter. Q2'14 revenue is also up 98% year-over-year, but mostly on account of the Elpida acquisition closed last year. True to form, shares have once again retreated, this time in concert with the decline in the overall market, and especially in the technology sector, with shares off 15.5% from the recent $25.68 high about six weeks ago.
Once again, we are hearing the same argument from bears that we have heard around this time in the quarterly news cycle several times before. Bears argue that Micron is in a cyclical industry, that we are at the end of the current boom-and-bust cycle, that profits are near their peak, and they project falling DRAM and NAND prices, and falling profits for the company going forward. Many also look at the technical chart and point out that prices are going parabolic and are sure to come collapsing down soon.
We believe Micron is one of those unique situations that has to have strong appeal to value and growth investors alike. Although analyst consensus estimates show a flattening out in earnings and profits from $15.91 billion and $3.00 in the current FY ending Aug. 2014 to $16.60 billion and $3.04 in the next FY ending Aug. 2015, there is a lot of potential upside to those estimates. That is because there is hardly any consensus in the consensus analyst estimates, as they range for FY 2015 from a low of $13.19 billion and $1.98 to $20.26 billion and $5.27 in revenue and earnings respectively.
Even based on the median analyst estimate of $3.04 for the next FY 2015, Micron shares currently trade at a very affordable 7.1x fwd. P/E. Based on Enterprise Value / Adjusted EBITDA (EV/EBITDA), a widely used valuation measure that normalizes for differences between companies in terms of their capital structure, taxation and fixed asset accounting, Micron shares actually trade at a very cheap 3.4 multiple. And this is assuming the median analyst estimates. Based on the upper end of analyst estimates, Micro shares actually trade at just 4.1x fwd. P/E and 2.0x fwd. EV/EBITDA. We would argue that these valuation multiples are not just low, but that they are insanely low, and that they are the kind of low-ball multiples that acquirers would ideally look for in acquiring assets.
Micron is not just attractive as a value buy, but also as a growth play. Consensus analyst estimates are projecting an annual earnings growth of 10.3% for the next five years, with the upside high-end estimates being even higher than that. It is a leader in both DRAM and NAND flash memory that together account for 90% of its sales, ranking second only to Samsung in DRAM and accounting for just over a quarter of the global market share, and being among the top 5 players in the NAND flash memory industry. It also has a strong balance sheet, with high current and quick ratios of 2.1 and 1.5 respectively. Furthermore, there is rising speculation that due to the exploding demand for its chips due to the proliferation of new computing devices and applications that require ever-increasing memory, and the possible cornering of the DRAM market by Micron, the industry may experience more stable prices going forward. In such a case, analysts would have to revalue the shares using a higher multiple for a secular growth industry (vs. cyclical industry), which would lead analyst to even higher valuation targets for Micron shares.
It is for these reasons that we have been pounding the table on Micron, profiling it as a "Top 5 Large-Cap Pick" in two editions of our Consensus Picks' newsletter, for Q2'13 and Q3'13, a distinction achieved by no other large-cap in any of the prior quarter editions of the newsletter. Micron shares traded up 74.5% in the six months it remained in the newsletter portfolio, up from $13.86 in late-August 2013 following the release of our Q2'13 top picks to $24.19 in late-February 2014 when it was removed from the portfolio during the quarterly re-balance following the release of our Q4'13 top picks. Although Micron did not figure in the top 5 large-cap picks for the latest Q4'13, the stock continued to remain a favorite among our hand-picked 78 legendary or guru fund managers (those with consistent long-term market beating returns like Buffett, Klarman, Icahn, Paulson, etc.), that collectively or in consensus added another 14.0 million shares in the latest Q4'13 to the 154.79 million shares they held at the end of the prior quarter (see Table).

Click to enlarge
As shown in the Table, guru fund managers have been aggressively buying Micron shares, adding 137.2 million shares to the 31.6 million shares it held at the end of Q3'12. In our experience, this large 434% increase in guru fund ownership in just five quarters is uncommon and significant, conveying in no uncertain terms the bullishness of guru fund managers on Micron shares. Also, ownership went up almost three-fold during this period from six guru fund managers at the end of 3Q'12 to 17 guru fund managers at the end of the latest 4Q'13, with 50% more funds that bought vs. sold during this period. Given that Micron shares went up about four-fold during this period, from a range of $5 to $5.50 at the time of the 3Q'12 Consensus Picks' reports coming out in late-November 2012 to the $24 range when the latest 4Q'13 reports came out, this is a tremendous ring of endorsement by guru fund managers on their belief in Micron, especially given that almost all of them are value-oriented managers that have a bias to unload shares as they move higher (as opposed to momentum-oriented funds that load up on something moving strongly higher).
The largest guru fund manager holders of Micron shares at the end of 4Q'13 were:
You can view complete summarized 13-F's of all of these funds, and over 330 more on our website, GuruFundPicks.com.
The accumulation of shares by Guru fund managers in recent quarters is also illustrated graphically in the Figure below.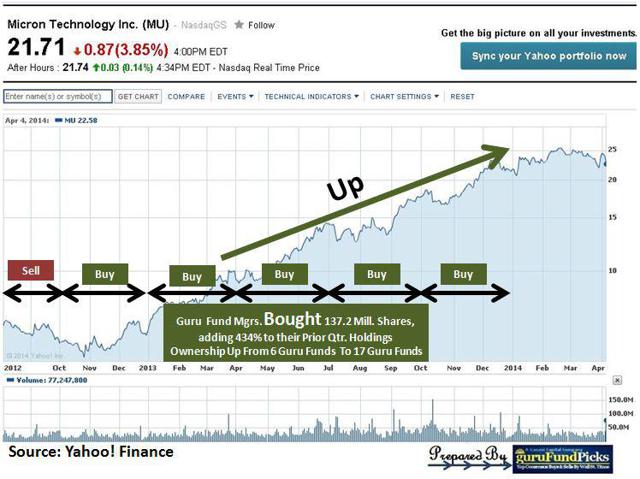 Click to enlarge
Our Consensus Picks' system is particularly applicable in situations like Micron where there is tremendous uncertainty, and a high degree of disagreement among market players on a stocks outlook as is evident from the wide range in analyst estimates for forward revenue and earnings. On our site, GuruFundPicks.com, we track the collective or consensus buying and selling of over 330 of our hand-picked leading Wall Street fund managers, based on their latest 13-F and SC 13D/G 5% ownership filings. Their ownership change over multiple quarters, and net buying and selling, both in shares and in number of funds, and the percent outstanding shares held by these leading funds, especially when compared to similar sized peers in the same industry, is like reading tea leaves. It gives us the extra edge, increasing the probability of making the right decision, and in many cases saving us from making a wrong decision on a stock.
In our research, we have observed strong correlation between leading fund manager ownership, including their buying and selling activities every quarter, and the stock's immediate and long-term performance. We have documented many such cases on our website and in our archive of articles on Seeking Alpha, including three cases we discussed in just the last two weeks on Gilead (NASDAQ:GILD), Facebook (NASDAQ:FB), BlackBerry (NASDAQ:BBRY) and Mannkind (NASDAQ:MNKD).
In summary, we believe that despite the current pessimism following Micron's strong Q2'14 report, its shares are still priced attractively. In Micron, you get an industry leader that is both a value and growth buy, that has high financial strength, and is correctly positioned in the economic cycle with a strong ramp-up in the demand for its chips going fwd., and so dominates its industry that it may be able to set its own DRAM prices going forward. Given the weakness in the market and in technology, we would not buy the entire position here, but scale-in, buying maybe a fourth to a third here, and more if it goes towards the 200-day moving average support that is currently in the $19 range, about 10%-12% below current price levels.
Disclosure: I have no positions in any stocks mentioned, but may initiate a long position in MU over the next 72 hours.
Business relationship disclosure: Business Relationship Disclosure: The article has been written by the Hedge and Mutual Fund Analyst at GuruFundPicks.com. GuruFundPicks.com is not receiving compensation for it (other than from Seeking Alpha). GuruFundPicks.com has no business relationship with any company whose stock is mentioned in this article.
Additional disclosure: Additional Disclosure: Use of GuruFundPicks' research is at your own risk. You should do your own research and due diligence before making any investment decision with respect to securities covered herein. You should assume that as of the publication date of any report or letter, GuruFundPicks, LLC, has a position in all stocks (and/or options of the stock) covered herein that is consistent with the position set forth in our research report. Following publication of any report or letter, GuruFundPicks intends to continue transacting in the securities covered herein, and we may be long, short, or neutral at any time hereafter regardless of our initial recommendation. To the best of our knowledge and belief, all information contained herein is accurate and reliable, and has been obtained from public sources we believe to be accurate and reliable, and not from company or persons who have a relationship with company insiders. Also, in our preparation of this article, we referred investor resources such as Zacks.com, Marketsmith and Sentieo.