For long-term investors, Procter & Gamble (NYSE:PG) should be considered a cornerstone stock, offering steady returns in almost any investing environment. The company has faced some issues, recently lowering its earnings outlook as a result of volatile forex markets in several developing markets. However, this short-term decline was a clear buying opportunity, with the stock recovering from its losses within weeks.
Dividend increased 7% to $0.6436 per share
On April 7, Procter & Gamble announced that its Board of Directors had approved a 7% increase to its quarterly dividend from $0.6015 ($2.406 annually) per share to $0.6436 ($2.574 annually) per share. This maintains a long streak for the company of dividend growth and marks the 58th consecutive annual dividend increase for Procter & Gamble.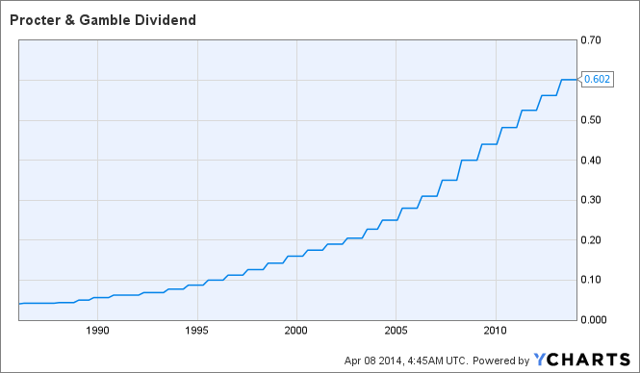 Click to enlarge
PG Dividend data by YCharts
Was Procter & Gamble's dividend increase large enough?
In a previous article, I argued that Procter & Gamble was likely to post a dividend increase of around 8% this year, inline with its 5 year average. Therefore, my estimate turned out to be slightly too bullish.
It seems as if Procter & Gamble may be wanting to keep its payout ratio based on EPS in check. Over the past twelve months, Procter & Gamble's EPS has come in at $3.70, resulting in a rather high 70% payout ratio. Using forward 2014 EPS estimates, Procter & Gamble's payout ratio drops to a more modest 55%.
However, these ratios are somewhat misleading as they do not tell the full story of Procter & Gamble's profitability. The company has seen its reported EPS get crushed due to currency concerns. Last year, the company posted an impressive 10% growth rate on a currency-neutral basis. Indeed, for 2014 the company is expecting to see upwards to 12% growth in currency-neutral core EPS.
Conclusion
While "safety" is an often abused buzzword in investing circles, with Procter & Gamble, this label is more than apt, with the stock offering a compelling 3.20% yield along with steady dividend growth.
In addition, Procter & Gamble has been an island of stability compared to the rest of the market, up 3% over the past 4 weeks compared to a 2% decline for the S&P 500.
Yes, there are concerns regard forex issues. However, the bad news is already out. The result? Procter & Gamble's barely budged when it reported its forex related profit warning in February, likely implying that this news was already priced-in
Disclaimer: The opinions in this article are for informational purposes only and should not be construed as a recommendation to buy or sell the stocks mentioned. Please do your own due diligence before making any investment decision.
Disclosure: I am long PG. I wrote this article myself, and it expresses my own opinions. I am not receiving compensation for it (other than from Seeking Alpha). I have no business relationship with any company whose stock is mentioned in this article.