Things seem to have gotten pretty negative this week. Many of the remaining economic bulls are realizing the economic headwinds are real:
that GDP growth seems to be in jeopardy;
that the stimulus did not ignite the economy and we are left with the debt;
that the methodology being used to run the economy is not working;
that chances are 100% that Europe with double dip; and,
that the economy is still not creating jobs;
The economic data – although not good – is not close to the negative signals which were appearing in 2008. Of course, as time goes on, the signals could degrade further – but that is not where we are today. As my outlook on the economy is so poor, this current batch of bad data does not have me running out of the building yelling "economic earthquake".
Nonetheless, the June data we have seen so far (and some of the May data) is indicating trend changes (lower growth to negative growth). We may be at an economic pivot point.
Unlike what many economic cheerleaders have been telling you about the economy, I never envisioned a strong recovery. We have an economy with four engines of unequal size – consumer, business, government, and the globe. Out of the four engines, only business has the potential to expand in a historical manner. And this potential is hampered by the weaknesses of the other three engines. The ride will be bumpy.
I have been predicting we are in an "L" recovery. An 'L" is flat-line growth. The reason we had a noticeable statistical recovery to date is due to the stimulus and the economic bounce that always happens when a recession ends (pent up demand and inventory re-stocking).
If you are tired of me saying over and over that we seem to have been trapped in the Japanese L, you can listen to the point man in the Keynesian camp. In a New York Times Op-Ed, Nobel Laureate Economist Paul Krugman is fearful we are in the early stages of a depression. He added:
And both the United States and Europe are well on their way toward Japan-style deflationary traps.
What is going on this week is crisis in confidence. The leaders of our economy had told us if we would go into hock for a couple trillion, our economic troubles would be resolved. Then they went off obviously believing all was in order, increased the future costs of our social systems – and escalated our wars.
For at least the last two months, our economic leaders have been sensing the economy did not ignite as expected. The final humiliation came last weekend in Toronto at the G-20 meeting where they pushed for a second stimulus from the leaders of the major global economies. The G-20 June 26 / 27 conference statement in part:
Following through on fiscal stimulus and communicating "growth friendly" fiscal consolidation plans in advanced countries that will be implemented going forward. Sound fiscal finances are essential to sustain recovery, provide flexibility to respond to new shocks, ensure the capacity to meet the challenges of aging populations, and avoid leaving future generations with a legacy of deficits and debt. The path of adjustment must be carefully calibrated to sustain the recovery in private demand. There is a risk that synchronized fiscal adjustment across several major economies could adversely impact the recovery. There is also a risk that the failure to implement consolidation where necessary would undermine confidence and hamper growth. Reflecting this balance, advanced economies have committed to fiscal plans that will at least halve deficits by 2013 and stabilize or reduce government debt-to-GDP ratios by 2016. Recognizing the circumstances of Japan, we welcome the Japanese government's fiscal consolidation plan announced recently with their growth strategy. Those with serious fiscal challenges need to accelerate the pace of consolidation. Fiscal consolidation plans will be credible, clearly communicated, differentiated to national circumstances, and focused on measures to foster economic growth.
No stimulus – only spending cuts. The USA economic game plan (stimulate, stimulate, stimulate) was destroyed in Toronto. Even the most brazen Keynesian realizes the USA cannot stimulate on its own as there is too much leakage to other economies. Point, game, match.
The real question is whether we are headed to a double dip. My argument is that in an L recovery, you have a whole bunch of ups and downs – and it is way to early to make a recession call. Nobody has enough real data to make this call.
The economy sucks. The investment environment is the worst I have ever seen. And I see no strategy to resolve our current economic ills.
Most arguments center around ECRI's WLI which has been in negative territory for the last month – and is indicating to many another recession is coming. ECRI is a "for profit" business who publishes some of their indicators. Then punters download the data base and make economic calls. Does it make sense to you that a for profit company would publish enough data for the general public to be able to do make their own determination?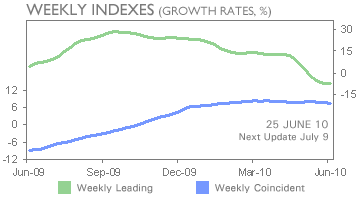 The WLI declined slightly again this week, yet ECRI is not calling a double dip. And here is Lakshman Achuthan, Managing Director of ECRI, view:
….... many of the people who are championing the index today who are actually have been bearish the whole time really disparaged it a year ago. And now they seem to like what it's saying, and it's pointing down. It's simply saying that the slowdown is inevitable, okay? The slowdown in growth rate is inevitable. The peak in the overall economic growth is going to happen right around now. It is premature to forecast a new recession or to say a recession is imminent based on this index because the economy's more complex than this index. As great as it is, it is not a holy grail. There is no holy grail of economic forecasting that we're aware of. And rather, we look at a multiple of leading indexes. Other indexes, specifically the long leading index for the U.S. economy, which does not include stock prices. The long leading index is not showing any kind of pronounced decline. And therefore, it's premature to say that this is anything more than a slowdown at this point. Look, we have a limited forecast horizon. I guarantee you there will be another recession. We've talked about why we're afraid there will be more frequent recessions in the coming decade. So we're certainly on high alert, but so far what we have is a broad slowdown in the economy.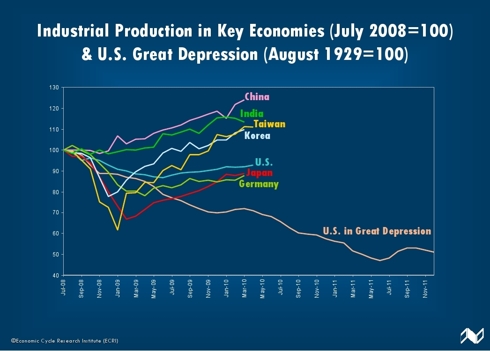 Based on our economic weakness, I could easily believe we could have a negative quarter, then a positive one and then a negative one. My position is that we have been in a depression since 2000 which has been wallpapered over to disguise its existence. Our pro-active Keynesian approach continues to obscure the economic defects. Now the defects are so large they have broken through the wallpaper.
There is a lot of well deserved negativity out there. The reason we all have such a negative view is our leadership. Joe Sixpack cannot be told that adding a couple of trillion of debt will solve economic problems, be told over and over that things are getting better, and then realize it was not true. Worse yet, most now realize that no matter what the government does, it will not end well.
The May 2010 personal income and personal consumption expenditure (PCE) should be compared to the pre-recession levels. The bottom line is that both income and expenditures (PCE) increased MoM. This data is part of the NIPA tables which the GDP is derived. I like to view data on a per capita basis, and with chained (level value) dollars.

From an income point of view (blue line), nothing really changed in the last three years. From an expenditure (PCE) point of view (red line) – we are not spending as much. The gap between the lines is mostly savings. The NBER who determines when recessions begin and end use rising income as one of the elements to determine if a recession is over. The trend of the red line shows that PCE has been trending up since mid-2009 – but we are still in a depression as it has not returned to previous levels.
Auto sales for June 2010 are disappointing to those who expected a gradual return to post recession auto sales. MoM sales (seasonally adjusted) were down, although up YoY. It appears the trend line is demonstrating a static auto sales situation.
This economic negativity should be balanced with my favorite coincident indicator – the Chicago Fed's National Activity Index (CFNAI) which is a weighted super index of 85 indicators which showed economic expansion in May 2010. I will not spend too much time reviewing this data as it appears to me there may have been an economic pivot point in June where expansion went flat.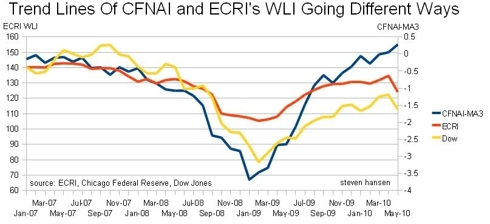 Manufacturing
Manufacturing is in a soft spot. The headlines say that manufacturing's new orders declined in May 2010. While this is true when we look at the unadjusted data, it could be attributed to new normal changes in demand.

But the real headline is that backlog (unfilled orders) has reversed a five month uptrend. This is a warning sign of a recession, or that there is an imbalance (production vs demand) in manufacturing and that further layoffs are coming.

The Institute of Supply Management (ISM) Manufacturing Survey for June 2010 still shows expansion in new orders and an increasing backlog (which is contrary to hard data). The increase in new orders is decelerating but in my opinion is within a range of normal month to month fluctuations. I will review both manufacturing and non-manufacturing together.
Although I will admit there is correlations between the ISM and the market – it is a terrible indicator on the true state of manufacturing. And you must be careful using this data at economic turning points as it is inaccurate.
Is a double dip coming? I have always been a "new normal" type of person. I never expected consumer demand to return, so I am not surprised as spending continues to come in weak. I never expected the housing market to recover as we are in a demographic shift (baby boomers retiring and the subsequent generation not wanting a McMansion in the suburbs). I never believed the stimulus would trigger the economy as it was mistargeted and mistimed. And the last two administrations have let jobs potential go overseas.
Give me a four months of negative data and I will be a double dipper too.
Housing
The April 2010 Case-Shiller home prices broke a six month decline with an expected slight increase due to the end of the first home buyers credit.

The easiest way to see what will happen this summer is to use the National Association of Realtors Pending Home Sales unadjusted index (May 2010 release).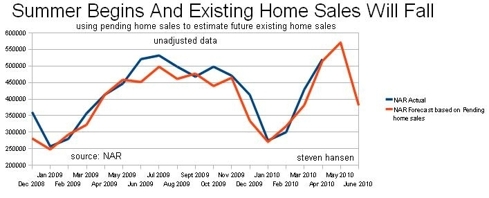 Spring and early summer is high season for home sales. This does not look good for demand – and low demand will cause home price deterioration. And this is in the face of home mortgage 30 year rate of 4.67%. and a declining mortgage application rate (hat tip to calculatedriskblog.com)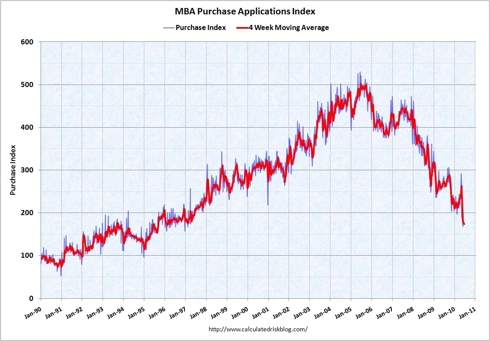 Jobs
The jobs situation continues to show painful jobs growth. Depending on the methodology you use to determine potential workforce growth, the economy must create between 150K and 250K jobs per month before Joe Sixpack's world stops eroding. The jobs situation is worse for the lower educated, unskilled, and the young.
The rich, the employed, the higher educated and 55+ are relatively unaffected. This week was jobs week. The headline news was the wacky BLS crap which continues to mislead. Here is their headlines:
Total nonfarm payroll employment declined by 125,000 in June, and the unemployment rate edged down to 9.5%. The decline in payroll employment reflected a decrease (-225,000) in the number of temporary employees working on Census 2010. Private-sector payroll employment edged up by 83,000.

Despite the additional loss of jobs in the market, again they have been able to reduce headline (U-3) unemployment rate from 9.7% to 9.5%, and reduce the all in unemployment rate which includes the discouraged (U-6) from 16.6% to 16.5%. My contention is that the government plans to manipulate the unemployment rate under 9.0% by election day 2010.
There is so much inconsistency in this BLS report we would be better off if it was not issued. If I was confident of the accuracy of the data, there are many data points which are of a concern.
The best source of private sector employment data is ADP. For June 2010 ADP's US Nonfarm Private employment grew by 13,000.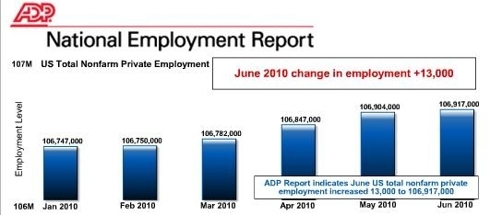 Let's face it, if it was not for manufacturing – this month's job report would be a disaster.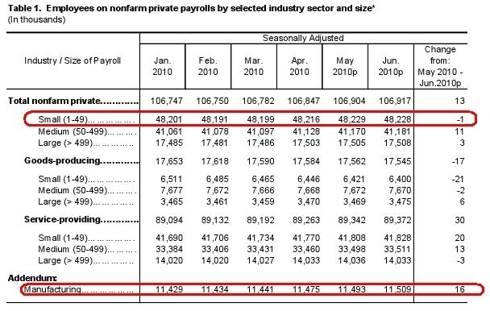 National Federation of Independent Business survey confirms that small business plans to hire is still negative. Global outplacement consultancy Challenger, Gray & Christmas, Inc. provides a peek in where layoffs are occurring. My bet is that layoffs will accelerate in July due to state and local budget cuts.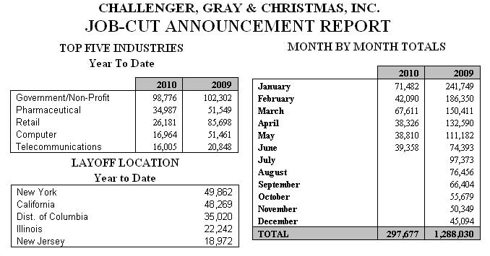 Initial unemployment claims rose in week ending 26Jun. I expect initial claims to remain elevated due to state and local budget cuts through July.

Miscellaneous
Construction spending during May 2010 was estimated at a seasonally adjusted annual rate 0.2 % below the revised April estimate. Sorry, I ran out of time to do an analysis.
Major Bankruptcies this Week: TierOne, Truvo USA
None
Disclosure: GLD, GDX and various options not exceeding 3% of my portfolio value.