Growth in Data Consumption
There is a growth in data consumption spurred by the growing use of mobile devices. Overall mobile data traffic is expected to increase at a CAGR of 61% as given in the exhibit below. Smartphones and tablets are contributing to the growth. Rapid growth in smartphones running Android OS, iOS and Windows OS worldwide is expected to continue in the coming years. Over sixty percent of the postpaid users in the US are using smartphones and with the rapidly developing technology, that is exhibiting declining prices over the years, smartphones and tablets are likely to reach more hands in the coming years. This trend is going to give Verizon (NYSE:VZ) growth in its top and bottom lines in the coming years.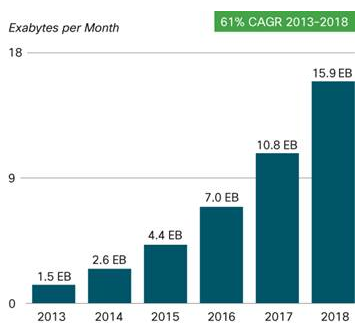 As given in the following chart, total mobile data traffic is expected to grow from about 2 Exabyte per month to about 16 Exabyte per month in 2018. In 2013 the market share of 3G was 60% of the total mobile data whereas 4G made up 30% of the mobile data and 2G made up 9%. By 2018, 4G is expected to make up 51% of the mobile data and 3G is expected to have 46% of the mobile data. This is a trend that VZ is looking forward to capitalizing on. As a leading 4G LTE service provider, VZ is all set to capture the growing user base of the 4G LTE network in the coming years.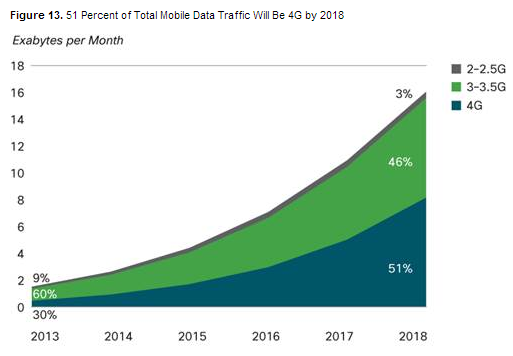 Migration from Landline to Wireless Networks
The world has migrated from landlines to wireless networks over the last decade. Back in 2000 there were about 5 million wireless users and landline connections totaled 212 million. In recent years, the number of wireless subscribers grew to over 338 million, multiplying the previous figure by around 68 times, and landline subscriptions fell to 166 million reflecting a drop of about 22%. The trend continues and VZ is again expected to capitalize on the trend and see growth in the coming years.
There is growth in VZ's FiOS product that provides broadband internet and TV services to consumers. This is a relatively small segment of the business but it has been growing at a good rate over the past few years. The user base of FiOS has increased to 19.8% in the five years ending 2012.
Presently, the voice service is a big revenue generator but growth in smartphones and tablets is going to lead to an increase in the consumption of mobile data. Revenue from mobile data is forecasted by Ericsson (NASDAQ:ERIC) to exceed the revenues from voice services in the next two to three years. VZ is in the right place to capitalize on this growth trend.
VZ's Performance

Although growth in wireless revenue, wireless retail connections, and wireless retail post average revenue per account (ARPA) have shown slightly lower growth in 2013 compared to 2012 on a YOY basis there has been consistent growth in all of these measures over the years and this upward trend is expected to grow in the coming years.
In the last three years VZ's wireless revenues grew at a CAGR of about 7.4%. The year 2013 showed less growth at 6.7% compared to 2012 that showed growth of about 8.12% on a YOY basis. Wireless retail connections grew at a CAGR of about 5.6% from 2011 to 2013. In 2013 YOY growth was about 4.7% and this growth rate was lower than the YOY growth seen in 2012 at 6.5%. ARPA grew at a CAGR of about 7% from 2011 through 2013. In 2013 ARPA grew by 6.87% YOY slightly lower than the YOY growth in 2012 of around 7%.
FiOS is a relatively smaller segment of VZ and makes up around 4%-5% of Verizon's value but it is exhibiting a high growth rate. As the data consumption is growing at a higher rate around the world fueled by the growing use of smartphones and tablets, VZ's FiOS internet subscriber base is also growing at higher rate than other segments. The subscriber base has grown at a CAGR of 12.73% from 2011 through 2013. This segment is expected to grow at a higher rate in the coming years.
Valuation
Analysts' valuation of VZ shows that they are bullish. Mean and median valuations are between $54 and $55 reflecting an upward potential of around 13%-15%. The highest target price estimate is $59 reflecting an upward potential of about 23.5%.

Decent Dividend Payout
Along with decent growth expected in the share price, VZ is a decent value stock that pays out decent dividends. The dividend yield produced by VZ is higher than the industry average as given in the table below. Average dividend yield in the last five years was 4.95% compared to the 3.28% industry average and the more recent dividend yield was 4.46% and that is higher than the 3.28% dividend yield of the industry. Growth in dividends lagged behind the industry average but is still a decent growth number.

Conclusion
Growth trends in mobile data and internet traffic is expected to show a very healthy growth in the coming years and VZ is expected to ride the upward trend to grow its top and bottom lines in the coming years. With a decent dividend yield and a decent upward price potential, VZ is a good candidate for a long-term investment.
Disclosure: I have no positions in any stocks mentioned, and no plans to initiate any positions within the next 72 hours. I wrote this article myself, and it expresses my own opinions. I am not receiving compensation for it (other than from Seeking Alpha). I have no business relationship with any company whose stock is mentioned in this article.