History
During the 20th century, five companies charted the course of aerospace history in the United States. These were merged and their contributions are the common heritage of The Boeing Company today (NYSE:BA). Having a market capitalization of $94.69 billion Boeing has been a stock favorite for the investors due to its non-volatility in share prices, increasing profits for a long period of time and high dividend yield compared to its competitors. Also the Boeing's vision of future and investment in research and development to the highest extent possible has made them one the best companies in the manufacturing of aircrafts, space shuttles, satellite and many technological breakthroughs. The company currently employs over 168,400 individuals.
Competition and Valuation
Having achieved rating of number 30 and 39 on Fortune 500 in 2013 and 2012 respectively the Boeing Company, presently, is the largest aircraft manufacturer around the globe 2014. An asset base of $92.663 billion (2012: $88.896 billion), turnover of $86.623 billion (2012: $81.698 billion) and an estimated Annual EPS of more than $5.96 per share. A thorough analysis of the key indicators suggests that the company is worth investing in long term as well as in the short term to cumulate a capital gain. Competing with aerospace production giants like Northrop Grumman Corporation,(NYSE:NOC) and Lockheed Martin Corporation has been always committed to quality, customer service and brand development gaining competitive advantage through research, innovation, diverse product line and track of providing state of the art quality services to clients throughout the world. Boeing's Forward P/E looks appealing at around 16.2 which shows improvement given its trailing P/E is closer to 20. This indicates sold projected earnings growth. These numbers correlate somewhat with the company's PEG ratio of 1.62 which is slightly high but manageable at this point. Boeing's price to book ratio is about double the industry average, however its 3 year revenue growth average is around 3x that of its competitors. This is to say that the company's intrinsic value may be low given where it is trading, however its growth potential can certainly compensate.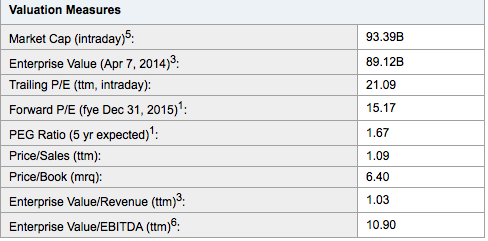 Other Ratios
When we take a look at the company financial statements and its marketing capabilities it shows future signs of profits and increase in the market share. Current ratio of 1.26 is not up to the mark of the industry but its more than one negating any signs of liquidity crisis. Operating margin were 7% as compared with the industry average of 9% which is a bit lower but not something of a worry to an investor. The Net Income of the company was 4.58 billion which is higher than 2.95 billion and 1.95 billion of Lockheed Martin Corporation and Northrop Grumman Corporation respectively. The EPS is lesser from both the competitors, the major reason for which is the increased number of shares of Boeing in 2013. All other ratios of liquidity, profitability and investors interest are far better than competitors which is the reason of investor confidence in the Boeing Company.
Charts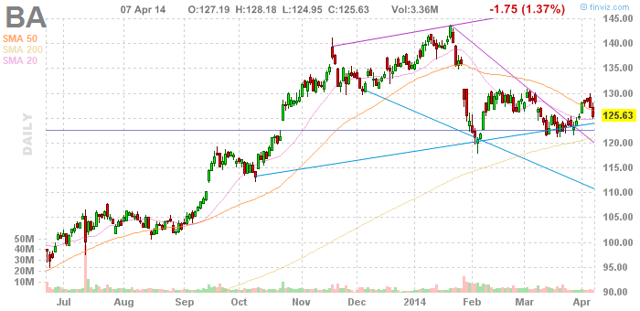 Source: Finviz.com
The Chart shows a steady increase over the course of 2013 and a slow leveling at the beginning of the current year. Over the past few months prices have shown solid support around the $122 level on low volume. The support doesn't seem strong enough to constitute high levels of confidence especially given the large spike down during the month of February which breached the 122 support level. The Milasyan disaster which has been played over the 24 hour news cycle doesn't seem to have had any affect on the stock price in the month of March showing consistent confidence and historical reliability in the company given the recent disaster. Overall, the technicals at this point look weak and it seems unlikely that the price will move past $130. It may hover at or beyond this point, however I believe the fundamentals can only move the stock so far before it is set for a drop. The strong resistance at $130 leads me to believe this. Any move below $125 on strong volume would look like a clear short opportunity. Even if the stock breaches the $130 levels it may still be wise to proceed with caution.
Pension Obligations
Boeing recently announced a pension freeze which will shift the employees from their traditional pension plan and focus their benefit into the 401k. Basically the credits they were receiving into their pension will now be going into the 401k plan. However, these credits will begin to phase out based on age and years of service beginning in 2016. By doing this Boeing will free itself from pension liabilities and free up cash flow to possibly pay dividends or buyback shares. This lower liability can also allow the company to look into some of the reasons behind recent disasters. As shown by the chart, cash flow has been rocky over the past few years and lowering pension obligations should help this aspect of the company's financials. Boeing contributed 1.5 billion to its pension fund last year.
Disclosure: I have no positions in any stocks mentioned, and no plans to initiate any positions within the next 72 hours. I wrote this article myself, and it expresses my own opinions. I am not receiving compensation for it (other than from Seeking Alpha). I have no business relationship with any company whose stock is mentioned in this article.