Lululemon Athletica (NASDAQ:LULU) was once a high growth stock that was growing at a compound annual growth rate of 50% in net revenue between fiscal 2004 and 2013. However, the stock was greatly impacted by three major events last year. First, the company had to recall its popular Luon yoga pants because the material used was too sheer, which made some of its black pants see-through. Second, Lululemon's outgoing CEO Christine Day unexpectedly announced her resignation. Third, founder Chip Wilson also resigned from his chairman position after he unwittingly said in an interview,
Quite frankly, some women's bodies just don't work for it. It's really about the rubbing through the thighs, how much pressure is there over a period of time, how much they use it.
As a result, Lululemon's brand and reputation for high-quality materials were affected, and the stock plunged as much as 22% in 2013 plus another 8% drop this year at the time of writing. The company had to hire a new CEO and a new Chief Product Officer in order to rebuild Lululemon's brand and its sales momentum.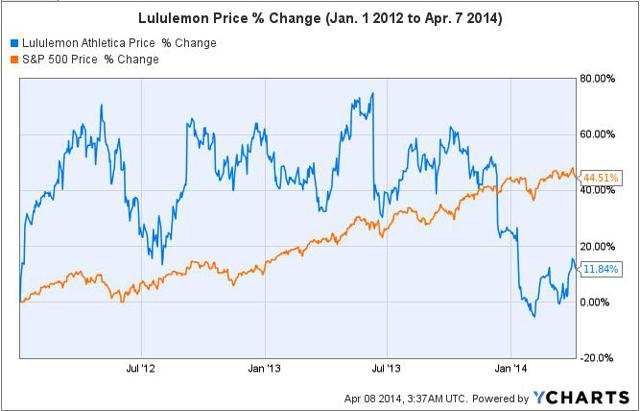 As an investor who likes to look for undervalued growth stocks, I want to share with you my thoughts on Lululemon's future prospects and to provide you with an estimate of Lululemon's fair value, so you will know whether the stock is undervalued, fairly-valued or still overvalued.
Lululemon's Brand and Its Future Prospects
Lululemon is known for making high quality Yoga pants for women as well as other fitness pants, shorts, tops and jackets designed for Yoga, running and general fitness activities. Its products use highly refined materials such as Luon (Lululemon's trademark for its primary fabric) that are preshrunk, stretchable, and takes away moisture from the body. The Luon fabric is Lululemon's most important asset, and many customers are willing to pay as much as $98 USD for a pair of Luon pants.
While Lululemon's net revenue was growing at a compound annual growth rate of 50% between fiscal 2004 and 2013, its net revenue growth decreased substantially to 16% in 2013 because the Luon pant recall-as mentioned earlier-had impacted the company's comparable store sales and more importantly its high-quality brand.
Going forward, it is not likely that Lululemon can achieve the same compound annual growth rate of 50% in net revenue for the next ten years because the company is already earning over $1.5 billion in net revenue. A more reasonable revenue compound annual growth rate should be around 16% to 26% for the next few years. 16% was Lululemon's revenue growth rate in 2013 after the negative impact of Luon pant recall, and 26% was the company's revenue compound annual growth rate for the two years between Jan. 2012 and Jan. 2014 (see image below).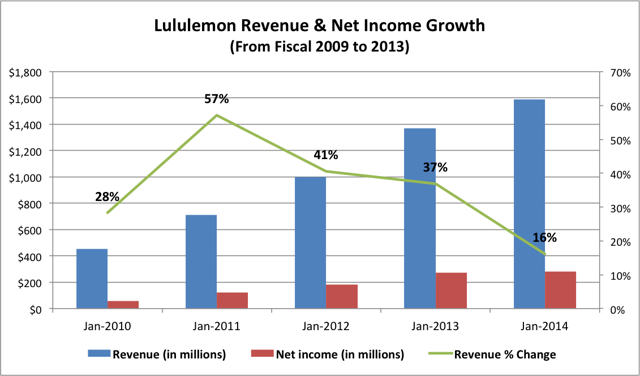 I believe Lululemon's future revenue growth will be primarily driven by new store openings much more than comparable store sales because of strong competition from other athletic apparel stores-such as Nike (NYSE:NKE) and Under Armour (NYSE:UA)-that are also selling high quality yoga pants and other similar athletic apparel. This is also indicated in Lululemon's latest earnings release. The company's comparable store sales for Q4 2013 decreased by 2% (this is usually not a good sign for a retail company) but the company's total net revenue still increased by 7% year over year because of higher net revenue earned from more stores.
According to the latest 10-K report, the company is planning to focus on opening more stores in the U.S. over the next few years, because it is the company's largest market and because it has a population that is 9 times the size of Canada's. For fiscal 2014, the company is planning to open up to 39 new stores in North America in order to drive more sales.
As of February 2 2014, there were 171 stores in the U.S., 54 in Canada, 25 in Australia and 4 in New Zealand. Since opening more stores is one of Lululemon's primary growth strategies, Lululemon's revenue should continue to grow for the next decade, but the growth rates will be much lower than over the past ten years. Lululemon will eventually expand further in the international market once it has opened enough stores in North America. But at this point, I do not think that the North American market is saturated yet. However, many athletic apparel companies are competing with Lululemon for the same customers.
Lululemon's Competition Risk
The apparel industry is very competitive, and I believe this is Lululemon's biggest risk. Apparel companies compete with each other in terms of brand, price, design, style, product quality, store locations and customer service. The companies that have the most popular brands generally attract the most customers. They often need to update their merchandise every season in order to keep up with the competition and consumer trends.
Lululemon's closest competitors are Nike, Under Armour and The Gap's (NYSE:GPS) Athleta brand that also sell Yoga pants and athletic wear. Since Lululemon has more competitors that sell Yoga apparels than several years ago, its revenue growth rates for the next few years should be much lower than it was before.
Fair Value Estimate
To estimate Lululemon's fair value, I have used a simplified Discounted Cash Flow (DCF) Model based on three scenarios (see image below): optimistic, fair and pessimistic valuations.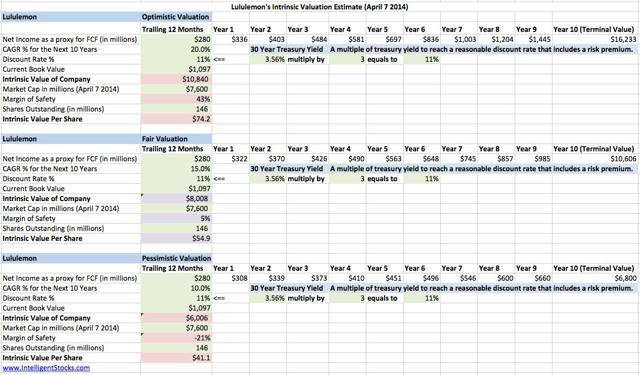 At this moment, I believe that Lululemon's fair value is around $8 billion in market cap or $54.9 per share based on the assumption that its net income will grow at a CAGR of 15% for the next 10 years. If the company's net income grows at a CAGR of 20% or more for the next 10 years, the company's current price will be substantially undervalued (see image above).
Valuation Comparison
If we compare Lululemon's price-to-earnings (P/E) with its peers, the stock is likely fairly-valued or slightly undervalued (see image below). Both Lululemon and Under Armour have higher revenue growth rates than Nike and The Gap. That is why their P/E ratios are also higher.

The Bottom Line
While Lululemon's stock was greatly impacted by merchandise issues and management changes last year, I believe that the company's revenue and net income will continue to grow-although at a much lower pace in the next decade. The primary revenue driver should be from new store openings in the U.S. and eventually from new store openings in the international market. In terms of valuation, the stock is likely fairly-valued or slightly undervalued based on my calculations above and its P/E ratio compared with its peers.
Sources: Lululemon 2013 10-K report and Q4 2013 earnings release, Thestar.com, Ycharts, MorningStar and Yahoo Finance.
Disclosure: I have no positions in any stocks mentioned, and no plans to initiate any positions within the next 72 hours. I wrote this article myself, and it expresses my own opinions. I am not receiving compensation for it (other than from Seeking Alpha). I have no business relationship with any company whose stock is mentioned in this article.