In case you haven't been paying attention, earnings estimates on the largest S&P Index components have been creeping lower in recent weeks. We are approaching a wave of sell-side index target and estimate cuts as it becomes clear that "normalized earnings" are not going to develop and the Street is way too optimistic. Actual S&P 500 earnings are $69; the consensus forward number sits at $89.
Given the current macro backdrop, we're confident that we will get nowhere near $89. This earnings season will be an opportunity for publicly traded executives to use euro uncertainty and currency issues to kitchen sink what was likely an awful quarter, and set the bar low for the second half of the year by issuing conservative / negative guidance. This adds up to estimate revisions which will continue to pressure the equity markets.
Take just the financial and retail component of the index. I can come up with $13 that is going to come out of this $89 figure. What does a flat yield curve do to bank earnings? What happens when consumer have to start facing the reality of their income/debt situation and start doing some serious cutting? Will retailers have to sacrifice margins and cut price? Does Wal-Mart's (NYSE:WMT) price action already reflect that this is taking place?
How does this play out?
Between now and the end of July, you will see Street notes that take down estimates but maintain a positive stance on equities due to 'valuation'. This is because analysts/strategists liked the market 150 points above where we are today, so they can't hate it now... right? The issue is that buying equities as they get 'cheaper' is not a good investment strategy.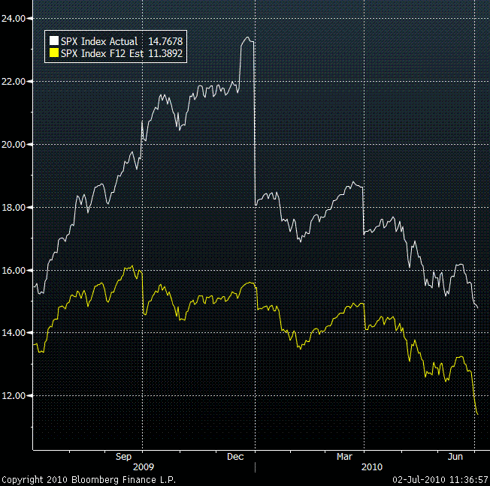 Click to enlarge
The sell-side still has influence over the herd, and you will see a negative reaction by Joe Six-Pack and, in turn, Joe Long-Only-Fund Manager, who has a growing pile of redemption requests. This sounds overly simplistic, right? It is, but you get the idea.
How do you trade it?
We believe that we are one event away from wholesale puking across the board in the equity space. Our experience suggests that 'holding and hoping' rarely works, and that is what equity investors are doing as we have drifted lower over the last two weeks. We are sitting with a pile of cash and a full book of shorts, and upon a major flush out (broad based or stock specific), we look to cover and deploy capital on the long side.
Slap 14.74 on $76, and we only see upside of 1120 on the S&P... that's just based on our view of these two groups. We break down the estimates of all groups and apply a deflationary bias to arrive somewhere between 900-950 fair value levels. This is where the market should be trading, so we want to buy BELOW this level.
Do we think we're smarter than the market? No. However, gaming the estimate game is something that even guys as dumb as us can do. Start paying attention.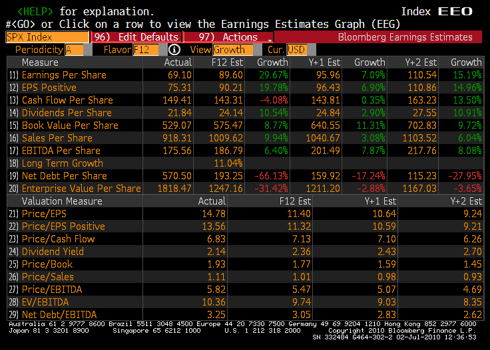 Click to enlarge
Disclosure: Author is long SPY August Puts