Packaging Corporation of America (NYSE: PKG) is the fourth biggest producer of containerboard and corrugated packaging products in the United States. It has approximately 13,000+ employees and operates over 100 facilities.
2013 Full Year Earnings Information
Mark Kowlzan (CEO of PCA) opened the conference call by giving a financial overview of the Q4 Results and full year earnings.
PCA has had another great year for 2013 with full year earnings at $436 million giving an EPS of $4.47, this was massively improved from 2012 earnings of $164 million at $1.68 per share.
For the Q4 all-time records were set for sales, earnings and shipments. December volume was "particularly strong" for both packaging and white papers.
With the acquisition of Boise at just under $2 billion, it had 2 months and 5 days in operations under PCA. It is expected to provide synergies of $175 million at a current run rate of $75 million by the end of 2014. It is expected to take 3 years to hit the forecasted synergy target. Actions taken immediately after the acquisition on October 25th 2013 has reduced the overhead costs by about $25 million.
At $2 billion and increasing net income by a forecast of $175 million after 3 years of integration, would mean 11 years before profit is realized after purchase, I deem this to be quite exceptional.
Rick West (CFO of PCA) announced PCA ended the year with $191 million in cash. This was used to pay off $109 million of debt in December followed by an additional $41 in January. Long-term debt now currently stands at $2.509 billion.
Mark Weintraub of Bucking Research asked in the conference call if the additional earnings and cash flow will be used into raising the dividend again. Paul Stecko (Chairman of PCA) said PCA's goal was to pay down $1 billion worth of debt over the next 3 years. With the synergies first being underestimated followed by the tax benefit from Boise's tax loss being carried forward. PCA now expects a strong possibility on raising the dividend this year.
Thoughts On Earnings Call
The conversation that took place was very upbeat from the managers of PCA as it appears the acquisition of Boise is off to a great start. They still had a record year even though some box plants were down due to storms and bad weather which affected their volume output and export costs.
It was announced recently that PCA is going to convert their No. 3 newsprint machine to containerboard and exit the newsprint business. This I only see as a great move as the newsprint business was operating at slightly below break even. The conversion should give a discounted cash flow return of 30-35% according to businesswire.com
For their Q1 outlook due out soon, they are expecting an EPS of $1.00 to $1.05, this is a 61% increase compared to $0.62 for Q1 2013. Full year 2014 an EPS of $5.00 - $5.50 would be a safe forecast based on last years' figures and this Q1 outlook.
Valuation
Price / Earnings - 16
Price / Book - 5.40
Price / Sales - 1.93
Price / Free Cash Flow - 27.11
Peter Lynch Fair Value: $127.68
Five Year Average Revenue Growth Rate: 14.70%
Five Year Average EPS Growth Rate: 27.86%
Five Year Average Dividend Growth Rate: 26.60%
Consecutive Dividend Increases: 3
Current Dividend Yield: 2.33%
Five Year Yield On Cost: 7.15%
Dividend Payout Ratio: 35%
Balance Sheet Strength: Strong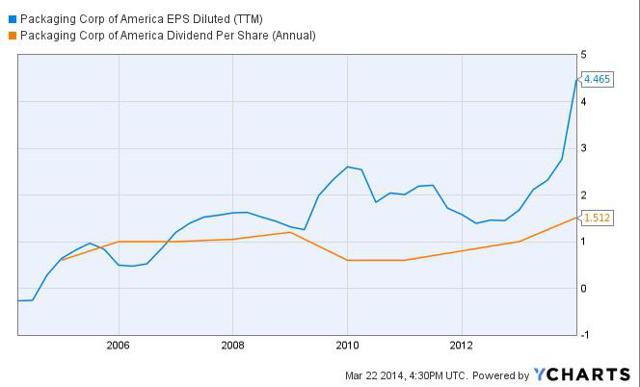 Image above provided by YCharts
PCA has been a great company over the last 10 years, with revenue per share only falling in 2009 over that period. Mark Kowlzan and his management team have done a great job in growing the business to what it is today, usually setting records every year.
The acquisition of Boise is an excellent fit for PCA both geographically and strategically. It will provide containerboard that PCA needs to support corrugated products. The DeRidder containerboard mill is low cost and located in a very good wood basket and will provide 1 million ton of lightweight containerboard.
When the acquisition was announced last year, shares in PCA were up 10.93% and Boise up 26.71% during pre-market trading, further highlighting enthusiasm by investors.
If we look at PCA's rivals which are International Paper Company (NYSE: IP), Ball Corp. (NYSE: BLL) and Rock Tenn Company (NYSE: RKT). I have provided statistics taken from Reuters and yahoo finance to compare the profitability and the efficiency of the 4 companies mentioned. For profitability the margins used are gross margin, operating margin, pre-tax margin and the net profit margin. For efficiency the returns used are assets, investment and equity.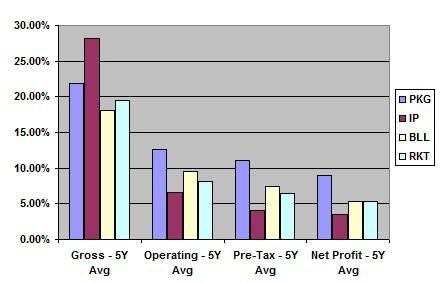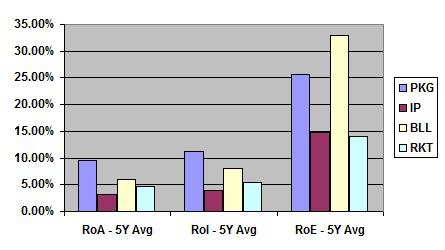 Images above provided by myself using data from Reuters
Dividends
At the moment, PCA is offering an annual payout of $1.60 which is paid quarterly. This translates to a current dividend yield of 2.33%, which I admit is not too high but has been growing at a rate of 26.60% over the past 5 years. This means it will enter David Fish's dividend challenger list in another 2 years if PCA continues to increase the annual dividend. The payout ratio is at 35% further showing PCA's capability of increasing dividends safely in the future.
If you have held the stock for 10 years, you would have achieved a total return of 253% with a compound annualized growth rate of 14%. This is an amazing growth rate as I myself (and I assume many others!) aim to achieve 10% a year.
Conclusion
PCA looks like a solid buy at the moment with an estimated forward PE of 13 and trailing 16; it is attractively valued. Its profitability and efficiency are greater than its competitors on a 5 year average. Researching a 12 month trailing model return on equity is higher than Ball Corp. so the 5 year average may change over time.
With the reduction in debt being a priority and rewarding shareholders with excess cash flow, the management is doing a good job on prioritizing what is most important.
The addition of Boise to the business will help reduce costs and help expand growth, the future of PCA is looking bright. Although it is not a dividend challenger and only has 3 years of dividend growth, I feel this could be a safe bet for the future if you are looking to add a position in the consumer goods sector. This company has the ability to give capital appreciation on your investment along with potential dividend growth.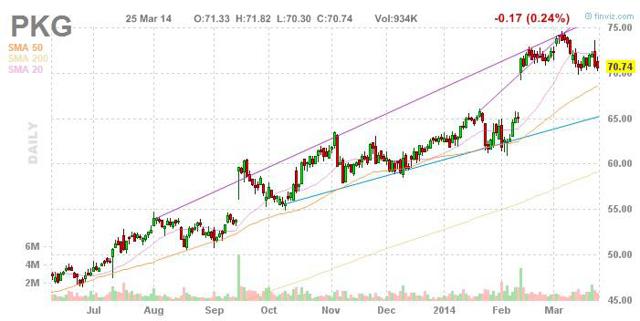 Image above provided by Finviz
After the recent gap up in price to $70, the stock climbed for 2 weeks reaching $74 before retracing back to $70. This offered a great entry point on the 14th March due to a big demand zone offering support on increased volume. I expect the price to keep climbing from here, and if for some reason price fell below $70 look for demand around $66 which was the previous high back in February.
For an explanation on how I conduct my technical analysis, please take a look at my instablog.
Disclosure: I have no positions in any stocks mentioned, and no plans to initiate any positions within the next 72 hours. I wrote this article myself, and it expresses my own opinions. I am not receiving compensation for it (other than from Seeking Alpha). I have no business relationship with any company whose stock is mentioned in this article.
Additional disclosure: Currently have no free cash to buy as I entered a position in Quindell on the Alternative Investment Market in the UK, currently sitting at a 25% gain in 2 weeks as they continue to win business contracts.