Execution is what defines great companies and separates them from good companies. Execution means making commitments to a time line and then meeting or beating those milestones. Failure to execute often means a lack of investor confidence.
Intel (NASDAQ:INTC) under its new CEO Brian Krzanich is showing its ability to execute and the investment community seems to be getting on board.
I watched Krzanich's keynote presentation to the Intel Developers Forum (IDF) and was impressed. Krzanich announced progress by Intel in getting an LTE modem into the market, filling a major gap in Intel's mobile offering. By progress, I mean a working system that will ship in Q2 of 2014. That means now.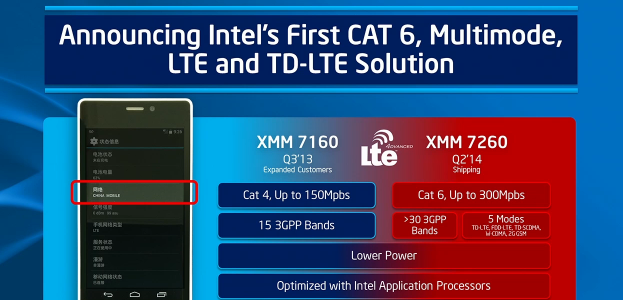 Source: Intel
While not confirmed there are many observers who believe a 64-bit Intel chip with XMM7260 LTE will power the expected Nexus 8 tablet to be released this summer. Krzanich reaffirmed Intel's goal to ship components for 40 million tablets in 2014 and indicated Intel has even more aggressive plans for growth in 2015.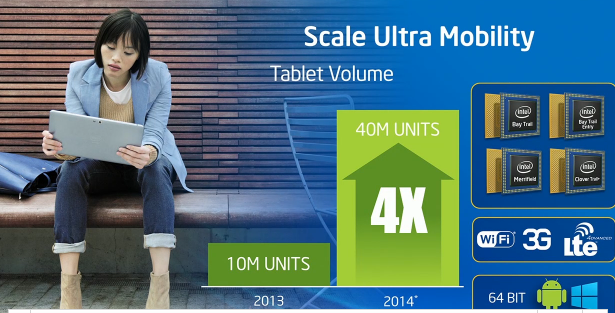 Source: Intel
Krzanich took pains to point out that Intel is the only provider of processors capable of running all mainstream operating systems including Windows, Android, Chrome and OS X - a feature that allows OEM's to design a form factor once and then load whichever OS they wish or release the device with a choice of OS. In the intensely competitive lower priced segments of the market, design savings should be welcomed by many OEM's.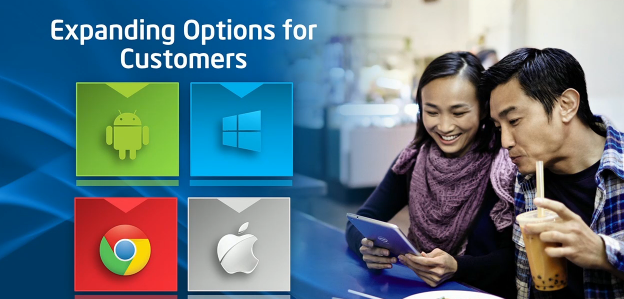 Source: Intel
Intel's foray into mobile is by no means limited to tablets. During his IDF presentation Krzanich made a phone call to the CEO of partner Lenovo on a working smartphone powered by Intel's Sofia SoC. The Sofia SOC will find its way into fast growing lower-priced smartphones and tablets was reviewed favorably by SA Contributor Ashraf Eassa in an April 4, 2014 article published on Motley Fool.
Intel executive Kirk Skaugen followed up on Krzanich's remarks announcing, among other things, a 64-bit chip code name "Braswell" targeted at Chromebooks with support for a 64-bit kernel of Android Kit Kat 4.4 OS.
The investment community seems to wakening up to the fact that Intel is serious about mobile and advancing its plans at a rapid pace. INTC stock has been moving higher even in softer markets and seems poised for a run towards $30 should Intel report a positive first quarter and guide to further strength for the balance of the year.
I think both will happen. PC markets appear to be stabilizing; server markets remain firm; and, Intel's execution seems to be almost flawless. In a move sure to please investors Intel has changed its reporting format to give better visibility into mobile. I am long the name.
Disclosure: I am long INTC. I wrote this article myself, and it expresses my own opinions. I am not receiving compensation for it (other than from Seeking Alpha). I have no business relationship with any company whose stock is mentioned in this article.