Those that have read me for the last year know that my main thesis for being long on Ford (NYSE:F) is due to the company's continued growth overseas, combined with the suspected coming increase in domestic auto sales - now that the winter has ended.
One of the main issues that I've had with Ford is that the stock hasn't been following the good news that the company has been posting. Perhaps mired in the GM scandal, perhaps still frozen to the ground from the winter, Ford's stock has done anything but project continued global success.
Ford has traded up 24.7% in the last twelve months, but has posted only a pedestrian 3% gain so far in 2014.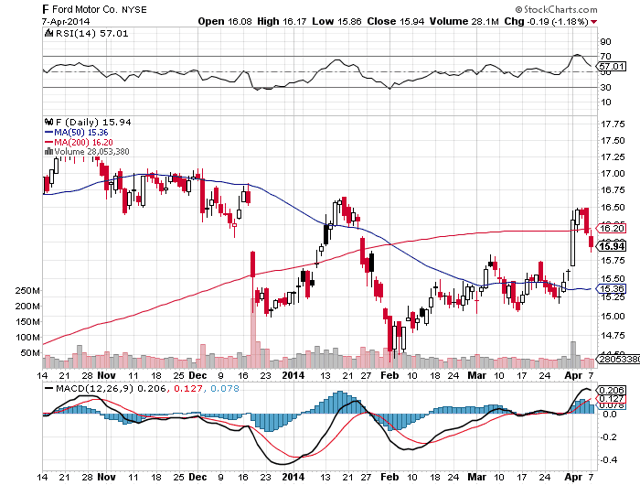 Yet, we continue to see global success out of the automaker - and the automaker continues to invest in both factories overseas, as well as creating new jobs in the U.S. - as they recently did in Ohio with their EcoBoost engine plant.
Why the stock has yet to respond is beyond me. We've had some macro market factors to end last week and start this week, but still - it's been months since Ford's stock has shown strength and, in this investor's opinion, it's only a matter of time before the stock price catches up to the performance of the company.
Just this morning, we were let in on Ford's performance in China, where it has seemingly hit hyperdrive. Seeking Alpha broke the news this morning:
Ford announces it sold 103,815 vehicles in China during March along with its joint venture partners to mark a 28% increase from last year's level.
The automaker's sales in China are 45% YTD to 271K cars.
And, as a reminder, this was on the heels of posting better-than-expected numbers domestically, as well:
Ford (+2.8%) saw consistent gains across its segments in March. Truck sales led the way with a 4.1% rise, while utilities sales were up 3.6% and car sales rose 2.6%.
The automaker reports that sales picked up mid-month and finished the month with some momentum.
Model sales growth: Mustang +21% to 9,305; Fusion +8.8% to 32,963; Focus -3.8% to 23,974; Fiesta -2.0% to 6,592; F-Series trucks +5.1% to 70,940.

Today's pricing, in this investor's opinion, represents an attractive buying point for those that are looking to get into Ford. The temporary fog over the stock attributable to the macro markets pulling back and Ford's rust-related recall news will eventually give way to the long-term performance and the numbers that Ford will post for the year.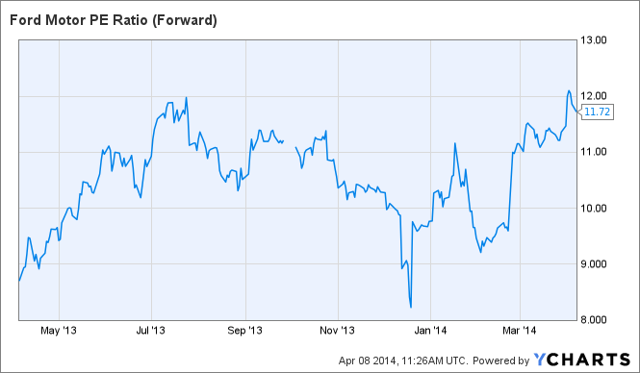 F PE Ratio (Forward) data by YCharts
This news out of China falls right into the wheelhouse of my bullish thesis on Ford. This stock continues to remain undervalued, trading at a forward PE of just 11.72 currently. The market is pricing in very little growth for Ford and if the company continues to grow at these rates overseas - let alone show domestic growth - you can get out in front of the Ford wave before it swells again.
Best of luck to all investors.
Disclosure: I have no positions in any stocks mentioned, and no plans to initiate any positions within the next 72 hours. I wrote this article myself, and it expresses my own opinions. I am not receiving compensation for it (other than from Seeking Alpha). I have no business relationship with any company whose stock is mentioned in this article.