Small cap stocks have been hit hard over the past two months with the Russell 2000 index down 8% in May and off another 8% in June. Post Reorg equities, as a group, have fared even worse, with an average decline of 23% since the end of April. (Click on chart below to enlarge)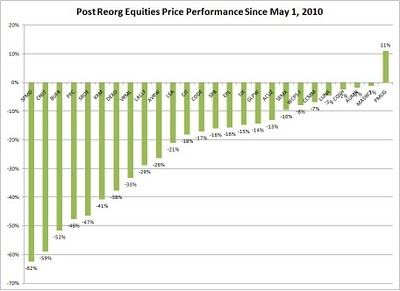 Is this dismal price performance warranted? Given the economic backdrop and market sentiment, it is absolutely justified, in my opinion.

Moreover, take a look at the excessive amount of leverage many of these companies have emerged with even post restructuring. (Click on chart below to enlarge).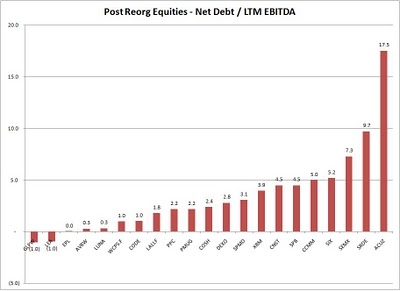 Most of these companies have cyclical businesses and were debt-heavy which is why they went Chapter 11 in the first place. Then why come out of Chapter 11 with so much debt? What was the point of going through a costly restructuring?
Putting all this cynicism aside, the most important question (on my mind) is whether this ongoing market rout is creating any good investment opportunities?
Take a look at the current EV/EBITDA multiples in the space, some of which look quite attractive, but the field is riddled with melting ice cubes so selectivity will be key.