The healthcare industry has corrected sharply over the last few weeks. As a result, even companies with promising future suffered a price drop as investors dumped their holdings indiscriminately. The drop was more pronounced in small-cap biotechnology stocks that has now created some very attractive buying opportunities for investors.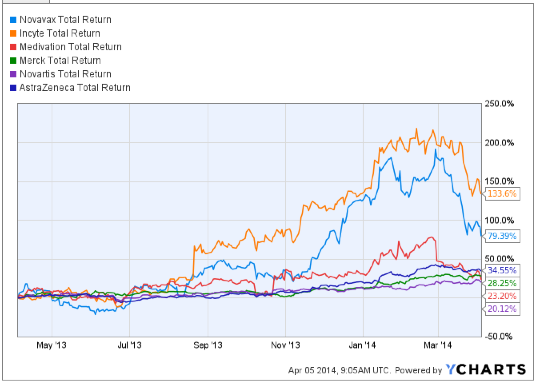 One such opportunity would be Novavax (NASDAQ:NVAX), a recombinant nanoparticle vaccine maker, trading 41% below its multi-year high of $6.95 reached in February this year. Despite the recent drop, the stock is still up 79.39% over the last 12 months and offers a number of compelling reasons to be sanguine about its prospects.
Strong clinical-stage pipeline
Novavax's vaccine pipeline made significant headway last year, with several of its clinical vaccine programs demonstrating proof-of concepts and high levels of immunogenicity. As might be expected, many of its vaccines seem to have blockbuster potential, which is why company' CEO, Stanley Erck, expects even greater accomplishments across the entire pipeline this year.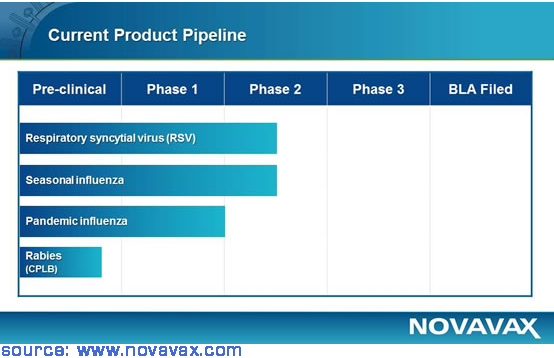 Among the most notable candidates is the company's experimental vaccine for respiratory syncytial virus (RSV), a leading cause of pediatric viral respiratory tract infections and the second leading cause of viral death in elderly individuals. The World Health Organization estimates an annual mortality rate of approximately 160,000 deaths worldwide, while there are around 64 million new cases of RSV each year. That being said, only 2 FDA-approved drugs are currently available for the treatment of RSV disease, not to mention their effectiveness, in improving outcomes is limited or questionable. Palivizumab, one of the approved drugs, is indicated for RSV prevention in high-risk infants only. However, roughly 70% of cases are term infants with relatively low or no underlying risk factors compared with 10%-20% of high-risk infants. As a result, a large number of infants are not considered candidates for Palivizumab therapy. Rabavirin, the other approved drug, has been used for treatment but has little evidence of benefit, risk of toxic effects in health care workers, and high cost. In fact, the American Academy of Pediatrics does not normally advise Ribavirin treatment for RSV infections.
Moreover, there are no prophylactic vaccines and treatment options available for a number of patient types who are highly susceptible to RSV infection. Currently, Novavax's RSV vaccine program focuses on three patient types: infants, younger children, and elderly patients. Last year, the company successfully completed two RSV F-protein nanoparticle vaccine mid-stage trails, one for women of childbearing age and other for elderly subjects.
The first trial enrolled 330 women of childbearing age who received intramuscular shots of a single-dose of vaccine or placebo. The randomized, blinded, placebo-controlled Phase II study assessed the safety and immunogenicity of two-dose level of RVS-F vaccine candidate with and without aluminum phosphate (alum) as an adjuvant. The results confirmed that Novarax's RSV vaccine candidate has the potential to induce clinically useful immunity and raised no safety concerns. Anti-F IgG antibodies to the F protein in serum rose up to 16 times across all doses. The addition of adjuvant enhanced response with both vaccinations, as well as neutralizing antibody responses were observed with both doses.
The second trial enrolled 220 elderly subjects who received assigned RSV-F test article or placebo in the right arm and TIV into the left arm. Similar to the one before, the study also evaluated the safety and immunogenicity of RSV-F vaccine candidate with and without alum as an adjuvant. Once again, the results demonstrated top-line safety and immunogenicity data of the RSV vaccine candidate. No negative effects were observed on trivalent influenza HAI responses and anti-F IgG antibodies to the F protein in serum rose further with alum and higher dosage. Subjects that had almost no palivizumab-competitive antibodies at day 0 developed strong palivizumab-competitive responses and antigenic site II antibodies. Also, micro-neutralization titers rose 1.5 to 1.7 times.
"The results represent a breakthrough and encourage us to move ahead with the RSV vaccine programs for the maternal immunization, pediatric and elderly indications in 2014," said Erck during the company's recent earnings call.
Consequently, both test data provided strong basis for ongoing development of RSV vaccine. In the second quarter of 2014, the company anticipates the release of top-line data from the ongoing phase II clinical trial of the RSV-F protein vaccine candidate in women of childbearing age. In the fourth quarter of 2014, it plans to initiate a phase II clinical trial of its RSV vaccine in pregnant women.
Besides RSV vaccines, Novavax is in advanced development stages of its virus-like particle (NYSE:VLP) vaccines against pandemic and seasonal influenza. The global flu market is expected to be worth around $4 billion by next year, and despite dominant players like AstraZeneca (NYSE:AZN), GlaxoSmithKline (NYSE:GSK), Novartis (NYSE:NVS), etc, in the market, there is still an annual shortage in vaccines. This indicates enough commercial opportunities, even for a new player in the market. Over the last few years, Novavax has reported some noteworthy achievements for its influenza vaccines. It produced VLP vaccine against the 2009 H1N1 pandemic "swine flu" influenza, which was well tolerated and immunogenic during its clinical trial. The company has demonstrated in a study that its H5N1 VLP vaccine was also well tolerated, produced no serious adverse effects and induced neutralizing antibodies that were cross-reactive with different avian H5N1 influenza viruses.
During the second half of 2014, the management expects top-line data from recently initiated phase I/II trial of the H7N9 avian influenza VLP vaccine candidate with Matrix-M. Apart from the RSV-F vaccine, the company also aims to initiate phase II clinical trial of its quadrivalent VLP seasonal influenza vaccine in Q4 this year.
As more trials are scheduled to begin during this year, it won't be unreasonable to expect the company to have a commercially available influenza VLP vaccine on the market in a couple of years.
Pandemic preparedness
Not only has Novavax purposed itself to produce vaccine candidates to combat diseases, but also to establish approaches in order to better prepare for and more effectively respond to fast-spreading infections. The company demonstrated its pipeline's capabilities with regards to pandemic preparedness last year.
In April last year, shortly after the Chinese health authorities announced an outbreak of H7N9, Novavax began production of its recombinant vaccine and thereby initiated a clinical development program for the same. Three months later, the first doses of the company's H7N9 vaccine were injected in humans. The clinical trial enrolled 284 people who were given placebo or one of 6 H7N9 vaccine formulations. The responses led Novavax to believe that two shots of 5mg of antigen would protect four out of five people when administered with 60 ISCO units of CSL's Iscomatrix adjuvant. Clearly, these are encouraging results especially in a pandemic situation. Following the results, BARDA director Robin Robinson told Reuters:
"These are very preliminary results, but it appears for the first time that we may have a vaccine that would work against an outbreak (of avian flu). This is a very important milestone. We have a promising vaccine where before we had none."
The vaccine proved capable of producing protective levels of antibodies against H7N9 in a high percentage of the population.
Solid revenue streams
The Rockville, Maryland-based biopharmaceutical company has grown revenues in leaps and bounds. As illustrated in the chart below, Novavax has had an impressive 62-fold increase in annual revenues over the last five years, considerably outperforming vaccine-making peers like AstraZeneca, Novartis and Merck, while also topping the charts among speculative growth peers such as Incyte (NASDAQ:INCY), Medivation (NASDAQ:MDVN), etc.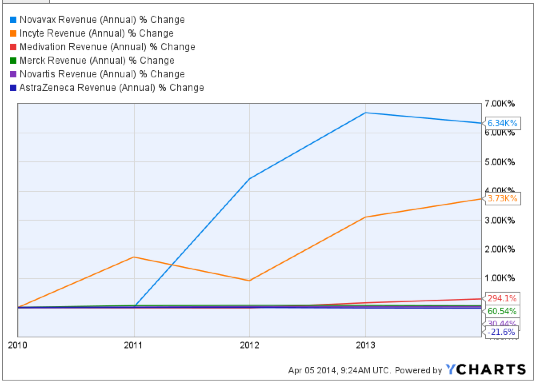 In the recently-reported quarter, the company increased revenue by 92% to $8.7 million as compared to $4.6 million in the year-ago period. The increase in revenue was mainly attributed to the HHS BARDA amendment relating to H7N9 manufacturing and the PATH amendment to support the company's mid-stage clinical trial in women of childbearing age. Novavax's stable revenue source - via BARDA contract to develop the next generation of influenza vaccines - is one of the many reasons that make the company appealing to investors. Recently, the company announced the extension of its HHS BARDA contract beyond its 36-month base period (valued at $97million) that ended in February 2014. The contract is now extended for an additional 24-month period with $82 million in additional funding to build on the company's achievements during the base period. Not many developmental biotechs can boast of such stable revenue streams. For 2014, the company is expected to increase revenue by a whopping 77.7% to $37.19 million, from $20.92 million last year, according to Reuters consensus analysts' estimates.
In the last decade, the company has increased its R&D expenses by nearly 600%, to $50.31 million as present, which is a good sign considering its promising product pipeline. As with most speculative clinical-stage biotech's, Novavax's share count has increased significantly (~ 427%) over the last ten years. After the successful secondary offering of $100 million last fall, Novavax has considerably improved its capital position. Exiting 2013, the company had $133.1 million in cash and cash equivalents as compared to $50.3 million in the previous year. Of course, low debt levels and high current ratio indicate the company can easily meet its near-term obligations.
Final thoughts
Normally, it is not so easy to assess a speculative clinical-stage biotech company, but Novavax has more than a few discernable reasons of future profitability . To confirm the analysis, it is perhaps best to study the insiders' stock transactions, which often shows the confidence level of the key officers in the company's profitability. Over the last one year, a net buying of 95,154 shares was observed among Novavax's key officers, including CEO Stanley Erck and CFO Barclay Phillips.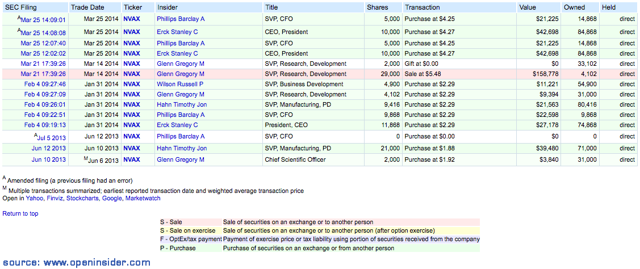 Presuming that these officers know the most about their company, the buying can be seen as a positive sign for the stock. With a strong product pipeline, clinical trial successes and stable revenue streams, Novavax is a bargain at current price levels with the potential to double its share price in near term.
Disclosure: I have no positions in any stocks mentioned, and no plans to initiate any positions within the next 72 hours. I wrote this article myself, and it expresses my own opinions. I am not receiving compensation for it (other than from Seeking Alpha). I have no business relationship with any company whose stock is mentioned in this article.