PPL Corporation (NYSE:PPL) is an energy and utility company that controls about 19,300 megawatts of electrical generating capacity in the U.S. The company delivers electricity to 1.4 million customers in Pennsylvania, nearly 1.3 million in Kentucky, and 7.8 million in Great Britain. PPL also provides natural gas delivery service to 321,000 customers in Kentucky.
The electric capacity comes from coal, oil/gas, and hydropower generation. PPL uses coal as a primary source of power generation and is expected to be used by PPL's LG&E and KU for base-load for the foreseeable future. Natural gas power generation will see significant growth in the next decade.
Financial Highlights and Fiscal Year 2014 Outlook
PPL's financial results for fiscal year 2013 remained under pressure due to the weakness of its unregulated business and lease termination charge in the fourth quarter. In 2013, the revenues of $11.86 billion were down by 8% from $12.89 billion in 2012. The operating earnings of $1.13 billion or $1.76 per share were lower compared to $1.53 billion or $2.60 per share in 2012. The poor supply segment's performance adversely impacted the overall results. The earnings from supply segment fell by 166% from $424 million in 2012. The lease termination charges of $413 million or $0.62 per share depressed the earnings in 2013. Excluding these charges, the earnings improved with a very low margin.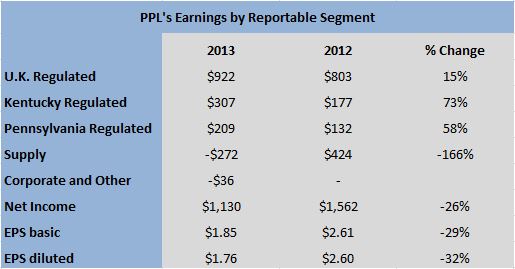 Source: Earnings Release
Despite poor results from the supply segment, PPL's regulated business performed well and earnings grew by double digits. The U.K. regulated earnings of $922 increased by 15% compared to 2012. The growth was driven by higher electric delivery revenues and low U.K. income taxes. In 2013, the Kentucky regulated business experienced significant growth of 73% and earnings reached $307 billion from $177 million in 2012. The favorable base rates and additional returns from environmental capital investment contributed towards earnings growth. The Pennsylvania regulated business also grew by 53% primarily due to the higher distribution base rate and improved transmission margins.
PPL is quite confident about its 2014 outlook and forecasts the earnings between $2.05 and $2.25 per share with a midpoint of $2.15 per share reflecting an increase of 22% from the current $1.76. In 2013, PPL's 85% earnings were from its regulated businesses and for fiscal year 2014, PPL expects all the earnings to be derived from the regulated businesses. PPL anticipates improved revenues from its three regulated segments and partially offset by lower energy margins in the supply business. Going forward, the new natural gas projects in 2015 and 2018 will definitely improve the regulated business with solid growth potential.
Despite the earnings decline, the dividend profile remained strong due to the recent dividend increase. PPL increased the quarterly dividend to $0.3725 per share on a quarterly basis. With the increase, the new annual dividend of $1.49 improved by 1.4% from $1.47 in 2012.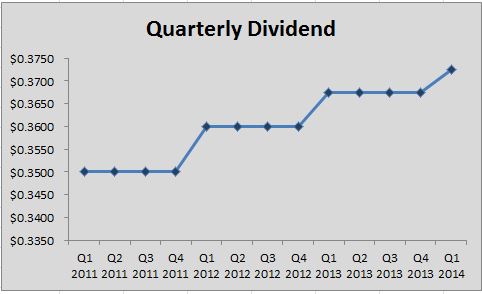 Click to enlarge
Source: ycharts
The Two NGCC Power Generation Units will Drive the Growth
Presently coal generates 37% of the electric supply due to increased federal regulations and the coal power generation will reduce to 32% by the end of 2040. Natural gas power generation is expected to grow faster while electric generation from natural gas will reach 35% by the end of 2014. Natural gas is a cheaper source and to reduce company's costs PPL announced it would retire five coal-fired generating units by 2015. PPL is facing high depreciation charges and by retiring 800-megawatt older coal-fired generation the company will be able to save extra costs. Natural gas power generation is quite an opportunity for PPL to gain growth momentum. To sustain the company's long-term growth PPL also plans to build a 640 megawatt NGCC unit at Cane Run. The company also intends to build a second NGCC unit at its existing Green River site. This unit will add 700 megawatts of capacity to strengthen its power generation portfolio and favorable natural gas prices would help the top-line growth.
The Spin-off might be a Good Option for PPL
The squeezing industry profits for unregulated electricity generation are compelling the companies to sell their unregulated business assets. Some other utility companies have sold or are considering selling their generation assets including Duke Energy Corp. (NYSE:DUK) and the company announced last month that it plans to sell 13 of its plants in Pennsylvania, Illinois, and Ohio. Other utilities including St. Louis-based Ameren that sold its five coal-fired plants to Houston-based Dynegy for $900 million in 2013 have left the unregulated generation business entirely. In 2013, PPL announced the pending sale of 11 hydroelectric power plants for $900 million and if the poor performance of the supply business continues in the future PPL might sell or spin-off other power supply assets. In this regard, Paul Fremont, an analyst at Jefferies, upgraded PPL from hold to buy. Earnings from PPL's supply segment, particularly its unregulated power-generation business, consisting of eight plants in Pennsylvania and 13 in Montana are expected to decline. If PPL decides to spin-off, this initiative will load-off a significant burden and the profitability is likely to improve.
Conclusion

Click to enlarge
Source: ycharts
The stock is trading at a twelve-month high price after recovering from a decline in June and December 2013. The current P/E 18.8X is at a discount to the industry average P/E 19.2X and further based on the forward P/E 15.11X and expected EPS of $2.15 PPL is fairly valued. PPL's dividend profile is quite good due to its steady increase and reasonable dividend yield of 4.5%. PPL's initiatives are compelling and the company can achieve its growth target therefore PPL is a bullish stock.
Disclosure: I have no positions in any stocks mentioned, and no plans to initiate any positions within the next 72 hours.
Business relationship disclosure: The article has been written by a Gemstone Equity Research research analyst. Gemstone Equity Research is not receiving compensation for it (other than from Seeking Alpha). Gemstone Equity Research has no business relationship with any company whose stock is mentioned in this article.