For those who do not regularly follow Japan, Japan has been down for so long that anything looks like it's up. Jeremy Siegel of Stocks for the Long Run notes that it's rare for stocks to go 10 years without giving a positive return. Yet Japan's market has been in a secular bear market for not 10, but 20 years.

In 1989, the Nikkei 225 hit a new all-time high near 39,800. Today, more than 20 years later, it languishes near 10,000 – almost 75% lower. The Nikkei 225 would have to rise 300% just to get back where it was in 1989. Japanese stocks are now among the cheapest and most unloved in the world.
Despite all the global gloom and doom regarding equities, foreign investors were again net buyers of Japanese equities in the fourth week of June by JPY154 billion, which is relatively modest compared to weekly net buying values earlier in the year.
As we never tire of pointing out, stock price formation in Japan is now essentially at the beck and call of foreign investors, i.e. when foreign investors are selling, stock prices go down, and vice-a-versa. But what foreign investors need to consider is why the Japanese themselves aren't buying Japanese stocks.
The Mother of All Bear Markets
After Japan's excess credit bubble collapsed in 1990, Japan experienced essentially 20 years of malaise. Recently Jim Cramer of The Street.com described "malaise" as the recognition that things are out of control and there is no getting better, and that things are out of our hands. We have been using the word malaise to describe Japan's problems for years. Since a picture is better than a thousand words, we have included the following longterm chart, the inflation-adjusted "mega bear" markets, which of course includes the Crash of 1929 and the Nikkei 225 collapse in 1989.
The biggest similarity between the Great Depression and the Nikkei 225 collapse is the sheer length of these bear markets. Whereas the Dow bottomed three years after a major secular peak and never renewed this low over the next 17 years, the Nikkei 225 appeared to hit a major secular low some 13 years after its 1989 peak, staged a major bull counter-rally, and then renewed the 2003 low again—some 19 years after the 1989 peak—probably making it the longest-running secular bear market in modern history. We believe this secular bear market is being supported by two fundamental factors, a) valuation issues and b) structural supply-demand issues; both of which are intricately related to the fact that Japan's GDP today has actually shrunk back to 1991 levels and external trade continues to be plagued by relentless strength in JPY.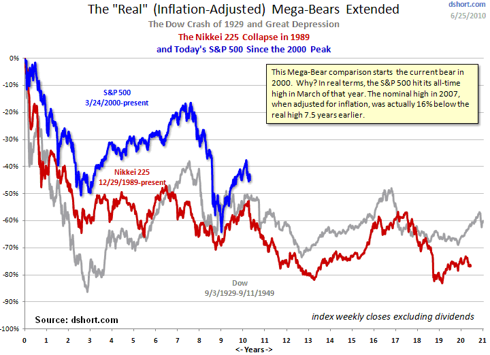 Valuation Issues Limiting Japanese Stock Prices

Japan's market valuations have gone from heavy cross-holding skewed valuations that essentially discounted the next 100 years of earnings, to the entire first and second sections of the Tokyo Stock Exchange as well as the JASDAQ selling under reported book value at 2008 lows. Basically, this reflects a dramatic decline in expected earnings growth rates. Investors familiar with dividend or cash flow discount models know well the major theoretical determinants of future stock price values (intrinsic value). In these models, the major variables are a) dividend payout ratio, b) equity risk premium, c) interim assumed earnings growth rate and d) "terminal" growth rate. In practice, the dividend payout ratio, terminal growth rate and equity risk premium have a particularly large impact on calculated future value.

The first problem for such models as regards Japanese stocks is that Japanese companies have traditionally not based their dividend payouts on earnings, historically preferring instead to offer steady dividends based on the par value of their stock. Although Japanese stocks no longer have a stated par value, Japanese companies nevertheless continue to prefer a stable, consistent dividend that does not fluctuate with earnings. Secondly, the terminal growth rate for an individual company's earnings in theory cannot exceed that country's GDP growth rate. Since Japan's sustainable potential growth rate is now below 1% per annum, GDP growth has become a major growth limitation for terminal earnings of Japanese companies in such models.

In our view, the other major variable, i.e. equity risk premium, is actually much lower than is commonly assumed in most investors/analysts models regarding Japan—i.e. instead of the commonly used equity risk premium of 3.5%, we believe the actual equity risk premium for Japanese stocks is more like 2.5%, which, if long-term bond yields are as they are now at 1.15%, means a discount rate of 3.65%.

While using an equity risk premium of 2.5% instead of 3.5% produces a much higher intrinsic stock price, the inflationary impact of the lower ERP is more than offset by the low dividend payouts and a low sustainable GDP growth rate.

Structural Supply-Demand Issues Limiting Japanese Stock Prices
Foreign pension fund investors and buy-side organizations like the Asian Corporate Governance Association (with some 85 members managing USD10 trillion in assets) as well as the Pension Fund Association of Japan (with total outsourced and internally managed assets under management of USD100 billion-plus) are increasingly critical of Japanese company corporate governance as well as strategic/cross held shareholdings, and are reflecting this view in their proxy voting. Even the historically management-friendly GPIF (government pension investment fund) is beginning to vote against management when they see obviously poor performance/corporate malfeasance. Foreign and domestic institutional investors are increasingly demanding that Japanese companies justify the economic reasoning (as regards the efficient use of capital) for these holdings.
However, the following chart shows that ownership of Japanese shares by Japanese financial institutions—particularly banks and insurance companies—already plunged during the Heisei Malaise, and is expected to continue declining further. The liberalization of Japan's pension fund management sector led to a rapid increase in pension fund ownership of Japanese equities from 10% around 1990 to over 20% at one point, but domestic pension fund ownership of Japanese equities is also now in decline (shown as trust banks in the graph below).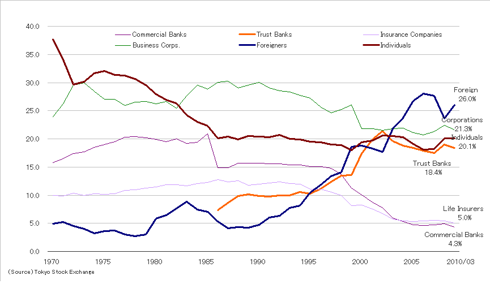 The reasons for the structural unwinding of strategic/cross holdings as well as ownership for purely investment purposes include:

a) Adoption of new international accounting standards and comprehensive earnings that reflect valuation losses and gains on stocks held.
b) Major bank efforts to strengthen their core capital ratios under impending stricter BIS (Bank of International Settlement) bank capital requirements.
c) Stricter Solvency II requirements for insurance companies.
d) The public listing of major insurance equity holders like Dai-Ichi Mutual Life.
e) The evolution of public pension funds from net inflows of pension contributions to net outflows with the rapid aging of Japan.
Nomura Securities estimated that some 12.7%, or JPY35 trillion (USD389 billion) of Japanese equities was cross held at the end of 2008, which equates to about 9% of annual 2009 trading value on the Tokyo Stock Exchange, or 85% of annual trading value by domestic financial institutions in the same year. Over the last fiscal year, the unwinding of cross holdings among the major banks and trading companies was particularly noticeable, to the tune of several percent of the book value of shares held.
In terms of asset allocations, the following tables clearly show a decline in domestic equity allocations by domestic pension funds as well as mutual funds. Foreign investors account for roughly 40% of trading value on the Tokyo stock exchange, compared to less than 10% for domestic financial institutions. Further, depending on market conditions, foreign investors on any one trading day can account for over 60% of trading volume. While the outstanding balance of Japanese mutual funds rebounded significantly (by 467%) from a historical low of only JPY5.1 trillion in 1998 to JPY23.655 trillion when the stock market hit its rebound high in 2007, the real driver of this recovery has been 1) foreign bonds and 2) foreign stocks.
Consequently, domestic brokers that sell these mutual funds have been pushing high yielding foreign bond and emerging market equity funds much harder than they have been promoting investments in Japanese equities.

Source: Investment Trust Association of Japan

Source: Tokyo Stock Exchange
The trend in the Pension Fund Association (PFA) and the GPIF's (Government Pension Investment Fund, the largest in the world) allocations to domestic equities clearly show a shift away from "home bias", at least in Japanese equities. The PFA's allocations to domestic stocks have fallen from a peak of 33% in 2002 to a target 16% at present. For the GPIF, domestic stock allocations have fallen from 26%-plus in 2006 to less than 10% in 2009—while the fund has consistently maintained allocations over 50% for JGBs.

Source: Pension Fund Association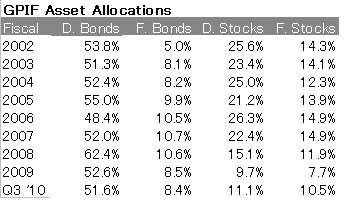 Source: Government Pension Investment Fund
Individual Investors: There for the Downside
While domestic financial institutions and corporates continue to unwind their holdings, domestic individual investor holdings of Japanese shares have remained stable at around 20%. Historically, domestic individuals buying with cash have been good timers of market bottoms, and while domestic institutions have shunned recent capital bolstering IPOs, individual investors have taken up 70%~80% of these issues.
As individual investors have pulled in their forex risk and become more cautious about overseas equity and bond funds, they have returned to Japanese equities, being net buyers by nearly JPY3 trillion in the April-June quarter (consisting of net purchases of investment trusts and direct purchases of stock through the stock exchange), which is the highest level of net buying by individuals since the 2007 April~June quarter (JPY4.39 trillion of net buying). However, once foreign investors become consistent net buyers again (ostensibly on because of more relaxed risk attitudes), expect domestic individuals to sell into this demand.
Wealth Has to be Created Before it Can be Redistributed

The money that individual investors are using to invest in forex, foreign bond funds and domestic equities is essentially old money. Most of Japan's savings are held by individuals in their 60s or older. Some 61 years ago, Joseph Dodge, the US special ambassador to Japan who drafted Japan's economic stabilization plan after WWII, said, "Wealth cannot be distributed unless it is first created." It seems that Japanese politicians have forgotten this very basic tenant as they have dug Japan into an ever-deeper debt hole without addressing what's wrong with Japan's economy, i.e. its wealth creation machine. Nominal GDP in 2009 was back to 1991 levels, or a GDP size 18 years ago. Between 1990 and 2010, nominal GDP growth has averaged a mere 0.6%, while real GDP has grown an average 1.0%, as nominal GDP growth has been under 2% since 1997 because of chronic deflation.

Thus it is no wonder that politics have become more contentious in Japan—there is simply not enough wealth being created to be distributed as promised by successive political parties and administrations to entrenched constituencies. Until the Japanese government and the private sector can re-start Japan's wealth creating machine, fighting among politicians, businesses and individuals for a shrinking pool of wealth will become even more contentious. Japanese politicians cannot keep their promises to provide for health care and pension payouts of a rapidly aging society with GDP potential growth at less than 1%.

Forget about the double counting in Japan's top line gross debt number (over 200% of GDP). Total government net debt (minus government surpluses and assets) in 2009 was 111.6% and is expected to rise to 121.7% in 2010. At the end of 1991, the value of the Japanese government's net assets were JPY350 trillion, but the value of these assets turned minus by the end of 2009. Rising social welfare costs to support an ageing population have added considerably to the burden in recent years. Further, the fallout from the country's longest
recession since World War Two has created even heavier fiscal demands.

This is why we find it particularly ironic that JPY is often referred to as a "safe haven" currency.
Regardless of what the current Kan Administration or successive administrations promise in grandiose plans, economic growth is a mere fantasy without reviving the twin engines of domestic demand, i.e. consumption and investment. Domestic economists believe the GDP gap, or the difference between supply and demand in the overall economy, will remain negative until 2019, and with it, ongoing deflation. Dyed-in-the-wool Kenyesian economists claim that more fiscal spending is needed. But despite the massive fiscal expenditures in the 1990s that created the bulk of Japan's current debt problem, Japan's economy never recovered from the ravages of the Heisei Malaise to again begin building wealth.
Even if the world economy recovers at a more favorable pace than is currently feared, Japan's economy cannot count on a contribution from net exports as it did in the previous recovery phase due to increasing production and procurement overseas by Japanese companies and a relentless appreciation in JPY.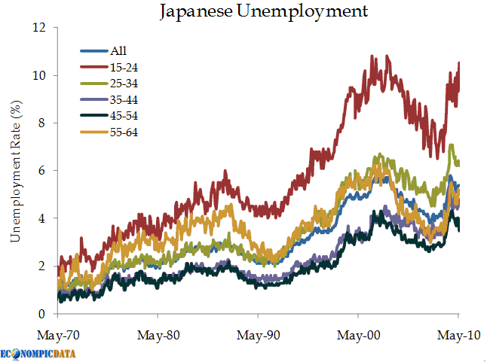 Source: Econompic Data
Reviving Growth in Japan: Look to Best Practice in Asia
Over the long-term, only market mechanisms can effectively balance demand to supply, thereby raising wealth-creating power. Japan, with the right mix of policies, could:

a) Engineer a significantly weaker JPY, ostensibly to the JPY110~JPY120/USD level last seen in 2007. This would go a long way in repairing lost export competitiveness and exporter profit margins. On the other hand, fiscal austerity, while an admirable pursuit in terms of reigning in runaway debt, will actually result in a stronger yen.

b) Regenerate inflationary expectations with "irresponsible" monetary policy, i.e. more aggressive use of the BOJ's balance sheet. Keynesian economists on the other hand insist that this is an integral part of the problem, i.e., monetary policy has been neutered because the money multiplier is broke—i.e., the BOJ is pushing on a string because no amount of excess liquidity will in current circumstances induce more aggressive lending by banks who are trying to bolster their core capital ratios. The discount rate at the BOJ has been below 1.0% since 1995, and the rate has been as low as 0.1%. But despite the large monetary stimulus and a round of "quantitative easing", deflation still grips the Japanese economy. Fifteen years of zero interest rate policy and no signs of either inflation or asset bubbles.

c) Create a comprehensive strategy to revive growth, such as the example given below for Singapore—especially in economically depressed areas. The foregone tax revenue is more than worth it because of the local employment benefits. The Economic Development Board of Singapore has gone all-out to attract businesses that can provide employment, including corporate income tax rates of 17% (versus over 40% for Japan) and minimal red tape to start up a business. These incentives are part of a comprehensive plan to diversify Singapore's economy into greater value-added products and services. The government continues to identify emerging industries that they can target for growth and areas where they can leverage their resources.
Singapore's integrated strategy (shown below) supports continued growth in GDP, and the government has built a solid economic base and long-range plan to support continued development. As a result, Singapore is ranked #3 in the World Economic Forum's global competitiveness ranking for 2009~2010 behind Switzerland and the US, while Japan is ranked #8. In other words, Singapore "gets it", while Japan's politicians and regulators don't.
Singapore's Growth Plan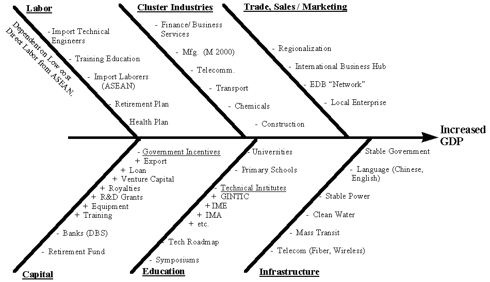 Click to enlarge
Source: Government of Singapore
Click to enlarge
It is therefore no wonder that, while Japan's regulators and government are alarmed at Japan's waning status as a financial center in the region, Singapore is booming, with assets under management in the island city growing at over 20% per annum, and it is well on its way to becoming the Switzerland of Asia. Recognizing this, Nomura Asset Management has assigned their chief investment officer for equities to Singapore, and Nomura Securities now regularly holds a large investor conferences in the city-state.