Founded in 1990, Norges Bank Investment Management (a.k.a the Government Petroleum Fund), the fund has since grown to a size in excess of $80B. Over the past two decades, it has undergone dramatic changes in asset mix: up until 1997, the capital was fully invested in government securities, while as of the end of 2013 the fund consists of equities (approximately 60% of portfolio), real estate (not exceeding 5%), and bonds (all known classes, including securitized investment vehicles). Two years ago, the government decided that the fund was to gradually reduce European equity holdings to 40%, with the decrease to be compensated with extra exposure to emerging markets.
During the past 15 years, the fund has delivered net annual returns (CAGR, I assume) of 3.6%, while the last five years' average total standard deviation was almost 7.74%. The returns are not exactly exciting but can be explained by rules and mandates the fund has to adhere to. Interestingly, the top 17 equity holdings, which make up over a fifth of the fund's total equity exposure, are U.S. corporations - overwhelmingly blue chip stocks. We shall divide the holdings into appropriate sectors and analyze them.
Technology
Technology represents almost a third of the equity portfolio. Apple Inc. (NASDAQ:AAPL) represents almost a third of this sector, followed by Microsoft (NASDAQ:MSFT) and Google (NASDAQ:GOOG), both having a roughly equal share of the pie. IBM (NYSE:IBM) and Oracle (NASDAQ:ORCL) take the last two positions in money allocation for the Techs.
Apple trades at a P/E of ~13.2X and offers a yield of 2.29%, slightly below the 10-year US Treasury spot rate. It has a beat of 1.01, which is really a mark-to-market. In contrast, Microsoft has a P/E ratio higher by >150bp at 14.7X but trades at a higher current yield of 2.81% and modestly lower beta of 0.9. Google offers a completely different story trading at 30.3X LTM earnings, even after a stock split. It offers no dividend and has a beta of 1.09, above the average of the three major holdings here. Call it a growth company or an overvalued stock - your choice. The Fund, on the other hand, still holds a sizeable position in it.
IBM is a totally different story: at 12.7X P/E and 0.72 beta it is the cheapest and relatively less risky player on this list. The dividend yield is not compelling (at 1.98%), yet the company plans to buy back a significant amount of total float back and has spent over $20B in the past two years doing so. Oracle holds the smallest position on the list trading at a P/E of 16.7X and offers a yield of 1.2%. Although small, this should be considered a good sign as the company started paying dividends last year, for the first time in its history. It also has the highest beta on the selection - 1.24, which implies that the market still sees it somewhat as a growth stock by giving it a higher discount rate.
Readers may shift weights within the list to follow their own investment mandates. I recommend a healthy mix between the perceived growth and value stocks on the list, even though there are not a lot to choose from.
Financials
Financial equities make up almost a quarter of the total equity allocation. Weights within the sector are even more asymmetrical: BlackRock, Inc. (NYSE:BLK) not only represents almost half of the Financials sector in the portfolio but also remains the biggest holding in the equity fund itself (10.68%). The company has a current yield of 2.5%, a P/B ratio of 2.0X, and debt-to-equity of 7.3X. The beta is 1.4. Wells Fargo & Co (NYSE:WFC) has an over 50% smaller allocation than BlackRock. The company pays a slightly lower dividend yield of 2.42%, has a marginally lower beta of 1.38, shows a lower P/B of 1.69X, and a higher leverage of ~8X. The company is also significantly bigger in size with assets over $1.5T.
JPMorgan (NYSE:JPM) and AFLAC Inc. (NYSE:AFL) share comparable capital allocation at roughly 4.3% of the total portfolio. JPMorgan has the lowest P/B ratio on the list partially explained by the perceived quality of its assets by the market. It has the lowest return on assets at 0.75 and the highest leverage at D/E >10X. With $2.4T in assets the company has a beta of 1.71, second-highest in the selection, and pays a yield of 2.68%, the highest on the list. AFLAC Inc. is a general business holding company and acts as a management company, overseeing the operations of its subsidiaries by providing management services. Its business is supplemental health and life insurance. The firm ranks second in terms of P/B ratio (1.99X) and last in dividend yield. AFLAC's beta is high at 1.97, combined with an average D/E ratio of 7.3X. With $121B in assets AFLAC has generated $5.1B in operating income over the last twelve months.
Energy
The energy portion of the portfolio is represented by two mega-caps of the E&P industry: Exxon Mobil (NYSE:XOM) and Chevron (NYSE:CVX). Having been chosen by Warren Buffett's portfolio as well, Exxon Mobil remains a solid long-term blue-chip energy company. Compared to Chevron, XOM has a ~30% higher P/E ratio (13.2X), which can be explained by a similarly higher return-on-equity figure with a significantly lower debt-to-assets ratio. Exxon pays a 2.59% dividend and has a beta marginally exceeding 0.7. Chevron, on the other hand, has a higher dividend yield at 3.37%, which is explained by a lower P/E ratio, and a higher beta of 0.94.
Whether these picks give a good exposure to the energy sector is a pure readers' evaluation. Over the last five years, Chevron outpaced Exxon Mobil by almost 30% and yet is valued cheaper than the industry leader. Additional insight is required in the event investors choose to deviate from weight established by NBIM.
Industrials
General Electric (NYSE:GE) is the sole representative of the Industrials sector. With a market cap of $260B+ the company generated $14.5 per share and currently pays a yield of 3.38%. It has a beta of 1.60 and a P/E of 17.6. Since there are no comparables within the portfolio, I pulled up a table from Google Finance so that readers can see where GE stands:

A 120%+ increase in price since the trough in 2008 is combined with a similar increase in dividends paid. The company generates circa $30B in operating cash flows and pays almost $8B of them in dividends. With a strong cash position as of the last quarter ($88.5B) the company is well positioned to meet financing charges and sustain shareholder-friendly activities.
Healthcare
The healthcare sector is represented by two Pharmaceuticals: Johnson & Johnson (NYSE:JNJ) and Pfizer (NYSE:PFE). The latter one offers a considerable dividend yield of 3.23% vs. the former's 2.68%. P/E ratios are comparable at 19.49X and 20.47X, respectively. Pfizer lagged over the past year, returning 13% less than JNJ but the figure is approximately identical over the five-year period.
Consumer Goods
Three drastically different corporations are classified under this label in the portfolio: Coca-Cola (NYSE:KO), Procter & Gamble (NYSE:PG), and Comcast (NASDAQ:CMCSA). The last one is a provider of entertainment, information and communications products and services. It is a cyclical consumer goods company, as classified by Google Finance. Comcast offers a dividend yield of 1.79%, has a P/E ratio of 19.6X, and a beta of 1.14. The stock returned around 40% in 2013. Coca-Cola needs no introduction: the non-cyclical goods & services company has a healthy yield of 3.2%, the second-lowest beta in the portfolio of 0.47, and trades at an average P/E of 20.1X. The Procter & Gamble Company is focused on providing consumer packaged goods. The Company's products are sold in more than 180 countries and territories worldwide primarily through mass merchandisers, grocery stores, membership club stores, drug stores, department stores, salons, e-commerce and high-frequency stores, and the neighborhood stores, which serve many consumers in developing markets. The conglomerate has the highest P/E ratio in this sample at 21.5X, offers a second-highest yield of 3.02%, and has the lowest beta of 0.46.
The overall positioning of sectors within the equity portion of the fund is presented below: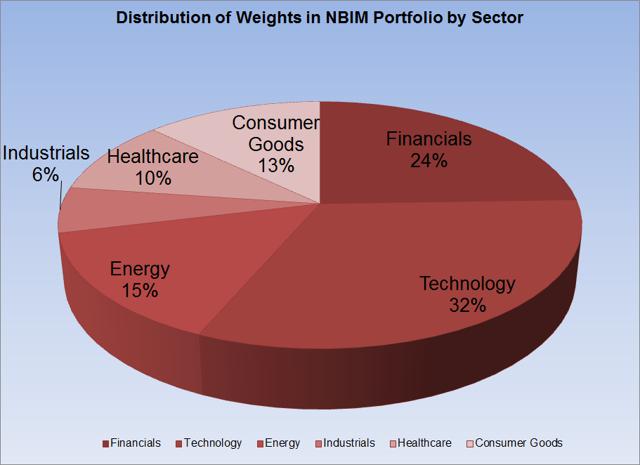 (Data courtesy of Norges Bank IM)
The portfolio has done remarkably well over the past twenty years: the weighted-average geometric return (I specifically chose this one as it is the most conservative and meaningful measure of profitability) for a portfolio consisting of entirely the selected stocks has been ~16% at a standard deviation of slightly above 20%. Here is a snapshot: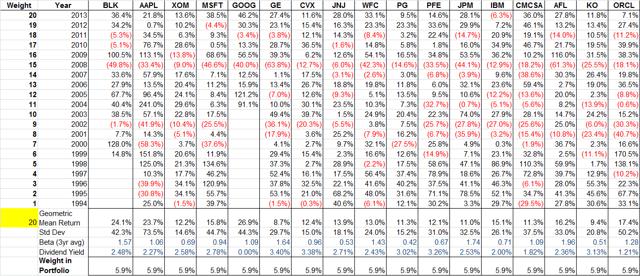 (Price data provided by Yahoo Finance)
The equity portfolio is composed in the following manner: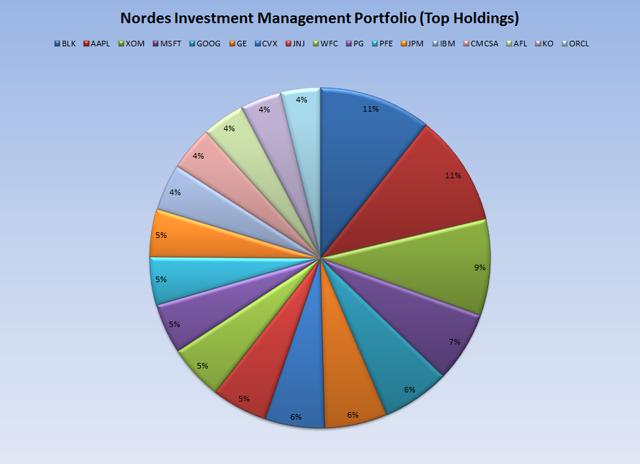 (Weights data provided by Norges Bank IM)
Apart from capital appreciation, the selected securities provide a dividend yield comparable to that of 10-year U.S. Treasuries (2.43% vs. 2.80% spot rate):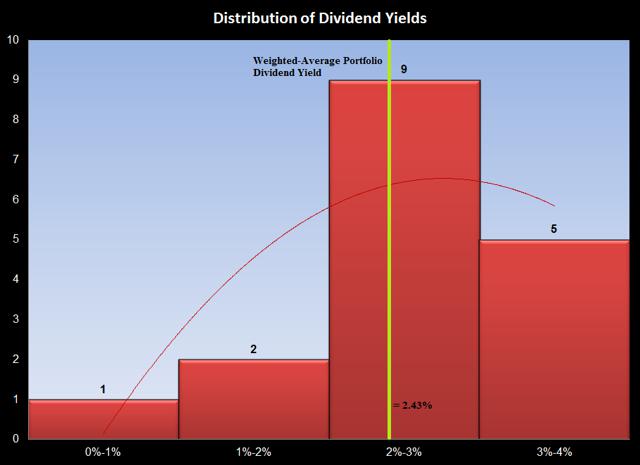 (Dividend data provided by Yahoo Finance)
Readers see that over 50% of securities on the list are concentrated in the 2%-3% yield range. The rest of the data relevant for analysis is presented below:

Let us take a moment to summarize findings:
Portfolio beta is 1.08, which is above the market. However, the P/E ratio is drastically below the market's: 16.7X vs. 20X
The portfolio's geometric return has exceeded the S&P 500's by over 200bp at an extra risk of ~1.5%
Total expected return using the Capital Asset Pricing Model stands at around 10.2% (including current dividend yield), while the factual return has been 400+ bp: this can be explained by the fund's willingness to take non-market risk while investing in equities
The stocks have a weighted-average cost of equity of ~8%, while the return has been almost double that. Clearly, Norges fund has successfully selected companies that provide significant Economic Value Added (NYSE:EVA) returns
There seems to be little correlation between the equity portfolio returns and beta values: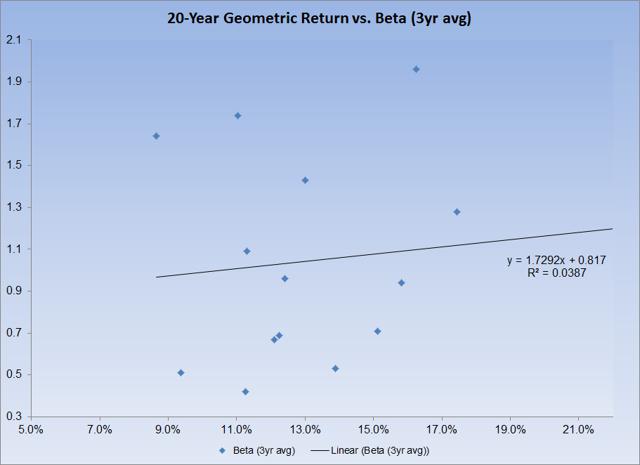 Portfolio Scenarios
The variety of portfolio options is available in the model. The following output is a summary: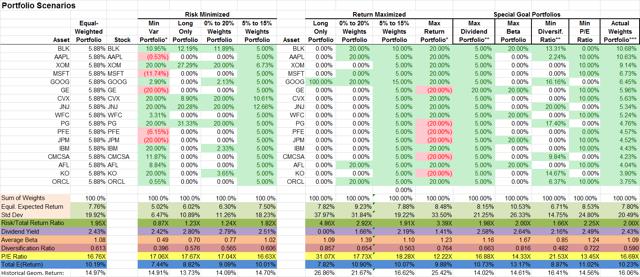 The matrix has been expanded to include two different expected returns: the equilibrium return (solely based on CAPM) and historical geometric returns. The following chart illustrates the trade-off between risk and return (remember, the expected return is the minimum expected return, based on CAPM):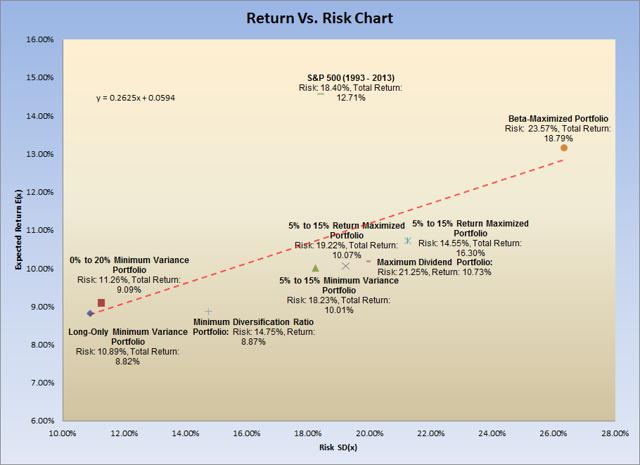 Readers can play optimize the list to meet their specific needs: in any case, the high quality securities will add up to a solid portfolio with realistic risk/return qualities.
The following recommendations are for familiarization purposes only. Based on the risk/reward ratios and absolute figures for the metrics, I suggest that investors take a closer look at "Minimum P/E Ratio," "Maximum Dividend," and "Long-Only Risk-Minimized" portfolios. These options typically suit readers: from my experience, the majority of the audience are conservative value/dividend investors.
One last thing: past returns may not persist in the future as companies are subject to a variety of risks. At the end of the day, the two key factors are the quality of businesses investors pay for and time horizon.
Disclosure: I have no positions in any stocks mentioned, and no plans to initiate any positions within the next 72 hours. I wrote this article myself, and it expresses my own opinions. I am not receiving compensation for it (other than from Seeking Alpha). I have no business relationship with any company whose stock is mentioned in this article.