You might find the title surprising: does it make any sense to compare a REIT with a retailer? I believe it does make a lot of sense and will demonstrate my reasons in this article. (I have to admit I am not even an amateur expert on REITs, so take this article as a food for thought and reach your own conclusions before investing.)
The business model of Realty Income (NYSE:O) is to acquire properties, lease them for 10-20 years and distribute most of the received rental income to the shareholders. Almost all the leases are structured as triple net leases, so the tenants pay for maintenance, insurance etc. Most of the tenants belong to the retail sector (e.g. dollar stores, gyms, pharmacies, cinemas). The funds required to obtain new properties come mostly from share issuances. Realty Income is rarely involved in property construction (for instance, of the $4.67B invested in 2013, only $39.6M went to properties under development).
The business model of Tesco (OTCPK:TSCDY) is to acquire land, construct their own properties, and then operate them for decades. Operating means two things for Tesco: first, operate a store as a retailer focused on food, clothing, home and kitchen appliances etc.; second, exploit the footfall created by the store to attract other retailers and rent them additional space available in the property (shopping malls, in-store pharmacies etc.). Tesco occasionally sells some of the appreciated properties and immediately leases them back to free capital for new property development. Tesco does not issue shares; it retains about 50% of total earnings (rental plus trading) to fund new investments.
As we can see, Tesco is doing something very similar to a REIT, with the difference that is leases most of its properties to itself and tries to add value with footfall resulting from operating their own stores. Both companies enjoy very long dividend streaks. Realty Income has increased its dividend every quarter for more than 15 years. Although Tesco maintained the dividend steady in 2013, it had increased it for the previous 27 years. Both companies also boast shareholder-friendly management and have a track record of wise capital allocation.
Strategy
Both Tesco and Realty Income have recently adjusted their strategy. Just 5 years ago, Realty Income had 98% exposure to retail tenants, with only 2% of revenue coming from investment-grade tenants. At the end of 2013, just 77% of revenues is coming from retail tenants and 40% flows from investment-grade tenants (the changes are so significant mostly thanks to the large 2013 ARCT acquisition; see the 2013 annual report for details). Having learned from the 2008 recession, Realty Income is focused on the following:
add tenants with strong credit profiles (investment grade, low debt);
avoid retailers prone to online competition;
reduce exposure to tenants with business more at risk during economic downturns (higher-priced discretionary goods etc.).
Similarly, Tesco is following recent retail trends and thus
cuts capital expenditures and repays debt;
reduces store space dedicated to merchandise like electronics which is better bought online;
invests in its online business and the blending of its online and brick-and-mortar channels;
focuses on food first and also on affordable clothing under the F&F brand.
(A more detailed coverage of the new Tesco strategy can be found in my older article and in various company presentations and reports.)
Note the similarities of these strategies. I believe both are a sound and prudent response to the current business developments.
Financial comparison
Next, we compare some numbers. The numbers for Realty Income are taken from their 2013 annual report. Pre-2013 numbers are less meaningful because of the 2013 ARCT acquisition, so I decided to exclude them from this comparison. Realty Income does not report the market value of its properties, so I estimated it by dividing the rental income of $0.75B by a cap rate of 6%. The net asset value is calculated as the market value of the properties minus debt.
The numbers for Tesco are taken from my another article. In the article, Tesco is split into Developer and Retailer. In order to better reflect the triple net structure of Realty Income's leases, we assume here that Developer leases its properties to Retailer at a 6% rate and Retailer is fully responsible for maintenance. As argued in the mentioned article, maintenance capex on Tesco's stores is about 75% of total D&A, but this is overstated at present because Tesco is completely refreshing about a quarter of its stores every year until 2017. Tesco currently plans to spend about £1.1B on the maintenance of its existing stores; we will assume a normalized £1B a year. In addition, we add £0.5B of technology capex which is probably necessary to maintain Retailer's competitive position. For Developer's NAV, we take the market value of its properties and subtract the Tesco's net debt (as reported) and the pension fund deficit of about £1.8B.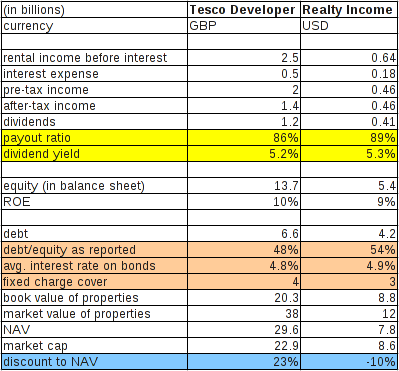 The comparison shows very similar ratios in all important areas; the businesses have similar capital structures and about the same yield and payout ratio. The only difference is in valuation relative to NAV: while Tesco trades at a discount, Realty Income trades at a premium.
The most important difference between the two companies is Tesco's Retailer which has no counterpart at Realty Income. Tesco's retailing operations brought in about £3.5B of trading profit in 2013, but we have already included £0.45B of that (rental income from third parties) in Developer's income, so we will deduct it here. We are left with £3B of trading profit plus £0.2B of finance income (mostly from Tesco bank) plus £1.6B of D&A less £2B paid as rent to Developer less £1.5B of maintenance expenses, which gives us £1.3B of pre-tax income or about £0.9B after taxes. Even if Tesco's trading margin would fall to 4% (which is a likely outcome given the current retail environment in the UK), we still have more than £0.3B of after-tax profits that can be reinvested into more properties or used to repay debt.
Conclusion
If you are interested in owning properties and collecting rent, do not limit yourself to REITs. Although they offer certain tax advantages, there could be better opportunities among taxable corporations. As we have seen, Tesco offers the same yield derived from rent as Realty Income, trades at a discount to the value of its properties, and its retailing operations generate additional profit even during recessions. The trading profits will be either reinvested into more properties which will lead to a higher growth rate, or used to strengthen the balance sheet and decrease future interest expenses. I believe that Tesco offers better prospects than many REITs traded in the US, but one should keep in mind the tenant concentration (about 80% of rental income is derived from Tesco itself) and Tesco's regional and currency exposure (about 66% UK, 20% Asia and 10% Central Europe).
Disclosure: I am long TSCDY. I wrote this article myself, and it expresses my own opinions. I am not receiving compensation for it (other than from Seeking Alpha). I have no business relationship with any company whose stock is mentioned in this article.