The evidence continues to mount that Apple (NASDAQ:AAPL) is extremely late to the large screen smartphone market and the in-between phablet market. Legendary CEO Steve Jobs claimed that consumers didn't want or need large screen smartphones. To a certain extent, he was probably right when viewing a domestic market where consumers largely have a computer at home. Unfortunately, in the developing Asian markets and other emerging economies where consumers don't own computers, a phablet provides an almost required phone size. These consumers get a mobile phone plus a screen capable of some computing and gaming functions that bridges them into the modern world.
The recent onslaught of media predictions and rumors suggests that Apple plans to introduce larger screen phones with the iPhone 6. Even the Cantor Fitzgerald analyst gleaned bullish demand in China from consumers and carriers alike. It appears unlikely to us that Apple could take meaningful market share with the introduction of a phablet later this year at the earliest. Samsung (OTC:SSNLF) established the market in 2011 with the Galaxy Note and now dominates it along with local Chinese device makers. In the tech world, it is rare for an established market to be disrupted by a new entrant unless it provides truly disruptive features and the iPhone 6 even with iOS 8 doesn't appear to offer that disruption to even high end consumers.
Phablet Market Size
The market for phablets is exploding worldwide, especially in the Far East. Industry research groups widely define a phablet differently making the numbers confusing to analyze.
According to a report by Juniper Research, the phablet market includes devices with a screen size of between 5.6-inch to 6.9-inch measured diagonally. The research firm predicts this category will surge from 20 million units in 2013 to reach 120 million units by 2018. About half of the demand will come from Asian customers with North America and Europe only accounting for 40 million of those units. The report suggests high demand exists for cheaper phablets in developing countries like China, India, Brazil, and Russia.
Other firms such as Kantor ComTech and IHS iSuppli Research place the phablet at screen sizes of 5-inch and larger. In the following table, IHS forecasts that market to exceed 140 million units by 2016.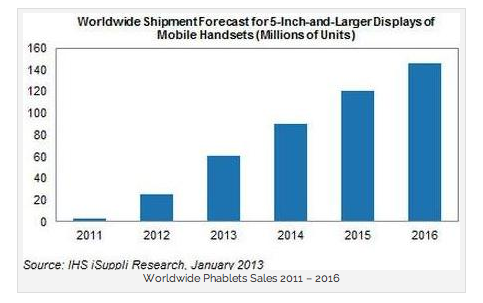 The interesting part of these research studies is that the numbers could largely depend on the actual Apple screen sizes for the iPhone 6. A 5.5-inch screen from Apple wouldn't classify as a phablet according to Juniper Research while the other firms would count it.
iPhone 6 Predictions
The majority of predictions are that the iPhone 6 will have two larger screen sizes than the iPhone 5. Currently, the screen size is 4.0-inch with the projected plans to increase to both 4.7-inch and 5.5-inch sizes. The question remains whether the 5.5-inch version hits the market in the normal August to September launch timeframe or it gets pushed to a later date due to speculated issues with the screen.
According to Cantor Fitzgerald analyst Brian White after a recent tour to Asia, the general pulse in the Asian markets is an alarming decrease in the iPhone 5s in favor of a phablet device. The major device makers in China like Huawei, Lenovo (OTCPK:LNVGY), and ZTE (OTCPK:ZTCOF) are gaining market share while Apple piddles around in bringing larger screen devices to the market. While Mr. White maintains that Apple can reverse traction by entering the phablet market, it isn't even clear this will occur in 2014. He felt a high level of enthusiasm around a larger iPhone, yet it remains to be seen if that lasts until a September launch or even later. Not to mention, the estimated prices around $700 would price most consumers in these developing markets out of the market.
Conclusion
Brian White slapped a $777 price target on the stock based on the Asian enthusiasm for a phablet from Apple. While not sharing the same excitement, considering poor consumers can't afford these pricey devices, the stock remains cheap and any traction in the large screen market would provide upside to the current price.
The stock currently trades at an enterprise value of around $300 billion and at roughly 7.5x forward earnings making it extremely cheap. With the market for tech stocks crashing, Apple remains a safe haven with a wildcard in the phablet market. The company already appears too late to the market, but any surprise market share gain would bolster the stock.
Disclosure: I am long AAPL. I wrote this article myself, and it expresses my own opinions. I am not receiving compensation for it (other than from Seeking Alpha). I have no business relationship with any company whose stock is mentioned in this article. The information contained herein is for informational purposes only. Nothing in this article should be taken as a solicitation to purchase or sell securities. Before buying or selling any stock you should do your own research and reach your own conclusion or consult a financial advisor. Investing includes risks, including loss of principal.