The pressure that tech stocks are feeling is beginning to spread throughout the market, which makes perfect sense when one thinks about how ETFs and low cost mutual funds have further connected the market and its separate sectors. With losses piling up at numerous hedge funds we now know that many are moving to cash and in some cases, which we will discuss later, the funds are deciding to return cash rather than invest it in the current market.
That is a big deal for numerous reasons, but maybe most importantly because it takes much needed capital away from the market just as IPOs are flooding the space with new supply. Look for a few IPOs to fall on their face in the next few weeks, and if that happens the tech correction could very well become a self fulfilling prophecy.
Chart of the Day:
It does appear that we are approaching levels where support could be found, but will the 'smart money' step up to the plate when we near those levels after their recent losses? Being trigger shy could cause further losses.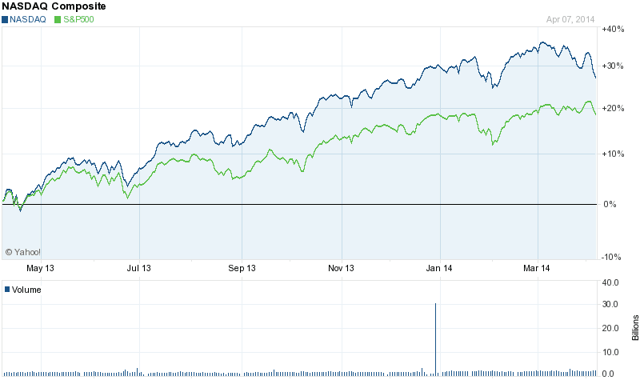 Click to enlarge
Source: Yahoo Finance
We have economic news today, and it is as follows:
JOLTS - Job Openings (10:00 a.m. EST): Est: N/A Act: 4.173 M
Asian markets finished mixed today:
All Ordinaries -- down 0.06%
Shanghai Composite -- up 1.92%
Nikkei 225 -- down 1.36%
NZSE 50 -- down 0.87%
Seoul Composite -- up 0.17%
In Europe, markets are trading lower this morning:
CAC 40 -- down 0.69%
DAX -- down 0.84%
FTSE 100 -- down 0.84%
OSE -- down 0.13%
China Approves Merger
Nokia (NYSE:NOK) is rising over 5% in trading today as the Chinese approved the company's deal to sell its mobile phone division to Microsoft (NASDAQ:MSFT). Approval of the $7.4 billion deal paves the way for Microsoft to take over the business while also allowing Nokia to retain control of the patents associated with the business, a main deal point.
Many analysts were worried about the Chinese and whether they would approve the deal or not, especially after a few large competitors asked that they take a closer look. Now the rest of the approvals appear to be merely formalities as Nokia expects the sale to Microsoft to close in the next month.
Further Hedge Fund Losses
Yesterday we talked about how the hedge funds were losing money on their trades in the gold market in our daily commodity article (see article here), but it seems that the recent market volatility has impacted the 'smart money' investors across the board as it is being reported that Coatue is returning capital to investors after a rough month.
The fund is returning $2 billion of its current $7 billion after a month which saw a 9% decline across the board, with both long and short positions losing money. With big names, which were also market leaders, having fallen recently it is no surprise that it has been difficult for this firm.
The YTD returns for Twitter have been dismal, so bad in fact that many of last year's gains after the IPO have been wiped away.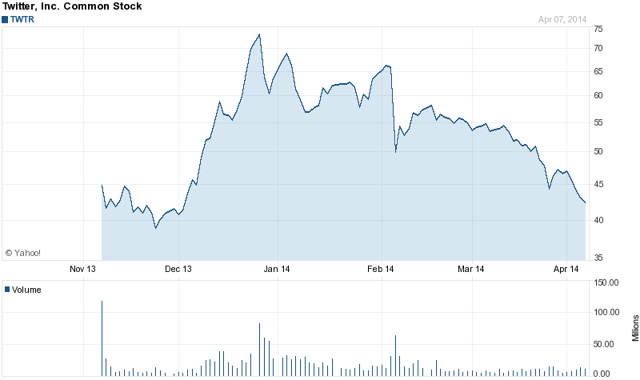 Click to enlarge
Source: Yahoo Finance
Until we see names Netflix (NASDAQ:NFLX) and Twitter (NYSE:TWTR) bottom out and build a base here we continue to see rough times ahead for the volatile tech names, but also the general market. The one name we do like at current prices is Baidu (NASDAQ:BIDU), as it appears fairly valued at these levels.
Disclosure: I have no positions in any stocks mentioned, and no plans to initiate any positions within the next 72 hours. I wrote this article myself, and it expresses my own opinions. I am not receiving compensation for it (other than from Seeking Alpha). I have no business relationship with any company whose stock is mentioned in this article.