Below is a screen that we recently ran on the 30 stocks in the Dow Jones Industrial Average. This screen allows you to analyze the chart patterns of a large number of stocks in a small space, so in moments you can easily see how all of the names in a portfolio or basket look. Instead of having to look through chart after chart, you can start out with this and then narrow down the names you may want to look into further. It's definitely tough to keep track of the technicals for a large number of stocks, and we're simply trying to make things easier with this screen.
As shown below, the trading range is minimized down to one line for each stock. The neutral line (N) represents the 50-day moving average, while the light red and green shadings represent between one and two standard deviations above and below the 50-day moving average. A move into these light shadings represents the first level of an overbought/oversold reading. A move into the dark red and green shadings (2 to 3 standard deviations above/below the 50-DMA) represents extreme overbought/oversold territory. Moves into these zones are not seen too often, and many investors like to either add or subtract to their positions when these levels are reached. The dots in each chart represent where the stock is currently trading, while the end of the tail represents where the stock was trading one week ago. The color of the dot shows whether the stock is up or down over the last week.
Of the 30 Dow stocks, only five are currently not oversold -- American Express (NYSE:AXP), Johnson & Johnson (NYSE:JNJ), 3M (NYSE:MMM), Merck (NYSE:MRK), and Verizon (NYSE:VZ). At these levels, many investors start to think about adding to or taking on new positions.
click to enlarge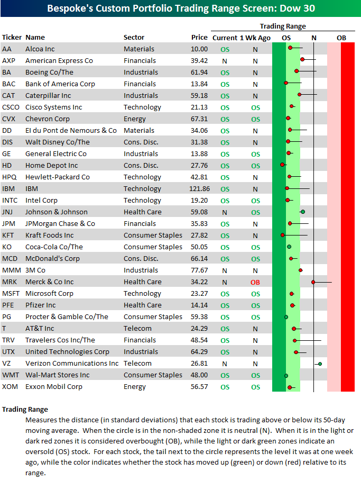 Click to enlarge