Plenty of grown men and women in New York decided to play hooky from work on Monday. Monday marked the New York Yankee's open homer and Derek Jeter's final first game of the year as a player. A few years ago somebody somewhere would almost certainly have lost their job after getting busted for posting pictures from inside the stadium on Facebook. Today when millennials want to brag about sitting in sub 50 degree weather and drinking $11 beers, they use a Mission Impossible style self destructing private message using Snapchat instead. Adults playing hooky to go to the ballpark is one of the first signs of spring which also indicates the 2nd earnings season of the year is around the corner.
Earnings season kicks off on Tuesday with Alcoa (NYSE:AA), the world's third largest producer of aluminum. The market has now seen 2 consecutive days of harsh selling and some positive earnings surprises could be a healthy dose of what the doctor ordered. According to analysts polled by Thomson Reuters companies that make up the S&P 500 index are only expected to post earnings growth of 1.2% compared to last year. Many companies have pre-announced poor earnings and lowered guidance to manage investors' expectations. The most common problem cited is still the poor wintry weather including snowstorms and extreme cold. Frankly that excuse is getting a bit old and it will be nice when it finally disappears.
The one sector that has been performing well because of the weather has been utilities. When the weather is poor and consumers stay home watching Netflix (NASDAQ:NFLX) rather than go shopping, the utilities companies (and Netflix) are the ones who win. This earnings season utilities are expected to grow EPS and revenue by 7.7% and 3.3% respectively.
After Alcoa reports on Tuesday the first cluster of big companies reporting earnings in succession will be 3 banks, JPMorgan Chase (NYSE:JPM) and Wells Fargo (NYSE:WFC) on Friday with Citigroup (NYSE:C) rounding things out on Monday. In contrast to the utility companies, financials are expected to report 2.6% less profit and 0.8% fewer sales than last year. Multibillion dollar settlements will hinder JPMorgan Chase on the bottom line while Citigroup recently caught headlines for the wrong reasons after failing a Federal Reserve stress test. On the other hand, Wells Fargo has reported growing EPS in each of the past 8 quarters consecutively, however that pattern is projected to come to an end on Friday.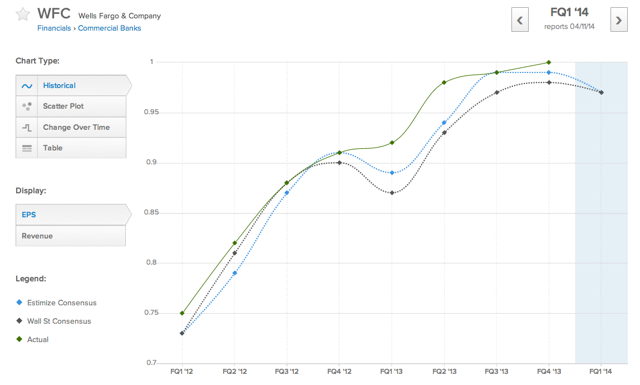 Expectations vary heavily this quarter from sector to sector. It would be foolish to expect 1 or even several positive earnings surprises to move the market in any sort of significant matter. If Alcoa beats the Street's earnings per cents expectations by 3c per share, it's not going to be the catalyst that stops the bleeding we have been witnessing in high momentum and growth stocks (speaking of Netflix, they are 1 of them) over the past week. But each quarter has its home runs where 1 company demolishes expectations and the stock goes nuts. Last quarter Netflix and Chipotle (NYSE:CMG) both hit earnings season grand slams as seen on ChartIQ Visual Earnings, but have recently become victims of the selloff. Which companies will be the winners and losers this quarter?
Disclosure: None