Ukraine has announced that they have taken back control of the facilities which were overrun by the pro-Russian forces recently. There are still those calling for Russia to send the troops into eastern Ukraine, but after the annexation of Crimea we have to imagine that Russia has very little political capital left to use for another deployment into Ukraine. It made some sense to annex Crimea, however the argument to annex other areas of Ukraine is much weaker and would surely draw the ire of Europe and its allies.
The tensions in Ukraine continue to buoy the gold market with the precious metal rising back above the $1,300/ounce level. Likewise, silver is back above the $20/ounce level and platinum, which had shown the most strength recently, is back above the $1,440/ounce level after a sell-off yesterday.
Chart of the Day:
The spread between WTI Crude and Brent Crude has fallen to roughly $5/barrel which seems to be setting the stage for a move of some sort. We think that the spread is set to expand, but what shall cause that spread?
Either way we look at it, it seems that one should be bullish the Brent price and bearish the WTI price if one truly believes that there will be an expansion in the spread because Brent would have to outperform on any type of move.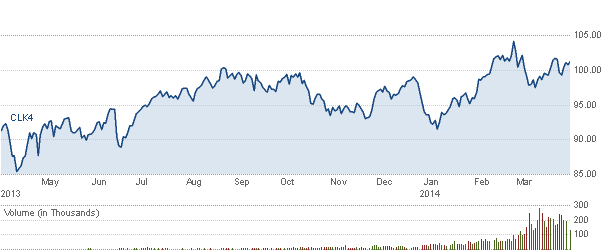 Source: CNBC
Commodity prices this morning are as follows:
Gold: $1,308.40/ounce, up by $10.10/ounce
Silver: $20.065/ounce, up by $0.158/ounce
Oil: $101.27/barrel, up by $0.83/barrel
RBOB Gas: $2.9432/gallon, up by $0.0172/gallon
Natural Gas: $4.539/MMbtu, up by $0.063/MMbtu
Copper: $3.051/pound, up by $0.0115/pound
Platinum: $1,442.80/ounce, up by $15.00/ounce
BHP Moving Markets Again
Once again BHP Billiton (NYSE:BHP) is moving an entire sector with its comments on the outlook for the coal sector. BHP's coal division executive stated that the company saw growth in world demand for coal in the decades ahead. The comments are welcomed by investors, many of whom have been waiting for demand to return since the 'Great Recession'. With the entire sector rallying on this news as well as the upgrade by Cohen of Peabody Energy (BTU) we again want to remind investors to exercise caution here.
Rather than running into resistance as it appeared that it would, Arch is rising through the $5/share level on the news. Whether that resistance area will not turn to support is a question worth asking.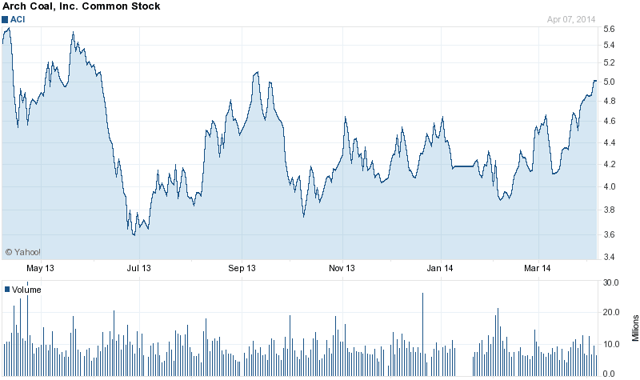 Source: Yahoo Finance
Every rally thus far in the sector has been met with selling, even among the blue chip names such as Peabody Energy. Today shall see names like Alpha Natural Resources (ANR), Arch Coal (ACI) and Walter Energy (NYSE:WLT) move the most as they are the riskier, higher volatility names in the sector. They would also be the names most likely to benefit most from improving market conditions due to their mines being higher cost than the larger diversified miners.
This two year chart of Alpha Natural Resources shows just how ugly it had recently gotten for shareholders. The news today did little to change the company's problems.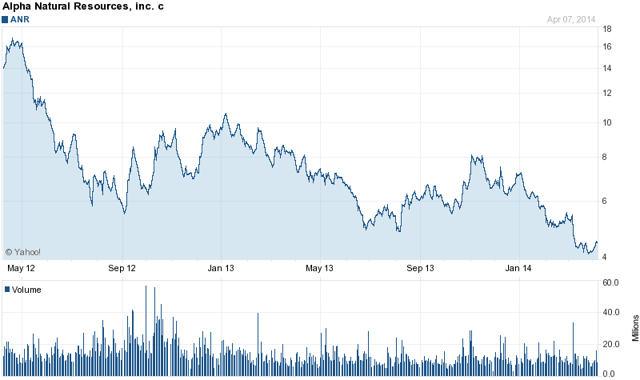 Source: Yahoo Finance
We were correct with our initial call on the downside for coal stocks and subsequent calls to either stay away or remain bearish of the sector in the face of serious opposition a few years ago. We were correct then and as we look at the market right now we see little reason to put capital to work in the sector before the world economy is growing again. The data tells us to stay away at this time and our gut does as well. We find it quite interesting that these comments were made as may of these names were hanging around key psychological levels that could have given way if markets got weaker. These recent events have put some space between current prices and those levels, but the bottom line is that still nothing has changed in the business to warrant this move.
Disclosure: I have no positions in any stocks mentioned, and no plans to initiate any positions within the next 72 hours. I wrote this article myself, and it expresses my own opinions. I am not receiving compensation for it (other than from Seeking Alpha). I have no business relationship with any company whose stock is mentioned in this article.