A single piranha is a nuisance but a school of them is a threat.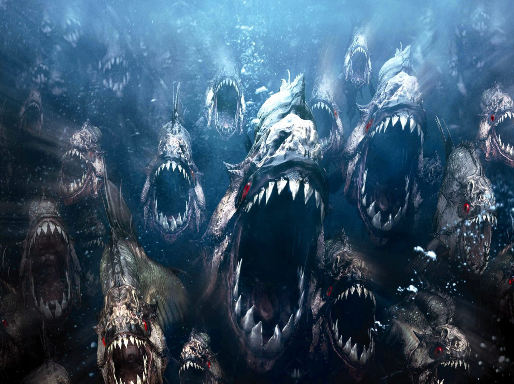 Source: Mad Mike's America
The growing number of aggressive competitors in the smartphone market must look like piranhas to Apple (NASDAQ:AAPL).
The global market for smartphones is forecast by IDC to grow at about 20% for 2014. That would amount to 1.2 billion units if it pans out, up from 1.0 billion reported for 2013.
The market is seasonal, with close to 21% of the unit sales taking place in the March quarter in 2013 when IDC reported 211 million units were shipped of what turned out to be roughly 1 billion units for the year as a whole. Apple sold 37.4 million units in the March quarter of 2013.
Applying last year's seasonal pattern, a rough estimate of the global market by region for the quarter ending March 31, 2014 amounts to about 253 million devices.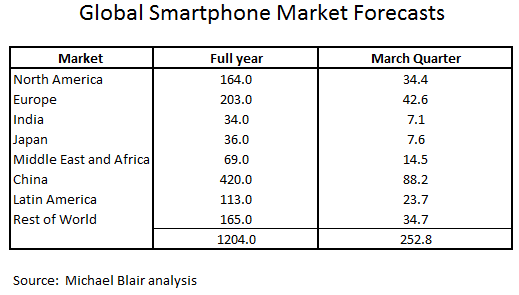 Kantar World Panel provides estimates of market share by region. Using the Kantar data and other estimates, I constructed a forecast of iPhone March quarter market share and unit sales.

It is pretty clear that Apple's success in China is pivotal to its March quarter and for the same reason key to its 2014 results. If IDC is right about the market growth and the data from Kantar on market share are reliable, Apple will have a strong quarter for iPhone sales with shipments of 43.3 million units - that would be a nice lift from 37.4 million units last year.
I don't think it will happen. First, I believe the forecast 20% growth for the market will be shown to be optimistic and actual Q1 2014 global shipments of 230 million or less are likely. The greatest risk is China where Q4 smartphones shipments in 2013 actually fell.
Analysts weighing in on Apple's iPhone sales for the March quarter are all over the map as reported in the Wall Street Cheat Sheet on March 21, 2014:
Piper Jaffray analyst Gene Munster sees 3 million iPhone sold through China Mobile (NYSE:CHL) in the quarter implying something less than 6 million for the total market in China;
Cowan and Company analysis Timothy Arcuri sees China Mobile iPhone sales at closer to 5 million, implying about 10 million iPhones for all Chinese carriers;
Credit Suisse analyst Kubinder Garcha sees iPhone sales in China "in line" with his neutral rating on the stock.
I think Apple market share will fall. The announcement of a new iPhone 6 to be released this fall is one culprit, with many Apple enthusiasts likely to hold off on a new device for a few months to have a look at the latest product. My guess is that iPhone sales in Apple's Q2 will be somewhere around 38 million units. Guidance will likely be weak for Q3 as Apple's comments reflect slowing demand in anticipation of its new product and the weight of increasing competition.
Apple now has competitors. Here are some of them.
Oh yes, and there is also Samsung (OTC:SSNLF), who reported 90 million smartphones sold in the March 2014 quarter, giving it somewhere around a 36 percent share of market. Last year Samsung sold 71 million smartphones in the same quarter.
The smartphone market is changing quite quickly now. The growth is taking place in lower to mid-priced segments and the premium end of the market is forecast to actually shrink.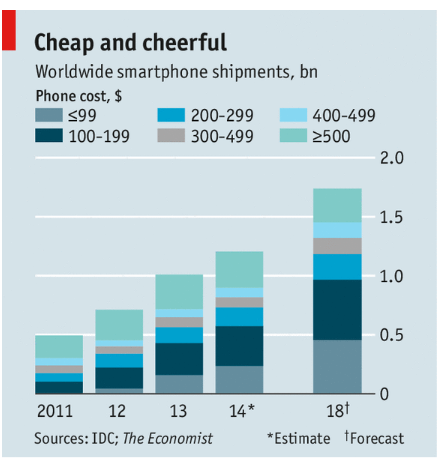 Source: The Economist
If there is any SA reader that thinks the smartphone market is: not fiercely competitive; not shifting towards lower price points; or not going to see continued share losses by Apple, I can recommend a good therapist. It is pretty clear an analyst can't help you.
More competition, lower average selling prices and continued share losses will very likely mean lower sales and profits for Apple, starting now. I am short the stock.
Disclosure: I am short AAPL. I wrote this article myself, and it expresses my own opinions. I am not receiving compensation for it (other than from Seeking Alpha). I have no business relationship with any company whose stock is mentioned in this article.