The SALT Story So Far
From Scorpio Bulkers' (NYSE:SALT) initial listing on the Norwegian OTC in July 2013 at $8 per share to their New York IPO in December 2013 at $9.75, they have made headlines in the shipping world with their huge newbuilding order book.
Just when you thought management were happy with their 74 newbuildings, on 26 March 2014 they announced that they had acquired 5 Capesize newbuilding re-sales for $61m each.
Their newbuilding order book of 79 dry bulk vessels consists of: 28 Ultramax, 23 Kamsarmax and 28 Capesize vessels. 2 vessels are to be delivered 2014, 42 in 2015 and the remaining 35 to be delivered in 2016.
The Net Asset Value
Scorpio Bulkers' share price has been range bound between $9 and $11 since its IPO. The company will not generate revenue until delivery of its order book in 2015 and 2016. The company has countered this by chartering-in 17 vessels to bridge the gap. The chartered-in fleet will have no material impact on the share price, as the main focus of investors is on the future delivery and trading of their huge order book.
With the share price being range bound, this offers investors a good buy-in point, prior to delivery of its huge order book. The focus in this article is to arrive at such a price. My preference is to base such a price on facts and not estimates of what bulk rates will be. If we ignore the chartered-in fleet as not being material and focus wholly on the order book, which will not be substantially delivered until next year, the most appropriate valuation method is the net asset value.
Vessel Market Values
For Ultramaxes and Kamsarmaxes, Scorpio Bulkers released total cost of each order, but in most cases orders consisted of the 2 vessel classes from either Japanese, Korean, Chinese or Romanian yards. Therefore, arriving at a cost per vessel class required estimation, which I wanted to avoid. Instead, I am using RS Platou newbuilding market values for bulk carriers from Chinese yards obtained from their publicly available monthly report. The RS Platou monthly report provides an average proportional increase in market values across all the variations.
I searched recent news articles for additional support on the current market values. For Ultramax newbuildings, there are no recent transactions that clearly disclose the current market value, so I am relying on RS Platous valuation of $28.0m. For Kamsarmax newbuildings, RS Platous March 2014 $30.0m valuation is supported by Euroseas (NASDAQ:ESEA) 2 newbuilding orders for $30.0m each in April 2014.
For Capesizes, I am using Scorpio Bulkers' newbuilding costs, since these are clearly disclosed. The current market value of $61m is based on 2 transactions in March 2014:
Scorpio Bulkers fleet has experienced a market value gain of 6.4% since its listing on the Norwegian OTC in July 2013, with Capesizes gaining 9.2% followed by Ultramaxes with 6.7% and finally Kamsarmaxes gaining 2.8%, calculated as follows: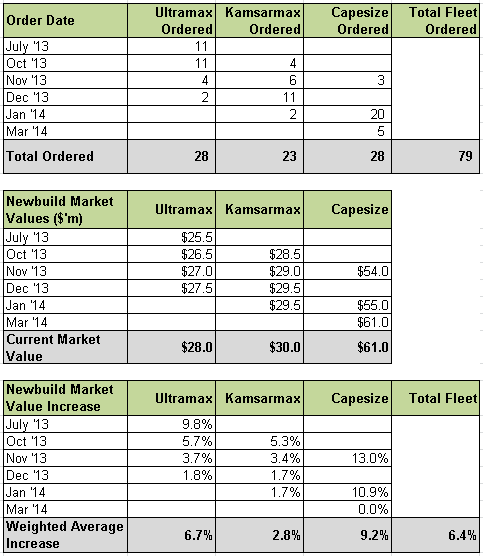 Source: Scorpio Bulkers press releases and RS Platou Monthly reports
Net Asset Value Per Share
Net assets of $1,104m at 31 December 2013 plus the 6.4% gain in asset values for the entire fleet, which equates to $198m gives a net asset value of $1,302m.
Total shares of 140m comprises of: 133m outstanding shares at 31 December 2013, 2m shares to be issued to Scorpio Services Holding Ltd on delivery of vessels and 5m shares in respect to the employee equity incentive plan.
The net asset value per share is $9.27, calculated as follows: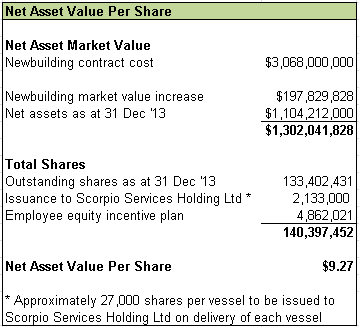 Source: Scorpio Bulkers Q4 2013 earnings release and 26 March 2014 press release
The Premium
Scorpio Bulkers' share price is trading at circa 4% premium to its net asset value per share of $9.27, the next question is whether the potential investor should pay the current premium.
The Management
Scorpio Bulkers and Scorpio Tankers (NYSE:STNG) share the same management team. Scorpio Tankers initiated the bulk carrier order book and subsequently spun off the order book into Scorpio Bulkers.
Some commentators have highlighted Scorpio Bulkers' management inexperience in operating a dry bulk pure play. However, they have considerable shipping expertise and their industry relationships with charterers, lenders, shipbuilders, insurers and other industry participants gives them access to further attractive acquisitions and chartering opportunities.
Management has clearly demonstrated an ability to profit from different shipping sectors, for example their investment in VLGCs and VLCCs in 2013:
Any skills deficit can be compensated by hiring experienced personnel.
My view: Competent management with considerable shipping expertise, who have clearly demonstrated an ability to profit from different shipping sectors.
The Fleet
Scorpio Bulkers' newbuilding fleet are the latest generation bulk carriers:
low operating costs due to their high fuel efficiency
low financing costs as the vessels were ordered near the lowest average cost levels of the past 10 years and funded by cheap debt
The company will have little difficulty in securing favorable time and spot charters as charterparties will seek to charter fuel efficient tonnage, ensuring maximum possible utilization rates.
My view: The principle competitive advantage for the company. The latest generation of bulk carriers with low operating and financing costs and maximum utilization rates ensuring the highest possible returns for shareholders.
The Dry Bulk Market
Both shippers and analysts believe the dry bulk sector will recover this year, rate volatility and increased vessel values indicating an imminent recovery. Share prices are increasing, hitting 52-week highs and 2 shipping companies are planning a New York IPO, the first in the sector in 4 years. Established shipping investors and newcomers have taken large stakes in bulk shipping companies, Scorpio Bulkers included.
Emanuele Lauro, Chairman of the Board and Chief Executive Officer of Scorpio Bulkers during their 4th quarter 2013 earnings release commented, "we believe rates will increase over the next few years, and our fleet of 74 newbuilding dry bulk vessels are poised to be delivered into favorable rate environments."
However, recently, articles have appeared warning of potential overcapacity in the dry bulk sector and in March 2014, Jefferies issued a research report warning investors to be aware of heightened expectations. A favorable rate environment for Scorpio Bulkers is not guaranteed. The fact that the company purchased re-sales, suggests over capacity is a real risk.
My view: A recovery in the dry bulk market is probable, according to the experts but the age old problem of over capacity may dampen the recovery when it materializes.
The Leverage Ratio
Before Scorpio Bulkers purchased the 5 Capesizes in March 2014, debt accounted for approximately 60% of their newbuilding contract cost. This was inline with their IPO prospectus, "we intend to maintain moderate levels of leverage of not more than 60% of the value of the company's vessels." However, in the same prospectus they stated that they intended to "make opportunistic acquisitions at attractive prices," which they duly did in March 2014.
Leveraging is now 64%, calculated as follows: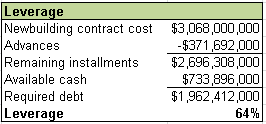 Source: Scorpio Bulkers Q4 2013 earnings release and 26 March 2014 press release
Shipping companies leverage ratio typically range from 40% to 60%. In some rare cases, leveraging can reach 80% where vessels have attractive time charters, mortgages on other assets or a history of successful business between the bank and the shipper. Scorpio Bulkers' fleet were ordered near the lowest average cost levels of the past 10 years, resulting in historically low leveraging in absolute terms. However, this compares less favorably to Knightsbridge estimated leveraging of 50%, a Capesize pure play, whose vessels were purchased at similar prices.
Scorpio Bulkers' management has demonstrated their bullish business outlook, so we should expect further acquisitions with an increase in leverage without further equity offerings. Dilution risk is minimal, shareholder returns are maximized, but further leveraging exposes the company if bulk rates do not recover.
My view: Current leveraging is at the higher range of industry standards, shareholder returns are maximized, but further leveraging exposes the company if bulk rates do not recover.
Summary
The 4% premium on Scorpio Bulkers' net asset value per share of $9.27 is warranted as the company offers:
competent management
latest generation of bulk carriers
leveraging at the higher range of industry standards, maximizing shareholder returns
The current share price offers investors a good buy-in point.
Disclosure: I have no positions in any stocks mentioned, but may initiate a long position in SALT over the next 72 hours. I wrote this article myself, and it expresses my own opinions. I am not receiving compensation for it (other than from Seeking Alpha). I have no business relationship with any company whose stock is mentioned in this article.